Description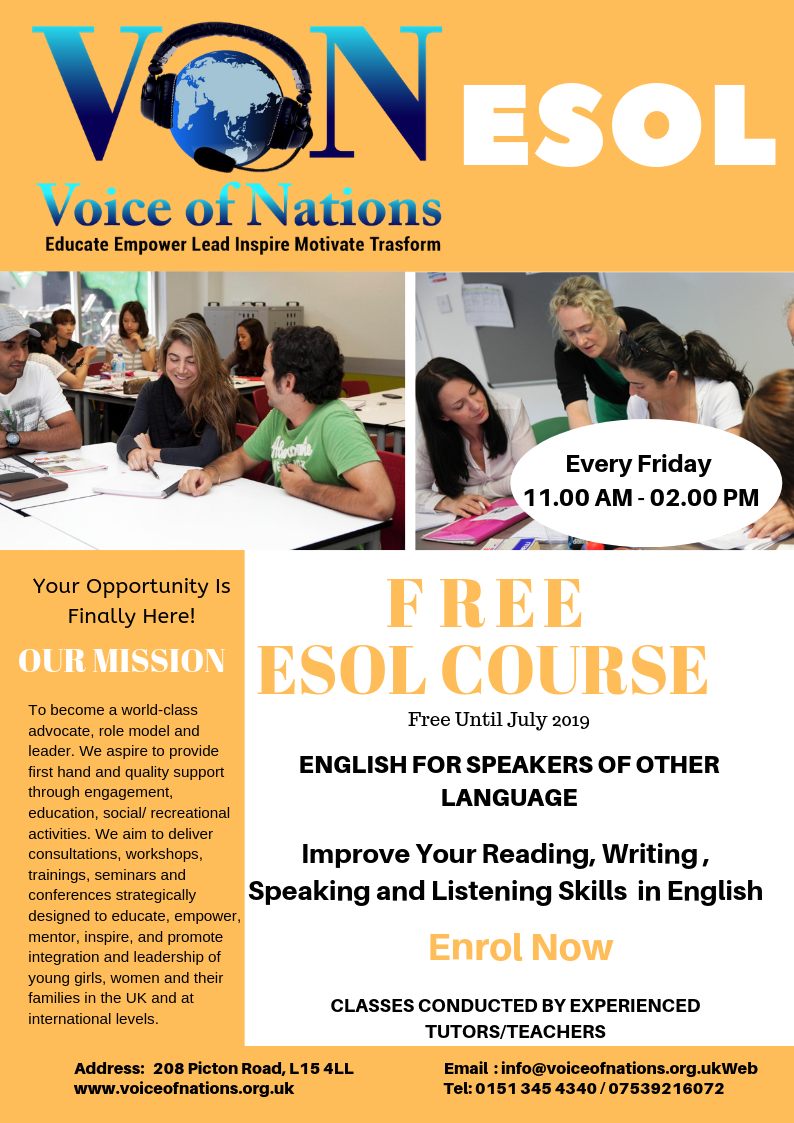 FREE ESOL COURSE
The highly successful English for Speakers of Other Languages (ESOL) programmes at Voice Of Nations is designed for adult (16+) speakers whose first language is not English, who are living or trying to settle in England.
The courses aim to develop listening, speaking, reading, writing and understanding of the English language, whatever the starting level of knowledge.
Who are ESOL courses for?
ESOL (English for Speakers of Other Languages) courses are for people who have a first language other than English and who live or work in the U.K (Subject to resident status).
What will I study?
The course will help you to develop your communication skills for everyday situations and help you to live, work and study successfully in the United Kingdom. Skills that you will concentrate on are:
Speaking and listening
Reading and writing
Vocabulary
Punctuation and grammar
Do I need any previous qualifications to start this course?
You don't need any previous qualifications to undertake this course. However, in order to determine the most suitable level of study for your needs, you will undertake an initial assessment.
What can I go on to do once I have completed this course?
Improving your English skills can help you get more out of your life in the UK. It will also help if you want to study, improve your CV, or apply to become a British citizen.
I'm interested in this course, what do I do next?
Please visit us at 208 Picton Road, L15 4LL or contact us directly on 01513454340 or email info@voiceofnations.org.uk to enrol
Location: Voice of Nations
208 Picton Road, L15 4LL