English premiere of "Life is Waiting: Resistance and Referendum in Western Sahara" & Panel discussion

Friday, 30 October 2015 from 19:30 to 22:00 (GMT)
Event Details
This fall, London-based arts and human rights charity Sandblast is organising a series of multi-media events to remind the British public and politicians about the ongoing 40 years-long plight of the indigenous Saharawis from "Africa's Last Colony": Western Sahara. This former Spanish colony was forcefully occupied by Morocco at the end of 1975, provoking mass exodus into harsh refugee camps in Algeria and denying the Saharawis their self-determination dreams.
"There is oppression here and no right to self expression… I have been tortured by the Moroccan police. But this will stop neither my singing nor my advocacy." (Young rapper Flitoox in occupied Western Sahara, Life is Waiting).
As part of the series, newly released "Life is Waiting: Referendum and Resistance in Western Sahara", recently banned at the International Beirut Film Festival in Lebanon, will have its English premiere this October 30, followed by a panel discussion. 
The film chronicles the Saharawi self-determination struggle, putting young Saharawi voices at the forefront of expressing their peaceful resistance. Huge frustration over the lack of resolution has led to exponential growth of youth activist groups in the Saharawi refugee camps (SW Algeria), the Moroccan-occupied territories of Western Sahara, and the diaspora. Maty, a youth member of a group raising awareness of the 2700km-long Moroccan-built wall in Western Sahara, lined by millions of landmines, powerfully sums up the situation:
"The movement first came about as a protest… and to end the media blackout about the Sahrawi cause… We are sick of how the cause is marketed as a humanitarian cause. This is a political one, and it requires a political solution." (Maty Mohamed-Fadel in Life is Waiting).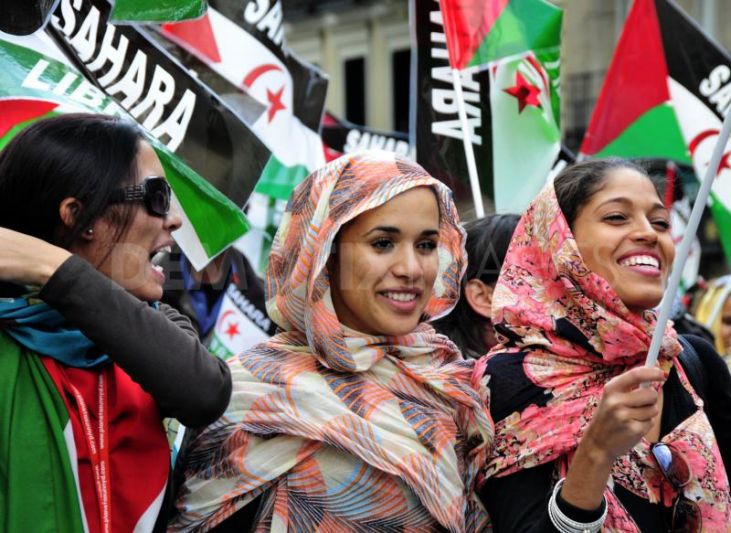 In occupied Western Sahara, this frustration has erupted several times since 1999 with mass peaceful protests, brutally repressed each time by Moroccan forces. The end of 2010 saw the largest peaceful gathering of Saharawi civilians since Morocco's invasion in 1975. This was the Gdeim Izik protest camp, outside the capital city of Al Aaiun, claimed by some to have sparked the Arab Spring.
"Life is Waiting" has been directed by activist filmmaker Iara Lee of Cultures of Resistance, a collective committed "to raising awareness around the world of Morocco's occupation of Western Sahara". It has been screening worldwide & has already received a number of awards. The film screening will be followed by a panel discussion led by journalist Sean Williams, and including other journalists, activists and political analysts to discuss future perspectives of the largely overlooked conflict in Africa's last colony and explore why it continues to elude a resolution.
A message from Ken Loach, Sandblast's patron:
Congratulations... You are keeping the plight of the Saharawi's in the public mind. Once again this shows the need for the rule of law and a strong internationalist body that can enforce it. That is why countries who undermine the U.N. should be held to account. Good wishes and solidarity.

*Event in solidarity with the current Saharawi Refugee Flood Crisis in the Saharawi refugee camps (SW Algeria). 
Do you have questions about English premiere of "Life is Waiting: Resistance and Referendum in Western Sahara" & Panel discussion?
Contact Sandblast
When & Where

Bolivar Hall
54 Grafton Way
W1T 5DL London
United Kingdom


Friday, 30 October 2015 from 19:30 to 22:00 (GMT)
Add to my calendar
Organiser
Sandblast is a UK human rights charity promoting the voices and visions of the indigenous Saharawi from Western Sahara through the arts. The protracted conflict, in Africa's last colony, has turned the majority of the Saharawi population into refugees and threatens the survival of their cultural identity.
We believe in the right of individuals and communities to enjoy culture, celebrate the arts and promote their own traditions. Bolstering the cultural heritage of the Saharawi and raising awareness of their overlooked plight are important to our mission.
Since 2005, Sandblast has created platforms in the UK to promote Saharawi arts and culture and undertaken projects in the refugee camps to strengthen artistic expression.Studio-Live, our current project, aims to equip the refugees with the skills and material resources to build their own music industry from scratch in the camps.
If you want to get involved or have any questions regarding our organisations and/or events, please contact us on info@sandblast-arts.org or visit www.sandblast-arts.org. We look forward to hearing from you!