Description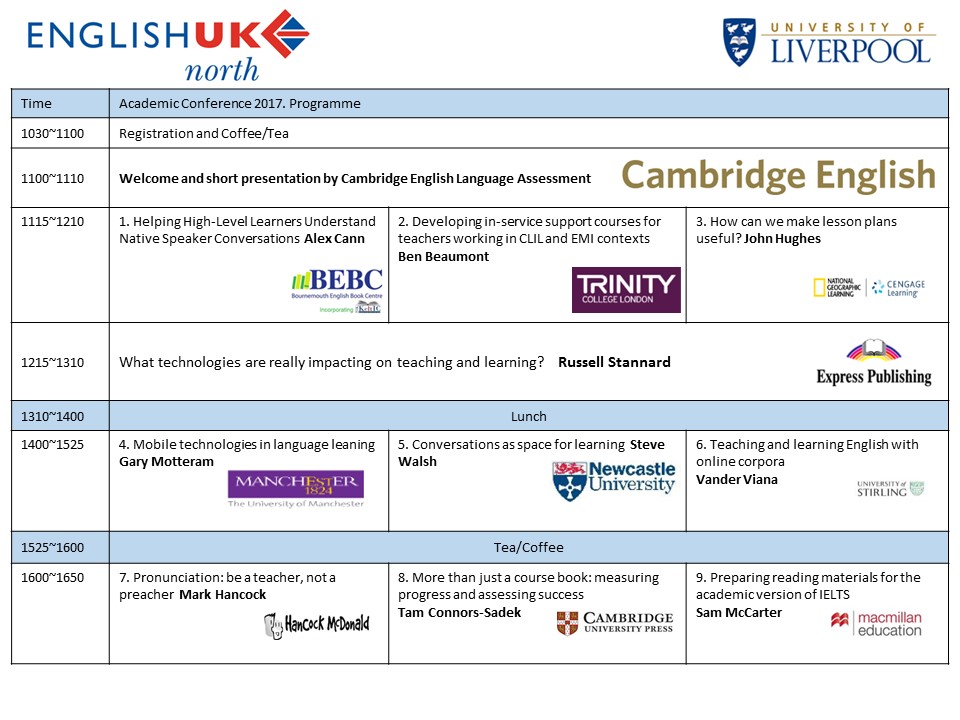 Register participants by ordering tickets below. We will then invoice you. Payment must be made by 9th September to take advantage of the discount. Thereafter, tickets will only be available on-line for the full price.
Plenary session
What technologies are really impacting on teaching and learning? Russell Stannard
Russell has more than 25,000 subscribers to his newsletter and runs regular polls on the different tools teachers are using around the world. In this talk, Russell is going to focus on some of the key technologies that teachers in ELT are using and demonstrate real practical examples of their use. A talk full of ideas, based around just a few key technologies with particular focus on feedback, assessment, developing students fluency and flipped/blended learning. A real insight into some of the ways technology is taking teaching and learning and where it might be going.
Russell Stannard is the founder of www.teachertrainingvideos.com and a NILE associate trainer. He was previously a Principal Teaching Fellow at the University of Warwick and the University of Westminster where he worked on MA TESOL and MA ELT courses. He has received 3 major educational awards including the Times Higher 'Outstanding Initiative in Technology' and the British Council Innovation Award. In 2017, he was again shortlisted for a British Council ELTons award for his 'Flipping your Classes' course built in collaboration with NILE. Russell writes regular columns in the English Teaching Professional, the Teacher Trainer and Anglo Files.
Elective sessions 1
1. Helping High-Level Learners Understand Native Speaker Conversations: Alex Cann
Many high level students can understand the English spoken in a classroom setting but struggle to understand native speakers, particularly those with strong regional accents. In this highly interactive workshop I will focus on practising bottom-up processing, phonological problems relating to connected speech and suggest a Test Teach Test (TTT) lesson shape to allow students to discover, and then address, the causes of their problems. The session will focus on how to develop and teach listening skills rather than just testing them. I will include several practical activities that can be used to develop bottom-up processing skills as well as providing a brief plan for a TTT dictogloss lesson. I will end with a short Q&A session.
Alex Cann is an academic manager and teacher trainer with extensive experience in the UK and overseas. He currently works for Experience English as the Academic Manager at Edinburgh Language Centre. Alex set the school up as a CELTA training centre in 2014 and enjoys combining academic management and teacher training. Before moving to Edinburgh he worked in Spain and South America, as well as managing summer school programmes throughout the UK. Alex enjoys presenting at conferences and is passionate about teacher training and continuing professional development.
2. Developing in-service support courses for teachers working in CLIL and EMI contexts: Ben Beaumont
Enrolment on many in-service courses and qualifications for teachers has traditionally been restricted by language ability, with participants required to be at a B2-C2 level. However, with the significant growth of CLIL and EMI courses internationally, using a B2 level of language ability as a gate-keeping measure means that a large portion of those running these courses are missing out on pedagogical support that can help develop their courses. This talk will review some of the areas training centres and awarding organisations can consider to help teachers pedagogically to access the training they need to develop their practice and, with reference to translanguaging and recent qualitative research, will also discuss suggestions for educators' ongoing CPD.
Ben Beaumont is TESOL Qualifications Manager at Trinity College London and has an interest in developing pre and in-service support or teachers to help promote effective learning and teaching. Apart from being academic lead for Trinity College's Cert TESOL and Dip TESOL programmes, Ben's research interests include support for teachers in English Medium Instruction contexts and his personal interests include trying to stop his cat clawing up his carpet.
3. How can we make lesson plans useful? John Hughes
When we talk about a 'lesson plan', we often picture a long formal document with text in rows and columns. And yet the reality is often something quite different; day-to-day lesson plans might be a list of words scribbled in the margin of a course book, visual notes sketched on post-it notes, or photos on a phone. In my talk, I'll suggest that teachers should be encouraged to experiment with ways of planning and redefine what 'a plan' should look like. By doing this, we'll find that a lesson plan can be as much a tool for teacher reflection and development as it is for planning.
John Hughes is a teacher trainer and writer, based near Oxford UK. He has authored and co-authored over 30 ELT titles for students and teachers including the course series 'Life' and 'Spotlight on First' for National Geographic Learning and Cengage Learning. John still teaches from time-to-time as well as working with teachers from all over the world. His blog is www.elteachertrainer.com.
Workshop sessions: These sessions are longer more interactive sessions allowing us to explore the area in more details
4. Mobile technologies in language learning: Gary Motteram
This session will explore some of the reasons why using mobile technologies might be a useful addition to a teacher's toolkit when it comes to language learning. It will do this in a practical way to try to both explain and demonstrate many of the features that can be exploited both inside and outside of the classroom. It will look at both formal and informal learning and consider activities that suit different language skills as well as more extensive project work. The session anticipates that you bring a mobile device with you and as well as ideas that are introduced as a part of the session, we anticipate that there will also be ideas that are suggested from the audience particularly when it comes to apps that people have found useful.
Gary Motteram teaches on MA programmes with a particular focus on technology supported language learning at the University of Manchester. He presents and publishes regularly in the fields of technology in language learning and technology supported distance teacher education. His latest publication is: Teaching and technology: case studies from India. New Delhi: The British Council (2017). His latest research project is exploring mobile language teacher development with refugees in Jordan.
5. Conversations as space for learning: Professor Steve Walsh
This workshop looks at the ways in which teachers open up or close down 'space for learning' through their use of language and interactional practices. Conversations in the TESOL classroom are largely influenced by the 'rules' which prevail: teachers largely control topic and procedure, for example. They also usually control who may participate and when, while students typically take their cues from teachers. Using video-recordings from a variety of settings, we'll be considering how space can be created through particular interactive practices such as the use of increased wait-time, reduced teacher echo, extended learner turns and increased planning time. Space is also created by teachers according to their ability to manage learner contributions in a positive and focused way: by shaping learner contributions through the use of scaffolding, paraphrasing and re-iterating. Implications for teacher education and classroom practice are discussed.
Steve Walsh is Professor of Applied Linguistics and Director of Postgraduate Research in the School of Education, Communication and Language Sciences at Newcastle University. He has been involved in English Language Teaching for more than 20 years and has worked in a range of overseas contexts, including Hong Kong, Spain, Hungary, Poland and China. His research interests include classroom discourse, teacher development, second language teacher education, educational linguistics and analysing spoken interaction. He has published extensively in these areas and is the Editor of the journal Classroom Discourse.
6. Teaching and learning English with online corpora: Dr. Vander Viana
Relying on computer-assisted analyses of large textual collections, corpus linguistics (CL) has transformed our understandings of language use. However, its impact in the English language classroom has been mostly indirect, that is, through corpus-based publications (e.g. dictionaries and grammar books). Teachers' and students' exploration of corpora is still restricted in several contexts despite the growing availability of online corpora. This practical workshop aims at empowering English language teachers in their direct use of corpora. To this end, several hands-on activities will be conducted in order to (i) introduce participants to the main principles of CL, (ii) showcase some free online corpora, (iii) indicate how corpora can be used for language awareness purposes, and (iv) discuss how the participants can use corpora for pedagogical purposes irrespective of the facilities available at their institutions.
Dr. Vander Viana is a Lecturer in TESOL & Applied Linguistics and the Program Director of the PhD in TESOL Research, both in the Faculty of Social Sciences at the University of Stirling. He researches and publishes extensively in the fields of Corpus Linguistics, TESOL, (Academic) Discourse Analysis and Applied Linguistics. He has delivered numerous presentations on these fields in several countries (e.g. Colombia, Japan, Philippines, UK, Ukraine, US). Dr. Viana is the co-founder/co-chair of the Corpus Linguistics in Scotland (CLiS) Network (http://www.stir.ac.uk/clis/), and was awarded a British Academy Skills Innovator Award for his work on Corpus Linguistics in 2015.
Elective sessions 2
7. Pronunciation: be a teacher, not a preacher: Mark Hancock
Pronunciation work can be the most enjoyable part of a lesson but for this to happen, we need to move beyond 'right' and 'wrong', and instead explore language together with our students in a spirit of collaborative discovery. In this session, I will demonstrate examples of how I think this can be done.
Mark Hancock started teaching English in 1984. He's worked in Spain, Turkey, Brazil and the UK. He has published many pronunciation books, including Pronunciation Games (CUP 1995), English Pronunciation in Use Intermediate (CUP 2012) and PronPack 1-4 (Hancock McDonald ELT 2017).
8. More than just a course book: measuring progress and assessing success: Tam Connors-Sadek
In 2016 The University of Sheffield were looking for a course book which could show measurable progress for 300+ students on their ten-week roll-on / roll-off general English summer course. The chosen solution was Cambridge English Empower. This session will cover specific aspects of content and the Learning Oriented Assessment that make Empower stand out from the crowd. It will also cover recent developments in the programme since its launch, such as the addition of EAP materials. I will then present the results of an impact study that was conducted by CUP, and also review feedback from TUoS teachers and students and give an open and honest account of lessons learned and recommendations.
Tam Connors-Sadek has been in ELT for many years working mainly in the Middle East, SE Asia and Russia. He has designed courses for Singapore Airlines and The Republic of Korea Army, and more recently has been involved in the management and course design of The University of Sheffield's Summer School. He presented at IATEFL in both 2015 and 2016, and at BALEAP in 2015 on course developments in Sheffield University's summer programmes. In 2016, as Director of Studies, he managed the introduction of the Empower series to over 300 staff and students.
9. Preparing reading materials for the academic version of IELTS: Sam McCarter
The talk will examine the selection of reading texts for preparing students for the academic version of the IELTS examination. The criteria for selecting the texts and for writing appropriate questions will be examined. The selection criteria are necessarily informed by the strategies that students need to employ in the IELTS examination and these will also be looked at. The presentation will have several workshop elements.
Sam McCarter's teaching career spans a period of more than 30 years, starting in Sierra Leone in West Africa as a volunteer. He has taught a wide range of subjects covering IELTS, Latin, basic literacy, academic English and ESP, specialising in teaching English for Medical Purposes (EMP) and English for Occupational Purposes (EOP) in the medical field. Sam is the author of a number of textbooks for IELTS published by Macmillan and IntelliGene, and medical English for OUP. He has also edited glossaries for CD-ROMs on tropical medicine and worked for a range of organisations in the medical field, including WHO. Recent publications include Ready for IELTS 2nd Edition, a Teacher's Book by Macmillan. He is also author of the award winning IELTS Skills App, published by Macmillan. Sam now devotes his time to writing and teaching academic English and training online. He is currently working on several publications. His interests are methodology in IELTS and electronic media.
Date and Time
Location
Refund Policy