Description
Join us for EnglishUK North's flagship Academic Event!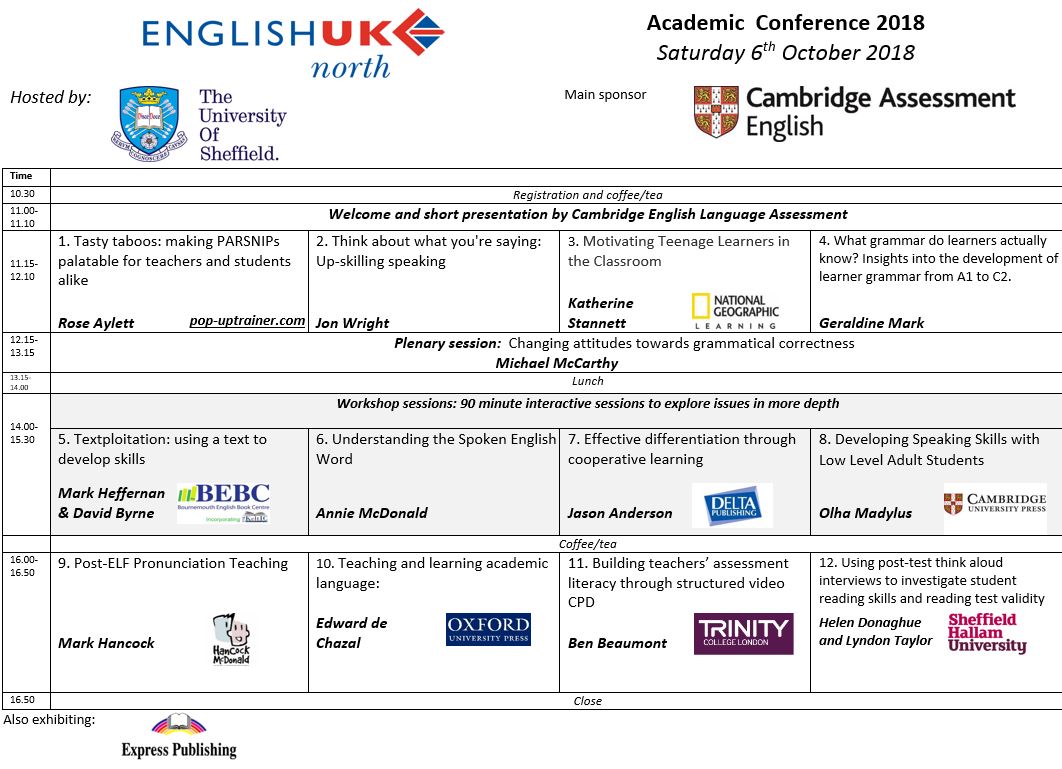 Elective sessions 1

1. Tasty taboos: making PARSNIPs palatable for teachers and students alike: Rose Aylett
How can we support teachers in addressing controversial (PARSNIP) topics in the EFL classroom? This presentation will introduce a range of practical solutions, with a focus on developing the necessary language and interpersonal skills to tackle these topics with confidence. Discover how PARSNIPs can be made palatable, even tasty, for teachers and students in classrooms the world over.

Rose Aylett is a freelance teacher, trainer and Celta tutor, based in Liverpool, UK. She has been working in ELT for over twelve years, predominantly across North Africa and the Middle East. Her areas of interest include materials-light teaching, creativity in teacher education and the integration of global issues into the classroom. In 2017 she set up 'Pop-up Teacher Training' and now delivers training at conferences and teacher development events worldwide. Find out more about her work via her website: www.pop-uptrainer.com

2. Think about what you're saying: Up-skilling speaking: Jon Wright
Effective conversation is more than learning routines and formulaic expressions. Real conversation is often unpredictable and creative. We will look at simple techniques for promoting and capturing effective communication in academic and general contexts, and focus on some innovative practical activities that can help to 'up-skill' students as speakers and listeners.

Jon Wright is a teacher, teacher trainer and examiner with over 25 years' experience in teaching English in the UK and abroad. Until recently he was a senior lecturer in TESOL at Manchester Metropolitan University, and is a tutor for NILE and Leicester University distance MA TESOL programmes. He has written 17 ELT course books and resource books for publishers such as Cambridge University Press, Oxford University Press, Heinle, DELTA publishing, Cornelsen and HarperCollins Cobuild. He is particularly interested in innovative teaching methods, promoting learner independence, idioms and idiomatic language, materials design and CLIL.

3. Motivating Teenage Learners in the Classroom: Katherine Stannett
Teenager learners bring with them their own sets of challenges but also tremendous opportunities. In this workshop, I'll be looking at ways that we can overcome the challenges and harness the opportunities to create a truly motivating classroom. I'll share some ideas on how to begin and end your lessons so that your students will start each class wanting to find out more and finish feeling positive and engaged. I'll also give some top tips on how to develop your students' creative and critical skills, motivating them to become more self-directed and independent.

Katherine Stannett is an author with over twenty years of experience. She spent two years in Japan in the 1990s, teaching English to a wide variety of students in different settings. She is the co-author of several successful secondary series and has also written articles, songs and raps for popular EFL magazines. Most recently, she has written two levels of the new National Geographic Learning course for young teenagers, 'Impact'. She has given presentations and run workshops in countries around the world, including Poland, Kazakhstan, Portugal, Honduras, Nicaragua, Spain and Slovenia and also conducts webinars from her home office in the UK.

4. What grammar do learners actually know? Insights into the development of learner grammar from A1 to C2: Geraldine Mark
This session takes an evidence-based look at the grammar that learners know and use based on what they write in their exams, not what we think they know because it was taught at a certain level. The findings are from a large-scale project involving the analysis of the grammar used in the Cambridge Learner Corpus (CLC). The CLC is calibrated to the CEFR levels and contains over 200,000 exam scripts, from over 200 countries, by speakers of over 140 first languages. Resulting from the project is the English Grammar Profile, a free online resource providing a profile of over 1,200 corpus-based grammar competency statements about learner grammar across the six levels of the CEFR. This talk illustrates some of the many interesting insights brought to light by the study, including the development of grammar across competency levels. It explores how these insights might inform our approaches to teaching grammar.

Geraldine Mark is a writer and researcher in ELT and Applied Linguistics with specific interest in corpus linguistics. She has many years of experience in teaching, ELT management, teacher training, publishing, writing and research. She is an associate lecturer on the MA in Applied Linguistics / TESOL programmes at Bath Spa university, Mary Immaculate College, University of Limerick, and the University of Malta. She is co-researcher of the English Grammar Profile, co-author of English Grammar Today and English Vocabulary in Use CD-ROM (Cambridge University Press).

---
Plenary session: Changing attitudes towards grammatical correctness: Michael McCarthy

Grammatical correctness has never been an absolute. In the case of English, some things which were correct in previous centuries are now considered incorrect and some things once considered incorrect are now part of the accepted standard. In this talk, we look at some features of grammar that have undergone such changes in perception over the last 3-400 years and consider the various factors which affect grammatical change in the present day, such as Americanisation, the growth of World Englishes, the use of English as a lingua franca and technology. It is generally held that vocabulary changes very quickly while grammar changes only slowly, but there is evidence to suggest that grammatical change is speeding up. All this has fundamental implications for the design of teaching materials, for assessment and for teachers' and learners' perceptions of grammar in the classroom.
Michael McCarthy is Emeritus Professor of Applied Linguistics, University of Nottingham, Adjunct Professor of Applied Linguistics, University of Limerick, and Visiting Professor in Applied Linguistics at Newcastle University. He is author/co-author/editor of 53 books, including Touchstone, Viewpoint and the Cambridge Grammar of English, as well as titles in the English Vocabulary in Use series. He is author/co-author of 110 academic papers. He is co-director (with Ronald Carter) of the CANCODE and CANBEC spoken English corpora. He has lectured in 46 countries and has been involved in language teaching and applied linguistics for 52 years.
---
Workshop sessions:These sessions are longer more interactive sessions allowing us to explore the area in more detail

5. Textploitation: using a text to develop skills: Mark Heffernan and David Byrne
Textploitation embraces the idea that language happens in context and suggests that we can use one text for an entire lesson and exploit it in many different ways. While texts are very often used as a vehicle for vocabulary and grammar, this session aims to look at how they can be used to develop our learners' skills. It will focus on listening, speaking, reading and writing, giving lesson ideas for each of them.
Mark Heffernan has 15 years' experience in EFL and EAP and currently works for Queen Mary University of London as Teaching Fellow, with a focus on materials development.
David Byrne has 10 years' experience in EFL. In the past 10 years, he has worked in Ireland, Spain, South Korea and London with students from 5 years old to 85 years old. He currently works in EC LONDON as the DOS of 16+ and 30+ programmes. In the past 4 years, he has spoken at IATEFL three times and this year will be speaking at ELT Ireland about Textploitation.
6. Understanding the Spoken English Word: Annie McDonald
We begin the session with little a transcription activity which will bring to the fore precisely what's involved in L1 or expert listening. We'll use the 'play – pause – predict – listen – reflect' transcription listening procedure with a short section of an authentic radio interview and share our impressions and conclusions about listening processes. We'll also reflect on Richard Cauldwell's claim that our 'expertise in understanding often deafens us to the true nature of the sound substance' (2018). Turning to the L2 listener, we'll analyse classroom data involving non-expert or L2 listeners' transcriptions of spoken English and identify some of the difficulties understanding L2 speech learners might experience. Finally, we'll briefly brainstorm what we could do in the classroom to help our learners develop the listening skill, both in the short and long term.
Annie McDonald has taught EFL/ESP/EAP to secondary/university/adult students for 30+ years in Turkey, Brazil, Spain and England. She holds an MSc in Teaching English from Aston University, is a former president of TESOL-Spain. She has also co-authored English Result (OUP, 4 levels), Authentic Listening Resource Pack (Delta, 2015), and co-founded www.hancockmcdonald.com, with Mark Hancock.
7. Effective differentiation through cooperative learning: Jason Anderson
Cooperative learning evolved in mainstream education to ensure greater inclusion and participation for minority students. It developed many strategies and activity types that are also familiar to communicative language teachers. But there are important differences between cooperative and collaborative learning (the more general use of pairwork and groupwork), and sometimes the former can succeed where the latter fails. In this workshop we will look at some of the key features of cooperative learning, focusing specifically on how cooperative learning makes use of heterogeneous and homogeneous groupings to attempt to increase learning for all without necessarily increasing the workload for the teacher or reducing the esteem of the lower-achieving learners. There will be opportunities for discussion, comments and critique as we explore what one approach from mainstream education can and can't offer us as English language teachers. The session will be inclusive of all learner ages, levels and teaching contexts!

Jason Anderson is a teacher, teacher educator, educational consultant, and multiple award-winning author of books for language teachers. He has taught languages, trained teachers, and developed materials to support teachers in primary, secondary, and tertiary contexts, both pre-service and in-service, in numerous countries across Africa, Asia, and Europe. He has worked for national ministries of education and development partners including UNICEF, the British Council, and VSO. His interests include pre-service and in-service teacher education, translingualism in language teaching, and issues of appropriacy of methodology and social context, especially in low-income countries
8. Developing Speaking Skills with Low Level Adult Students: Olha Madylus
For an adult learning a new language, there are many reasons why it can be difficult to engage in speaking tasks or even just produce more than single word utterances in any oral exchange, for example when the teacher asks if you had a good weekend as you enter the classroom. The words and phrases are there somewhere, but just can't be found and delivered when needed. It can be frustrating and even embarrassing.
This session explores the challenges adult students have producing spoken English and moves on to identify various simple classroom strategies which allow students to not only develop individual speaking skills, but to pull them together in tasks and feel a sense of success.
Tasks which focus on learning high frequency generic expressions as well as using scaffolding and simple dialogue signposting will be presented. In addition, the role of preparation and rehearsal will be explored.
Olha Madylus has taught in the UK, Greece, Hong Kong and Venezuela. She is a freelance consultant and teacher trainer and trains language school teachers (and trainers) worldwide. She is based in London and does consultation, teacher training and teacher trainer training for organisations such as Cambridge University Press, The British Council and Ministries of Education. She is also a materials' designer and author. Her main focus is on understanding and motivating learners as well as developing literacy in developing countries. She is the author of Film, TV and Music, a photocopiable activities book for teenagers, Cambridge University Press.
Elective sessions 2
9. Post-ELF Pronunciation Teaching: Mark Hancock
Most learners today need English to communicate in a lingua franca (ELF) environment. The recognition of this fact has disrupted pronunciation teaching. What model can learners aspire to if not an R.P. model? What can be considered 'correct' or 'incorrect'? In this talk, we will discuss what is to become of pronunciation teaching these post-ELF times.
Mark Hancock started teaching English in 1984. He's worked in Sudan, Turkey, Brazil and Spain. He has a degree in Teaching English from Aston University. He has published many pronunciation books, including Pronunciation Games (CUP 1995), English Pronunciation in Use Intermediate (CUP 2012) and Pronunciation Pack (hancockmcdonald.com 2017), and he blogs at pronpack.com.
10. Building teachers' assessment literacy through structured video CPD: Ben Beaumont
This talk will report on a project to help develop teachers' assessment literacy by using free video resources and associated worksheets (www.trinitycollege.com/TESOL-AL). Created in collaboration with EAQUALS, these 12 videos are intended as an introduction to various areas of assessment literacy. Each video introduces one area of assessment literacy, ranging from the use of Bloom's taxonomy in formative and summative assessment practices to practical techniques for conducting diagnostic assessments. With a focus on practical application, each video concludes with recommended reading to help guide teachers in their own further development.
The talk will describe how these videos have been piloted used with different teaching centres and report on teachers' feedback on how useful they have been. Based on the feedback from teaching centres, the talk will conclude by giving recommendations for further work in this area and by sharing links for these free online CPD resources.

Ben Beaumont is TESOL Qualifications Manager at Trinity College London and has an interest in developing pre and in-service support or teachers to help promote effective learning and teaching. Apart from being academic lead for Trinity College's Cert TESOL and Dip TESOL programmes, Ben's research interests include support for teachers in English Medium Instruction contexts and his personal interests include trying to stop his cat clawing up his carpet.
11. Teaching and learning academic language: Edward de Chazal
This presentation focuses on the 'E' in EAP. A major challenge for students in academic settings is to understand, process, and produce academic language in the context of written texts and spoken discourse. The session starts with a brief overview of the key characteristics and complexities of academic language, which demonstrates that such language is not only a bundle of grammar and vocabulary to be learnt. Students also need to develop the critical thinking skills to look beyond language in order to identify meanings and concepts in texts and accurately work out how these are related. These teaching and learning processes are illustrated using examples from Oxford EAP, tracing key academic language from B1 to C1 with particular reference to the core critical language of evaluation, stance, perspective and interpretation.

Edward de Chazal graduated in English and Classics from the University of London in 1987 and started teaching English as a Foreign Language that year in Izmir, Turkey. Since 1990 he has specialized in ESP and EAP at Bilkent University in Ankara, the Command and Staff College in Kuwait, UCL in London, and from 2008 has been visiting lecturer in EAP at the Czech University of Life Sciences in Prague. Edward has worked in 20 countries as a teacher, Trinity College London examiner, teacher trainer, consultant or presenter. Since 2011 he has worked as an independent author and consultant, producing articles and books including the multi-level Oxford EAP series and the English for Academic Purposes title in the Oxford Handbooks for Language Teachers series. Edward is currently working on a learner's resource for academic language.
12. Using post-test think aloud interviews to investigate student reading skills and reading test validity: Helen Donaghue and Lyndon Taylor
This presentation will report on a classroom-based research project carried out in a tertiary institution in the UK with international students on a pre- sessional EAP course. Using a think aloud protocol, students described (retrospectively) how they did tasks in a reading test. Interviews yielded information about students' reading skills and strategies and the cognitive validity of test items, which enabled informed improvements to teaching and test design. The presentation will give brief background information and outline the research methodology. We will then detail interesting findings from the interviews, including information about how students approached texts and tasks, the skills and strategies they used (or did not use), and information about the validity of test questions. We will discuss how this process informed teaching and syllabus changes, ensured better teaching/test alignment, and helped improve test design
Helen Donaghue is a senior lecturer in English language teaching at Sheffield Hallam University. She teaches on undergraduate and postgraduate teacher education courses, and on pre-sessional and in-sessional EAP courses. Her research interests include discourse analysis of institutional interaction, teacher identity, language testing and L2 reading.
Lyndon Taylor is a senior lecturer in English language teaching. He leads the long pre-sessional course at Sheffield Hallam. His research interests include cognitive perspectives on language testing in addition to corpus linguistics.