If you're currently involved in teaching English, as a teacher or volunteer/are interested in teacher training, we'd love to hear from you!
About this event
The purpose of the event is to provide informative and detailed content about fully funded Level 3 Qualifications for ESOL Teachers for those who wish to upskill/refresh their teaching skills or who always wanted to be a teacher but never got a chance to complete a course due to financial barriers. The participants will receive detailed information on the course eligibility as well as there will be a time for any questions and answers.
Completing Free Level 3 qualification in Teaching ESOL will support your development as an English Language teacher. Our students have used this course for the following reasons:
1. As part of their continued professional development (CPD) for voluntary or paid teaching roles
2. To improve their own English language skills
3. As a refresher course
4. To support their students to prepare for the national ESOL Skills for Life exams in Reading, Writing, and Listening and Speaking
5. As a precursor to further teacher training qualifications including: Level 4 Certificate in Education and Training / Level 5 Diploma in Education and Training /Cambridge (CELTA) or Trinity (CertTESOL)
The Free Level 3 Qualification for ESOL Teachers is delivered by qualified and experienced trainers from the Twin Group Training Organisation.
At Twin, we provide UK residents and international students with high-quality English language tuition, internships, paid work opportunities, apprenticeships, volunteering programs, and school group travel tours. We also deliver government-funded programs and support employment opportunities across the UK to local British residents. Located in Greenwich, Twin is currently providing all our services online via Microsoft Teams. Twin is accredited by Ascentis and approved to run Level 3 qualifications in Teaching ESOL. For further information visit www.ascentis.co.uk
Please JOIN THIS EVENT to receive more information on the course eligibility and how to apply.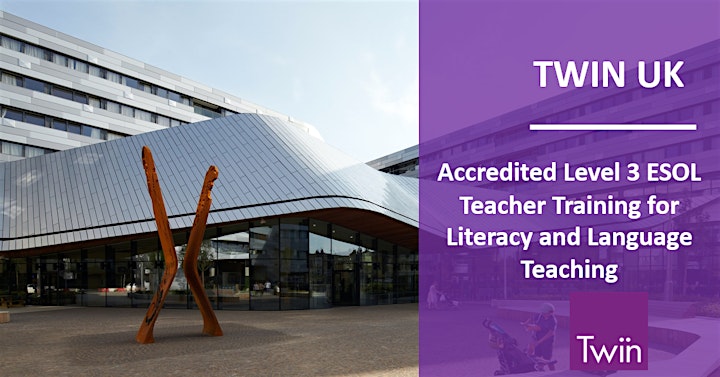 Organiser of Enhance your ESOL qualifications and career