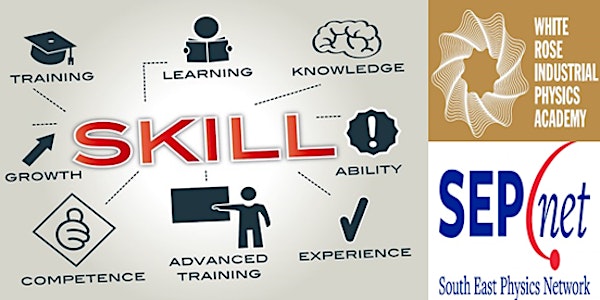 Enhancing physics graduate employability through curriculum development
Event Information
Location
De Vere Orchard Hotel
University Park
Beeston Lane
Nottingham
NG7 2RJ
United Kingdom
Description
Enhancing physics graduate employability through curriculum development: enablers, barriers, and opportunities
A joint WRIPA & SEPnet Workshop
, supported by the Institute of Physics
Chaired by Professor Sir William Wakeham
To create a more productive economy the UK government has recently published its Industry Strategy. The government's vision for a transformed economy is based on 5 foundations, including "people" and "places". "People" and "Places" emphasise a number of challenges such as tackling particular shortages of STEM skills, developing skills to take advantage of new technology and implementing Local Industrial Strategies to drive productivity.
To meet these business needs (and others!) for talent, skills and innovation i.e., "innovation diffusion" through people, university physics departments will need to consider how this will be achieved via curriculum development, work-based learning and employer engagement.
The aim of this one-day workshop is to understand better the enablers and barriers to curriculum development, the opportunities for physics departments with respect to the Industrial Strategy and to share best practice of embedding employability within degree programmes.
The workshop also provides the opportunity to build a wider network of employability focused academic and professional staff. The programme will include presentations and case studies from Institute of Physics and a number of physics departments.
The event is aimed at heads of physics departments, academics responsible for employability, programme managers, heads of teaching and learning, industry representatives and representatives with responsibility for developing physics graduates employability skills.
PROGRAMME
10.00 Arrival and Coffee
10.30 Welcome and Housekeeping – Dr Olga Fernholz, School of Physics and Astronomy, University of Nottingham
10.35 Chairman's introduction – Prof Sir William Wakeham, Chair, SEPnet
MORNING SESSION
10.45 – 11.25 What are the opportunities for university physics departments in the Government's Industrial Strategy? Prof Richard Jones FRS, Department of Physics and Astronomy, University of Sheffield
11.25 – 12.05 Changes in the HE sector and impact on curriculum development and embedding employability. Dr Catherine Hack, Higher Education Academy / AdvanceHE
12.05 – 12.45 Putting skills at the heart of accreditation. Robyn Henriegel, Accreditation and Professional Standards Manager, Institute of Physics/Dr David Sands, Chair of Institute of Physics Accreditation Committee
LUNCH: 12.45 – 1.45
AFTERNOON SESSION
Case Studies: 'Embedding Employability at Programme Level'
1.45 – 2.15 Embedded Employability at Salford - the transition from group projects to live briefs. Prof Ian Morrison, University of Salford
2.15 – 2.45 Learning physics by doing as real-world physicists do. Dr Andrea Jimenez Dalmaroni, School of Physics and Astronomy, University of Cardiff
2.45 – 3.15 Integrating employability with programme design - current practices and future potential. Dr. Alastair Buckley, Department of Physics and Astronomy, University of Sheffield
3.15 – 4.00 Refreshments, Discussion and Wrap-Up
INFORMATION FOR ATTENDEES
Getting to the venue
The workshop venue is located on University Park Campus, Beeston Lane, Nottingham, NG7 2RJ.
Arriving by car. Free parking is available at the venue. If the parking lot is full you will receive a parking voucher to park for free anywhere on campus.
Arriving by train. You can get from Nottingham Train Station to the venue by taxi (17 min). You will find taxis at the intersection of Trent Street and Station street underneath the tram bridge (see map).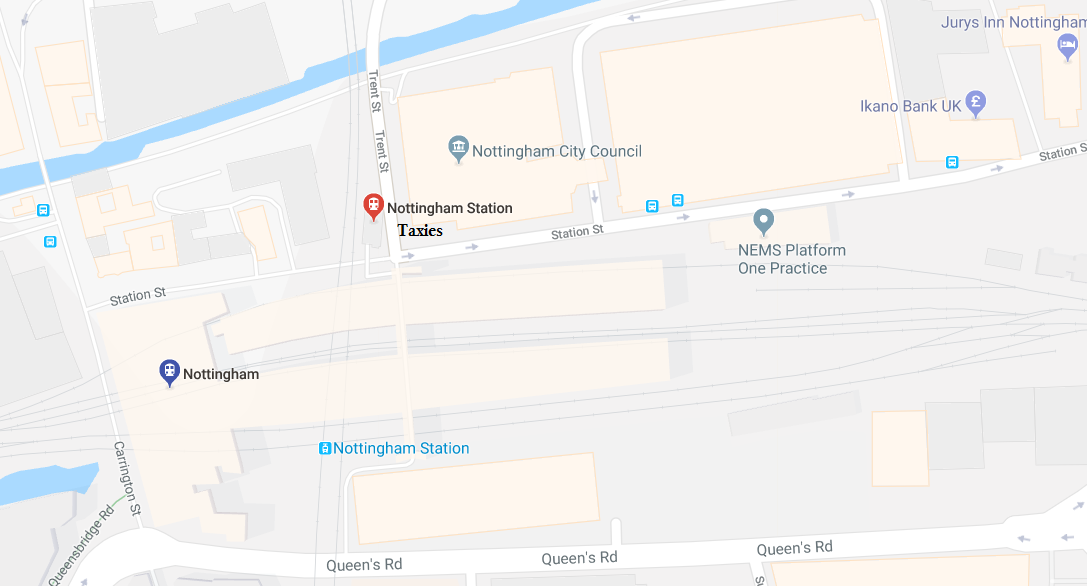 Also, some local taxi companies are DG Cars 0115 950 0500, Nottingham Cars 0115 919 1919, Cable Cars 0115 922 9229.
Taking a tram is also an option if you don't mind a 12-minute walk from the tram stop to De Vere East Midlands Conference Centre. Take a tram bound for Toton Lane and alight at University Boulevard tram stop (see map).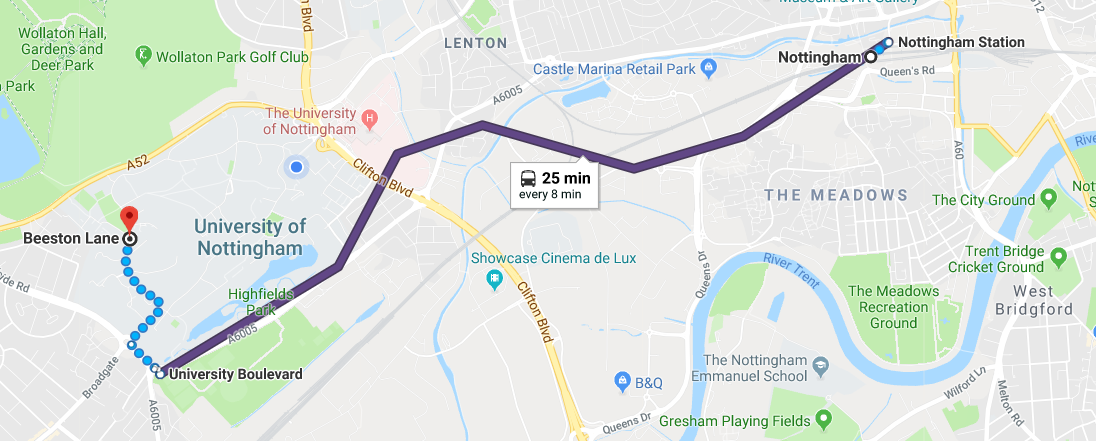 Staying in Nottingham
De Vere Orchard hotel gets booked very quickly - please email olga.fernholz@nottingham.ac.uk to try and reserve a room. Alternatively, below, are some convenient hotel options.
In the city centre
Park Plaza Nottingham, 41 Maid Marian Way, NG1 6GD, Nottingham

St James hotel, Rutland Street, NG1 6FL, Nottingham
Britannia Nottingham, 1 St James's Street, NG1 6BN, Nottingham
Near the train station
Jurys Inn, Station Street, NG2 3BJ, Nottingham

Date and time
Location
De Vere Orchard Hotel
University Park
Beeston Lane
Nottingham
NG7 2RJ
United Kingdom