Enlightened Monarchs: Art at Court in the Eighteenth Century

Wednesday, 7 May 2014 from 10:00 to 18:00 (BST)
Event Details
Study Day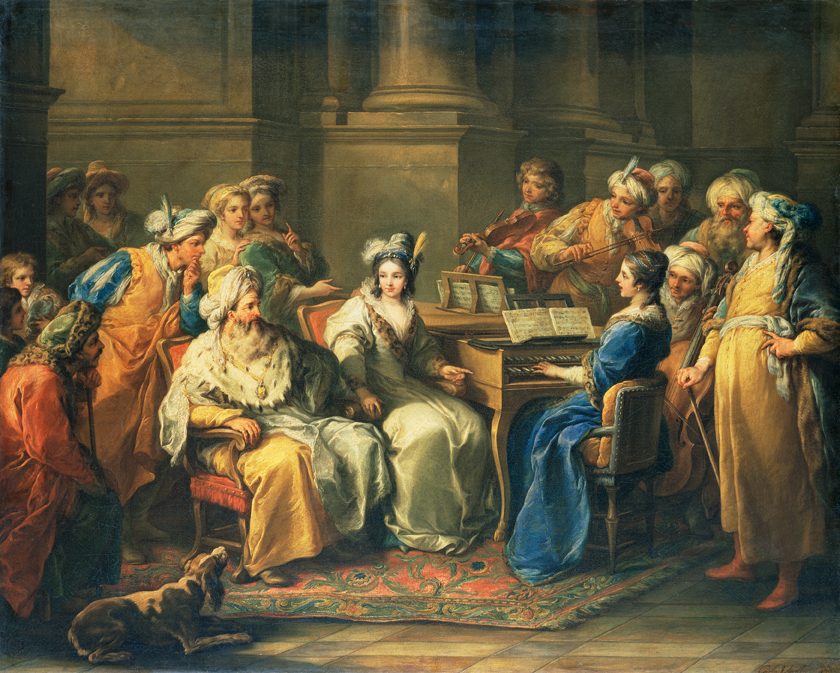 Enlightened Monarchs: Art at Court in the Eighteenth Century
Wednesday 7 May
10am – 4.30pm: Lectures at the Wallace Collection
5pm: Private view of The First Georgians: Art and Monarchy 1714-1760 at the Queen's Gallery, Buckingham Palace
Cost: £35. Includes exhibition entry at The Queen's Gallery, excludes lunch
To commemorate the 300th anniversary of George I's accession to the British throne in 1714, The Royal Collection Trust, the Wallace Collection and the Society for Court Studies are organising a study day dedicated to the often overlooked art patronage of the first two Georges and their families. In addition to investigating official commissions and personal taste, it will explore differences and similarities between the arts at court in Britain as well as Prussia, France and Spain in the Age of Enlightenment.
The day will conclude with a private view of The First Georgians: Art and Monarchy 1714-1760 at The Queen's Gallery, Buckingham Palace and a glass of wine. 
Programme*
Morning Session (Britain and Hanover)
10.00am: Registration, tea & coffee
10.20am:  Welcome
                  Dr Christoph Vogtherr, Director of the Wallace Collection
10.25am:  Chair: Desmond Shawe-Taylor, Surveyor of The Queen's Pictures,
                  Introduction to the exhibition
 10.35am:  Where is Hanover? The artistic and dynastic roots of the first monarchs
                  Wolf Burchard, Royal Collection Trust
11.05am:   The setting for a new dynasty – furnishing St James's Palace for George I & his Court, 1714-15
                   Rufus Bird, Deputy Surveyor of The Queen's Works of Art

 11.30am:  William Kent's royal clients: a challenge to exhibition curation
                   Julius Bryant, Keeper Word and Image Department, V&A
 12.10pm:  Q&A chaired by Desmond Shawe-Taylor
 12.25pm:  Lunch (not provided)
Afternoon Session (Berlin, Paris & Madrid)
 1.10pm:  Chair: Clarissa Campbell Orr, MA, President of the Society for Court Studies
 1.15pm:  Becoming British: Queen Caroline and Collecting
             Joanna Marschner, Historic Royal Palaces
1.55pm:  Sophie Charlotte of Prussia and Frederick the Great as collectors
                Christopher Vogtherr, Director, Wallace Collection
 2.35pm: Coffee
 2.55pm:   Marie Leszczyńska, a forgotten patron
             Helen Jacobson, Curator French 18th-century Decorative Arts, Wallace Collection
 3.35pm:  The Kings' own Taste or the Politics of Reform? Bourbon Royal Patronage in Madrid.
                Curt Noel, New York University London
 4.15pm:  Q&A chaired by Clarissa Campbell Orr
 4.30pm:  Close – travel to the Queen's Gallery, Buckingham Palace. Participants must make their own way.
 5pm – 7pm:  Private View of The First Georgians: Art and Monarchy 1714-1760
 * This programme is subject to change
When & Where

The Wallace Collection
Hertford House
Manchester Square
W1U 3BN London
United Kingdom


Wednesday, 7 May 2014 from 10:00 to 18:00 (BST)
Add to my calendar
Organiser
The Wallace Collection is one of the most significant collections of fine and decorative arts from the 17th to the 19th century in the world and the greatest bequest of art ever left to the British Nation.