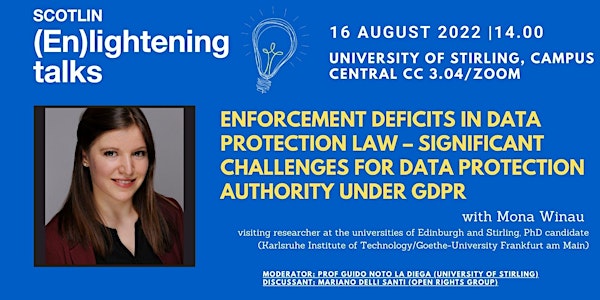 (En)lightening Talk - Mona Winau - Karlsruhe Institute of Technology
Location
University of Stirling
.
Stirling
FK9 4LA
United Kingdom
Mona Winau is visiting researcher at the universities of Edinburgh and Stirling, PhD candidate (KASTEL/Goethe-University Frankfurt am Main)
About this event
*THIS IS A HYBRID EVENT*
About the event:
SCOTLIN is delighted to announce another seminar from the (En)lightening Talks series.
Ms Winau will present on "Enforcement Deficits in Data Protection Law – Significant Challenges for Data Protection Authority under GDPR"
Moderator: Prof Guido Noto La Diega (University of Stirling)
Discussant: Mariano delli Santi (Open Rights Group)
Abstract:
The seminar will discuss the importance of an effective regulation regime on data protection law to ensure strong protection of fundamental rights as well as the associated major challenges. Reducing the enforcement deficits was one of the key objectives of the reform of European data protection law. Despite far-reaching modifications, shortcomings remain. The main elements of the reformed regulatory concept will be outlined. Consideration will be given to the network of European data protection authority. Reasons for the remaining enforcement deficits and approaches to address them are to be discussed.
____
This is a hybrid event. You can join us via Zoom or in person at University of Stirling, Campus Central room CC 3.04.
Participation is free, but registration is mandatory.