Description
About the event
A practical workshop, to explore the hidden dynamics of family and business challenges.
What we see with our physical eyes is the behaviour which is a consequence of belief systems that comes from the family of our origin. We are influenced by different hidden dynamics and loyalties sometimes going back to generations before us. These are the aspects of our life that we are inevitably touching through the Systemic Enrichment at our intensive experiential transformative events.
This workshop will include individual and group work. You will learn what stands in-between you and the next stage of your growth and development.
The workshop is based on Systemic Repatterning® stemming from the work of Virginia Satir and Bert Hellinger, and the ENRICH Method® designed by Darya Haitoglou, which was successfully applied with corporate and individual clients.
We use specific neuroscientific practices that focus on aligning the mind, the body, the soul and the heart to improve connection, communication, intimacy, and well-being in relationships.
Highly advised for people who are ready for deep explorative work.
About Facilitator
Darya Haitoglou (MSc(Dist), MPhil, BScPsy(Hons), NLPMT, PCC (ICF) ) is a psychologist, systemic executive coach, an experienced facilitator who creates safe and confidential space to explore the deeper layers beyond cognitive intellect. She is particularly skilled at noticing nuances in body-language that lead to transformations and bring in insight to hidden dynamics in relating. For more information about Darya visit https://daryahaitoglou.com/who-darya/
About Sunita Passi Wellness and Treatment Centre:
Award-winning wellness centre and shop. Bevoirs leading destination for yoga, meditation, herbal medicine and luxury treatments. Founded by Sunita Passi.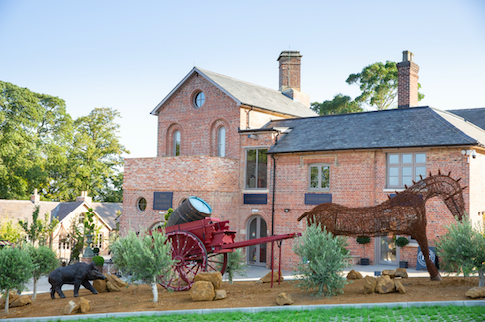 About Sunita Passi
Sunita is an Ayurveda consultant, meditation teacher and holistic therapist who applies traditional Indian approaches to 21st-century stresses, something she is into her second decade communicating as a TEDx speaker and sought-after radio presenter. She's trained hundreds in the skills of Ayurvedic diagnosis, treatment, and meditation; developed skin and hair products using traditional methods and ingredients that are used in leading spas internationally.
Additional information
The workshop is limited to a maximum of 12 guests

Flights and transfer are not included

Issues can be family or business-related
What do I need to prepare
If you want to learn more about the approach, you can read this article: https://daryahaitoglou.com/family-business-constellations/
Testimonials from Enrich Workshops and Retreats (view videos on www.enrich.global )

"I have experienced other retreats and forums. This is by far reached a new level of therapy. Sophisticated and evolved practitioners listened as everyone found their own space whilst the spirit moved through us by the gentle loving guidance of the facilitators. It was extraordinary!!!

"I believe the retreat was enriching (pun intended) in many ways, as I have profoundly deepened my knowledge about holistic healing and how systemic coaching can contribute."

"I felt cared about relaxed and a sense of wanting to be closer to my core self. As I experienced others becoming centred, suddenly we all became one. Pure magic in motion and multi-dimensional!!!"

"It was very profound, transformational experience. I came home energised and truly enriched by love, which I'm sure will help me to move forward in my life journey. I felt a magnificent connection with myself and with other beautiful people around. Darya and Alex are great facilitators - smart, competent and loving. This retreat was very holistic and just life-changing. I'm so grateful to be a part of this story!"

"Stand on the shoulders of giants! This is an intensive few days learning about relationships and enhancing your own. The experts were fantastic and everyone on the course was amazing! I will never forget these days!"

"I was not sure what to expect from Enrich. I knew that it would be a good investment in myself at a time in my life where I was struggling with my vision of the future. Not only did Enrich help me to get my focus back, but it also contributed to saving my marriage. I'm now in a position again where I rediscovered my life values, joy, work and life balance and ultimately who I am as a human being. I can wholeheartedly recommend Enrich, wherever you are in your journey. You will meet amazing people, you will leave enriched."

"I was waiting to join the retreat since Darya and Alex started making retreats. And finally, it happened. I see the great talent of Darya to bring together people with amazing hearts, I love how Alex leads the organization. I feel the power of female wisdom from Darya and masculine confidence from Alex that everything will be well done. The event is unique in experience as the number of participants is small enough to feel its like a warm family and at the same time enough to see an amazing range of souls and minds. During the event, I was living it 100% since the moment I opened my eyes in the morning dreaming about early yoga class till the evening when we had dinners in fantastic locations at the table with people you love as family members. I wish I could join those events twice a year :)"

"Enrich Retreat in Santorini was a unique experience that I have never had before. "I really enjoyed the workshop "Enrich your relationships " because it allowed me to empower myself with practical and positive exercises. Such a wonderful and enriching experience which has helped me grow. I would highly recommend to others"