Enrol Yourself x Curiosity Club: 2019 Learning Marathon Open Night
Description
What will you grow in 2019?
It might be a side project, venture idea, creative practice, professional specialism - or your self belief.
Applications are OPEN for the London #LearningMarathon - Enrol Yourself's 6 month learning accelerator where you pool your skills, creativity and resources with a dozen peers - and end up somewhere you couldn't have reached alone.
Come explore your goals and curiosities with Enrol Yourself and our friends Curiosity Club. We'll help you identify exactly what it is you'd like to grow this year, and answer all your questions about the Learning Marathon. This is a chance to meet us in person (over a beer if you're so inclined) and figure out if this is for you. You'll go away with some clarity - and a booklet showcasing our previous participants.
Visit our website for all the detail about the #LearningMarathon, how it works and how to apply. Application deadline 9am March 4th.
---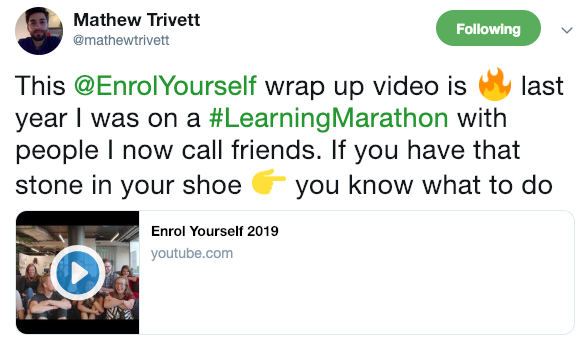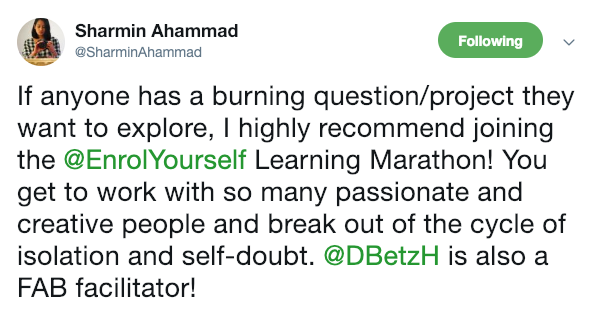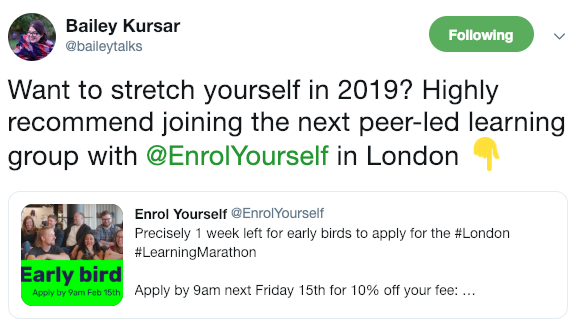 ---
Curiosity Club, our partners for this Open Evening, are an organisation who help people explore their curiosities. Having worked mainly with disadvantaged youth, their aim is to create an empowered generation of auto-didactic and confident young people who become pioneers of their destinies.
Organiser of Enrol Yourself x Curiosity Club: 2019 Learning Marathon Open Night
Enrol Yourself is an award winning social enterprise redesigning lifelong learning by harnessing the power of peer groups to multiply individual and collective development.