Ensuring our patients are safe: Meeting the needs of our local population
Sales Have Ended
Registrations are closed
Please contact sarah.black@ahsn-nenc.org.uk
Sales Have Ended
Registrations are closed
Please contact sarah.black@ahsn-nenc.org.uk
Ensuring our patients are safe? Does the work of the patient safety collaborative meet the needs of our local population.
About this event
AHSN NENC hosts the Patient Safety Collaborative (PSC) for North East and North Cumbria. The Goal for the PSC NENC is to ensure that the North East and North Cumbria has the safest and highest quality health and social care system.
We have developed plans to achieve this over the next 18 months. We invite you to join us to help us shape these plans.
There are five national workstreams set out in the PSC specification, including:
Early Detection and Management of Physiological Deterioration;
Safety of Maternity and Neonatal Care;
Medicines Safety;
Mental Health Safety;
Adoption and Spread of four identified interventions (Emergency Laparotomy, Tracheostomy and COPD Discharge Bundles and the Development of an Improvement and Innovation Pipeline).
If you have an interest in one or more of these areas, please come along to understand more about the work that we will aim to support.
We are keen to welcome members of the public and representatives from regional patient groups.
The session will be held on Zoom.
Please contact sarah.black@ahsn-nenc.org.uk for further information.
The event agenda can be viewed below or downloaded here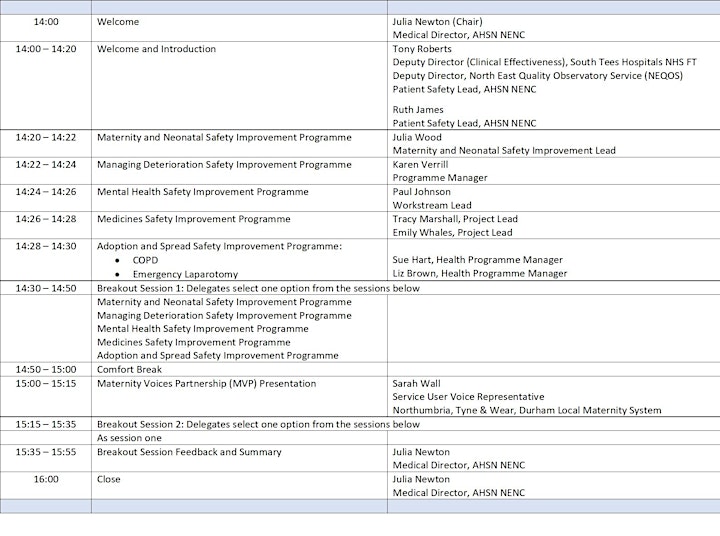 Organiser of Ensuring our patients are safe: Meeting the needs of our local population
The Academic Health Science Network for the North East and North Cumbria (AHSN NENC) is dedicated to improving healthcare and supporting wealth creation through partnership working and promotion of innovation across the NHS, Academia and Industry.
With a remit to provide system-wide integration, we facilitate interactions with multiple partner organisations across the region. Principally we work with the NHS Trusts, CCGs and Universities which form our core membership, and we collaborate closely with many other stakeholder groups. We support the inclusive, collegiate approaches that are needed to address shared problems at a system level.
Wealth Creation and Health Improvement have a common requirement for innovation. The AHSN NENC supports all aspects of innovation across healthcare from creating a culture that supports the innovation through to the dissemination and adoption of effective practice and proven technologies.
We have therefore achieved the regional reach and the local buy-in that is necessary to deliver cross-organisational programmes to improve health and create wealth in the region.