Description
A BRAND NEW EVENT FROM THE CREATORS OF LONDON FOOD TECH WEEK
What is it?
The YFood Insight & Innovation Day is the fastest way to get to grips with the rapidly evolving Food Tech landscape. Get the insights and inspiration you need to navigate this exciting industry and come away understanding the market opportunities and scope for growth within. You'll be exposed to some of the key trends, innovations and players shaping the future of the food ecosystem. Be introduced to and interact with leading Food Tech startups and ones to watch and meet up and coming food producers.
Who is it for?
Are you a champion for Food Tech within your company but struggling to get buy in from your team or department? Are you an investor looking for your next big investment and interested to see what the Food Tech sphere offers? The YFood Insight & Innovation Day is for brands looking to be more active in Food Tech and investors looking at what investment opportunities this growing area offers. It's such a fast evolving industry and we can't wait to share all our new insights with you. Make sure you don't miss out and get left behind.
Why attend?
Hear from and interact with inspiring founders pioneering the Food Tech scene.
Meet innovative food producers who will be providing lunch on the day.
Understand the market opportunities within an exciting industry that provides exponential growth.
Meet other people interested in Food Tech that make up this dynamic community.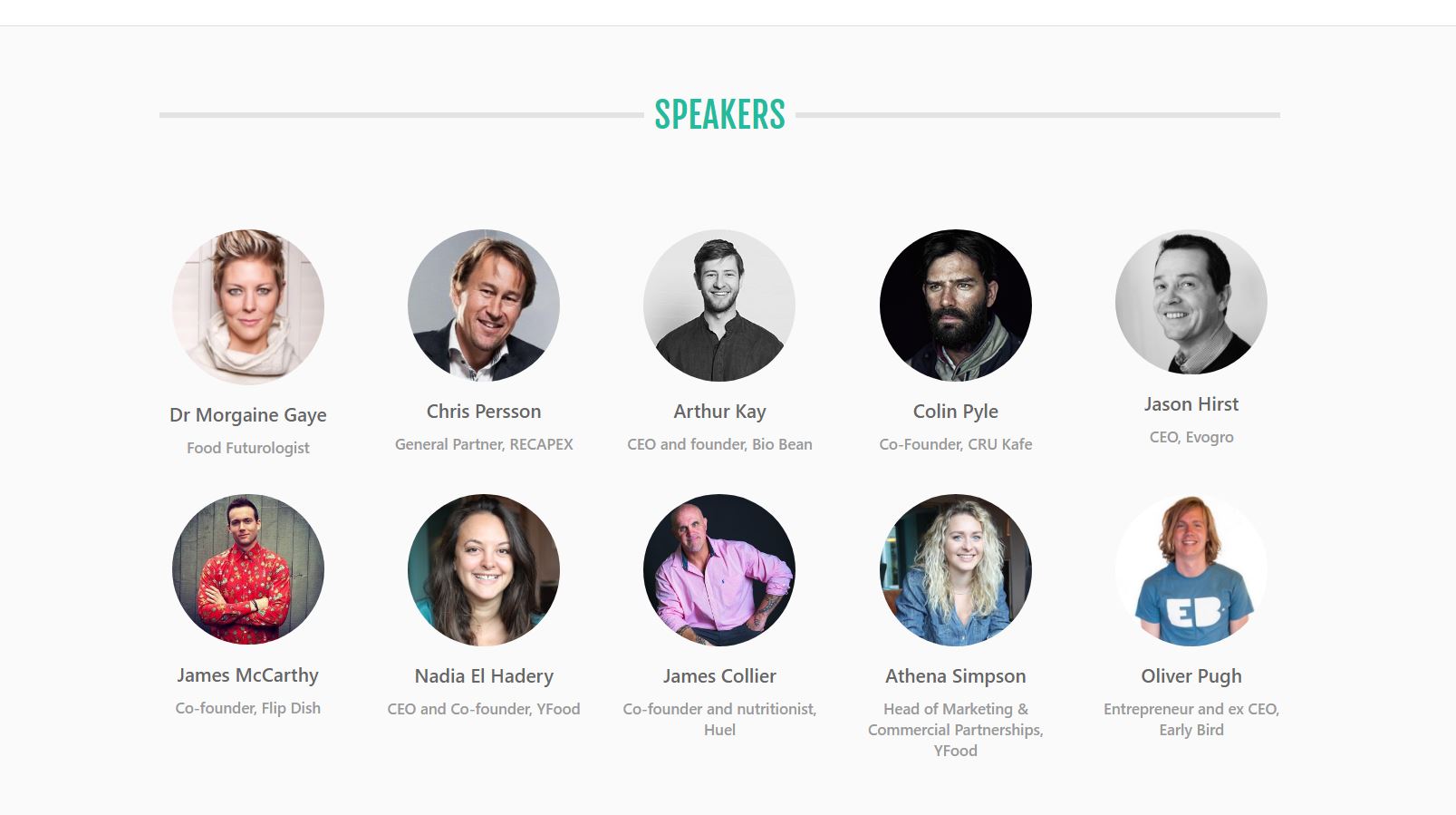 SCHEDULE
Breakfast
Whilst you enjoy coffee from Cru Kafe and breakfast from Huel you'll have a chance to meet your fellow attendees.
Keynotes
We'll then kick off with our first keynote from Dr. Morgaine Gaye, world-renowned Food Futurologist who will share her mind-blowing insights on where the food industry is going and how technology plays a role in that.
Then Arthur Kay at Bio Bean, a clean technology company that recycles waste coffee grounds into advanced biofuels, who will share his insight on the term he coined as the 'Poliscene' and how cities hold the tools, resources and ability to solve the world's global problems.
Next you'll hear from Nadia El Hadery, CEO & Co-Founder at YFood, who will inspire and empower you to walk away with the answers to these questions:

What is Food Tech?
How does one navigate within this new landscape?
What are the current and future trends in the food ecosystem?
Where do the big future opportunities lie?
What does the Food Tech industry need to thrive and grow?
Lunch
We'll then break for lunch made by zero waste heroes Tiny Leaf who will make us lunch with food that would have been thrown out. We'll also have salads provided by Growing Underground who sustainably grow mouth-wateringly fresh micro greens and salad leaves 33 metres below the busy streets of Clapham

YFood Talks
After lunch we'll jump into the second edition of our global YFood Talks series, "Farm-Fork-Bin-Grave", which will highlight 6 amazing and inspiring startups dedicating their lives to fundamentally shifting the Future of Food. During these talks you will meet:
FARM
Evogro, maker of Indoor Plant Growing Systems for Chefs
FORK
Flipdish the Irish startup who help restaurant to regain control of their sales and marketing channels and build customer loyalty
Huel who have created a nutritional powdered food that is intended to provide all of the body's daily needs

BIN
Yellow Label who Prevent edible food from being thrown away by commercial food outlets across the UK by making users more aware of its local availability at a reduced price.
FoPo who are are giving rejected fruits and vegetables another life by gently drying them and turning them into nutritious, sustainable and tasty food powder.
GRAVE
Early Bird an FMCG brand in the subscription snack space who received £750k in funding but needed £3.5 million to survive, so died -- hear insight on what the industry needs to do to ensure promising companies don't go down.
You'll get a chance to ask all your burning questions as we host a lively Q&A with all of the startups.
Pitch the Startup
Next, after some more nibbles and networking, our acclaimed Pitch the Startup begins. You've seen dozens of startups pitch for investment. And we've all met startups that have received investment. But what we really want to know is: Why are they investable? What do investors see in companies - specifically some of today's world leading food tech companies - that made them want to invest?
Watch investors unravel team, traction, market size and product, and give you perspectives you might not hear from the startup pitch. Chris Persson (former Bookatable entrepreneur turned investor) and Guillaume Taylor (co-founder of Quadia, a social and environmental investment firm based in Geneva) as they share their insights on some of their Food Tech Investments.
Case Studies
Our last session will be Food Tech Case Studies which will highlight where large organisations and startups have had tremendous results and mutually benefitted from working together.
In a fireside chat, 3 Food Tech startups and their brand partners will be discussing and sharing:

How their relationship came about
What key challenges they faced and how they were able to overcome these
Key achievements and milestones
Advice to other large companies looking to work with startups and advice to startups looking to work with large companies.
The session will also entail a discussion about how attendees can apply these learnings to their own organisations. There'll be lots of time to ask questions.
Drinks
We'll end the evening in true YFood style - with innovative drinks, food and conversation. Snack on roasted crickets from EAT GRUB. Eat canapes from delicious zero waste, vegetarian, organic team Tiny Leaf. Sip on Insect Cocktails made by mixologist team Strongmans Tipples and Espresso Martinis from Cru Kafe. Eat and drink the evening away overlooking 360 views of London and sharing thoughts on what is set to be the biggest food tech event so far of 2017!