Description
"Excellent course! Highly recommend this to anyone interested in building more effective, customer-focused organisations."
Are you working as a coach, change agent or manager in an organisation that's moving to agile ways of working? Do you want to learn how to engage the right people of influence in conversations that leads to real change? Or whether agile will even work in your organisation? If you are tasked with helping organisations transition to agile, and these or similar challenges resonate with you then attend the Enterprise Agility Masterclass.
During this three day highly interactive course you will learn what changes your organisation needs to go through in order to be sustainable and successful, how to design processes with agile in mind as well as how marketing, sales, finance should be engaged for business agility. You will also gain skills, tools, and techniques to overcome common dysfunctions like handoffs and waste and how to design a system that supports high-performance, customer focus, and facilitates agility. You will also have the opportunity to become an ICAgile Certified Professional in Agility in the Enterprise, the only course in the UK to offer this advanced certification. Plus each day you will get to enjoy a tasty breakfast, lunch, coffees, teas, and water – included as part of your registration fee.

This course can be taken alongside our other Enterprise Agile Coaching course"Coaching for Enterprise Agility" which teaches co-creating change with large groups of people.
WHAT YOU WILL LEARN:
Why and how agile works and its place in the wider context of organisational change. You will be able to determine whether agile will work in a given context and the investment it needs.
Learn how organisational structure impacts your desired agile ways of working, the end-to-end relationship of elements across the whole value stream and how they fit together from a systems thinking perspective.
Core concepts of business agility, how it extends beyond team-level and how the organization can support or hinder business agility.
How to work with end-to-end business processes and model how they can be improved using an Agile approach.
Leadership styles and blockers for effective leadership team formation including coaching and advising skills to improve leadership relationships and effectiveness.
Gain a variety of approaches to sustaining a healthy team culture and the common pitfalls that could emerge from their misuse.
How to communicate with leaders and demonstrate how the organisation's culture supports or inhibits Agile adoption.


AGENDA:
Protocols for Team Emotional Intelligence (TEI)
Who are you? – A look at identity
Complexity and systems thinking – going beyond Cynefin
Organisational culture and structure
Engaging leadership in conversation about culture
Executive coaching, mentoring, facilitating for leadership development
Executive teams
Enterprise Agility
Business agility
Principles and patterns for organisation design
Lean
Process and Process improvement
Agile frameworks for scaling
Measuring performance and governance
Technical craftsmanship
Sustainability in health of an agile enterprise




WHY THIS COURSE?
part of ICAgile's most advanced track, Enterprise Agile Coaching
the UK's only ICAgile Certified Professional-Agility in the Enterprise course
acquire advanced structural, process, cultural and leadership knowledge
help organisations make the changes needed in order for it to be more responsive and more value driven
the course is based on proven and practical techniques, our experience of running agile adoptions and the work of those who have trained and spoken at AWA events


WHO SHOULD ATTEND?
Scrum Masters, Agile Coaches, Agile Consultants, Managers, Change Agents, Heads of Transformation, Senior Managers/Leadership.


PREREQUISITES
Experience working in agile environments at the multi-team and enterprise level


ACCREDITATION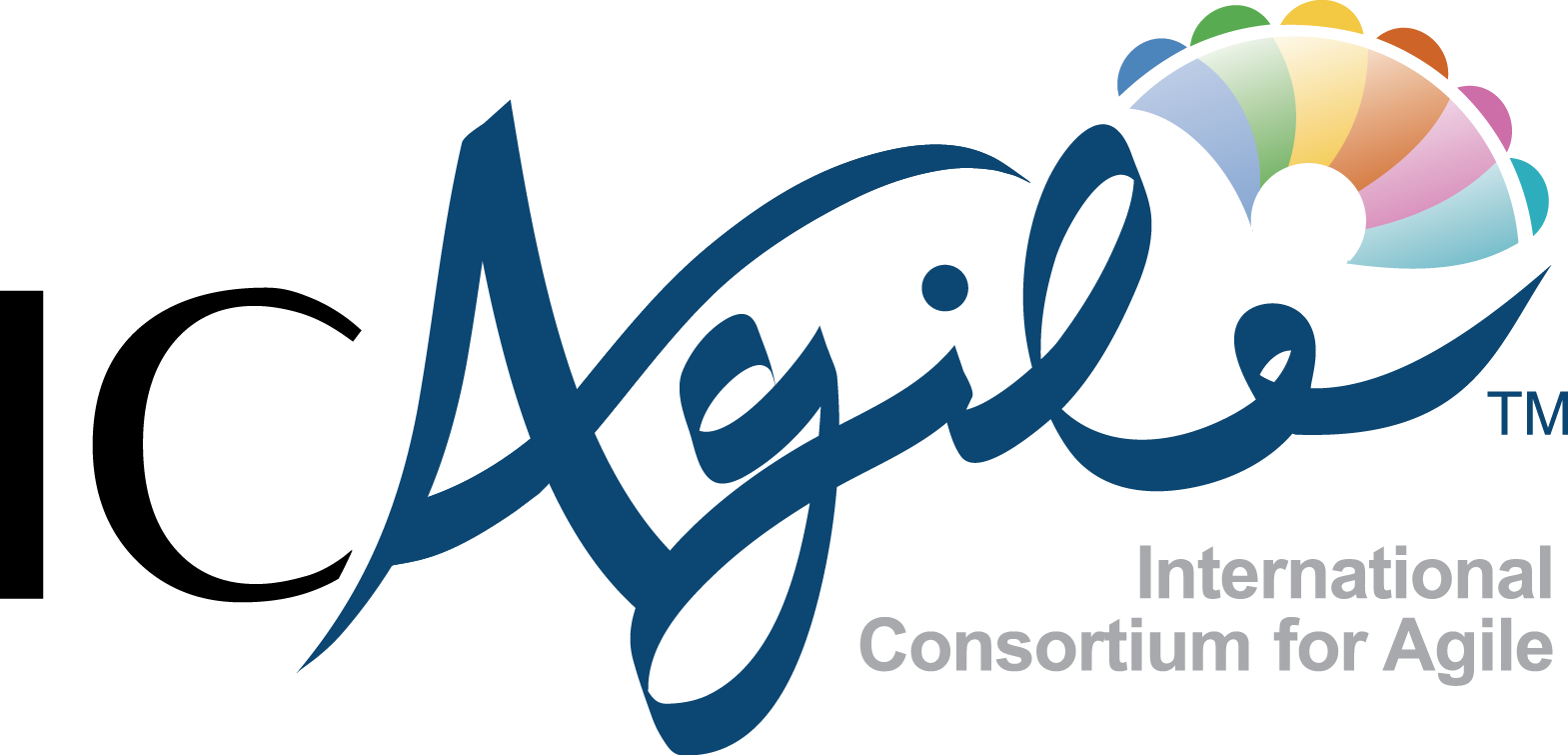 ICAgile Accredited
Enterprise Agility Masterclass is accredited by the International Consortium for Agile (ICAgile) as fulfilling all Learning Objectives in the Agility in the Enterprise track. After successful completion of Enterprise Agility Masterclass, you will be eligible for the ICAgile Certified Professional-Agility in the Enterprise (ICP-ENT) certification. This continuing education certification is a key step toward achieving the ICAgile Certified Expert-Enterprise Agile Coaching (ICE-EC) designation the industry's first competence-based certification for Enterprise Agile Coaching.
There is an ongoing assessment throughout the class as well as a practical assessment at the end of the course that you will need to pass. As long as the trainers believe you have demonstrated competence and that you have understood the learning objectives and you do not miss more than 1 hour of the course then you will receive the certification. The certification is included in the price of the course. Following the class you will receive an email from ICAgile with your Certification.
HIGH PRAISE FOR THIS TRAINING
"This has been a transcendental experience for me. I highly recommend" - Leye Adenle - Enterprise Coach

"AWA offer an excellent path towards enterprise agility, taking care to avoid the pitfalls of mechanical installations of scale agile frameworks" - Myles Ogilvie - Director
"Thank you for this fantastic course. I met some amazing like-minded people. I learned tons. It feels great!" Julie Laurie Mikulskis - Principal Consultant
"Excellent course, very practical. Great tools to be a better coach" - Diego Groiso - Agile Coach
"Excellent insights and practical applications on how to as a coach engage with leaders" - George Harley - Agile Coach

"A really valuable investment that stretched my thinking, and encouraged me about the exciting opportunities for whole organisational agility." - Joel Robinson, Head of Strategy
"This course on Enterprise Agility helps effectively to pinpoint systematic root causes that hinder us on our way to more agility." - Martin Seehaus, Agile Coach
"An unforgettable journey. Together with a group of inspiring fellow Agile practitioners and two very experienced trainers we all got a real sense of value and purpose as Enterprise Agile coaches." - Michaela Broeckx, Agile Coach
"The content and delivery that I experienced in the last 3 days were highly informative & engaging - thank you! Particularly the experiences of others enhanced the learning." - Su Leggett, Head of Operations Agile Practise
"Fantastic course that I would recommend to anyone interested in this area." - William Wilson, Agile Coach
"I really enjoyed the training and it will have a long lasting impact, I am sure." - Eva Haussmann, Community Manager
"Amazing course with an amazing journey. Seems to attract people who are genuinely trying to make a difference and give them a space to explore. Thank you!" - Seamus Keogan, Agile Coach
"I highly recommend AWA + the Enterprise Agile Coach course because it has the best structure of any course I've been on. I feel I have learned tangible tools and models I can use and have had several lightbulb moments of more effective ways I can operate." - Samantha Kiani, Change Specialist
"An awesome, challenging and rewarding course, that has at once deepened my knowledge as well as providing directly applicable tools." - Jas Singh, Agile Delivery Manager
"This is an awesome course well facilitated and trained, thought-provoking, that will help EA coaches." - Robin James, Agile Consultant
"Fantastic course that provides new/different perspectives and tools for solving business delivery problems." - Angela McCarthy, Agile Coach
"This training gives deep insights into the problems most companies struggle with today and participants are equipped with the right tools to solve them on an enterprise level. A must for everyone working with agile transformation." - Tobias Glaser, Agile Coach
"Once again this trainer opens my mind to new ideas and practical tools to help me to help clients." - David McGrath, Agile Coach
"This course was both inspirational and informative, providing powerful techniques to facilitate change." - Adam Lenander, Change Lead
"A great course focusing on the Enterprise Agility for the 21st Century, a blueprint all Tech Leaders should consider." - Nicholas Reed, Senior Management Consultant
"Fantastic 3 days. Left me feeling hugely inspired and motivated to make this work! Thank you!" - Andrew Van Cuylenburg, Director
"Thought provoking, and it really crystallised why we as an organisation need to adopt Agile to meet business needs." - Chet Patel, Head of IT Relationship Management
"A great 3 days with like minded experts and a focus on making all our organisations a better place to work and grow." - Darren Yeates, Transformation Lead
"Great engaging course. I came out with a deeper understanding of the enterprise model and some tools to help me." - Vikki Prince, Scrum Master/Coach
"Great training... lots of practical learnings." - Zsolt Berend, Product Owner
"This was the first course I have been on that felt 100% inclusive and no-one felt faceless to me, in part due to the facilitation. I've learned a lot and am inspired to go further with it!" Alex Minney, Agile Coach
"I learned so much in three days. The trainer created a safe and supportive environment which made learning from him and the other delegates a pleasure. Thank you." - Karen Velasco, Director
"Great course to deepen, extend, refresh and challenge ones understanding of enterprise agility; the whole enterprise." - Georg Fasching, Enterprise Agile Coach
"It's difficult to articulate how best to help an ecosystem. The trainer managed to find the sweet spot between patterns and knowing where to leave space emergence."- Jem D'jelal, Coach
"This course will change the way you look at organizational transformation. Totally inspirational and totally practical." - Roger Hunter, Agile Coach
"Before commencing on a journey of enterprise change make sure to save much hardship by getting comfortable with the tools and techniques from this class." - Ciaran Gallagher, Program Manager
"Thank you to the trainers for a wonderful course - thoroughly enjoyed & learned loads on enterprise agility." - Pamela McFadden, Agile / PMO Manager
"Great 3 days with the trainers, explaining the difficult topic of enterprise agility. This is a "must attend" for anyone thinking of starting this journey" - Alan Ashe, Agile Coach
"Great course with great conversation starters & techniques explored that are immediately applicable." - Aislinn Green, Agile Coach
"If you want to tackle agility at the enterprise level with no nonsense you've got to be in this training" - Rafael Ribeiro, Agile Transformation Lead
"A great learning opportunity you should take if you are trying to help your organisation meet their business goals." - Simon Noone, Agile SME
"A comprehensive, insightful and inspiring masterclass covering enterprise agility." - John Tason, PO/BA
"The training course had excellent content, was thoroughly engaging and has given me new ideas to think about in my organisation. Thank you!" - Carol Roche, Agile Coach
"A great course focused on realistic approach to effecting change in today's enterprise organisations." - Colin Rogers, Agile Portfolio Manager
"This is a great course for experienced agilists who want more in their locker when trying to address enterprise level problems." - Phil Parker, Agile Programme Leader
"AWA and the trainer have deep practical knowledge on how organisations can bring focus to their delivery need in a modern world." - Andy Murthar, Agile Coach
"Excellent course! Highly recommend this to anyone interested in building more effective, customer-focused organisations." - Andrew McIntyre, Agile Coach
"Very useful for those aiming to achieve organisational transformation. Amalgamates the different approaches available in the industry currently." Geetha Ramachandran, Senior Scrum Master


Endorsed by Scrum Alliance
By attending this course you will be eligible to earn up to 15 Category C SEU Points.
WHAT YOU WILL RECEIVE:
Printed and Bound course manual and notebook
Content that underpins AWA Consultancy that will help you understand the why and how organisations change
Improved skills and knowledge that will enable you to mentor and coach others
Skills so that you can work at scale across multiple teams
An understanding of how to influence and help managers, leaders, and other areas outside of delivery teams.
Access to the global online community for all Enterprise Agility Masterclass alumni providing you with a rich platform for continues support, learning and sharing post-class.
Tasty breakfast and lunch, and teas/coffees/water
Membership to Adventures with Agile community for organisational change and agile.




OUR TRAINERS
Our highly-experienced ICAgile Authorised coach trainers facilitate this course. All our Enterprise Agile Coach trainers are qualified professional coaches and trainers with deep experience in the fields of coaching and enterprise-wide agility.
Speak to the training organisers - Adventures with Agile

To speak to the organisers of this course for further details:
Call: 0203 369 1125
Email: training@adventureswithagile.com