Enterprise Architecture Specialist Group - 2nd Annual Conference
Description
The Enterprise Architecture Conference will aim to represent the full spectrum of Enterprise Architecture encapsulating both business and technology domains, exploring how an effective enterprise architecture can deliver and sustain strategic objectives alignment.
With over 15 Confirmed Speakers and 4 confirmed Workshops this will be a full day of information sharing and networking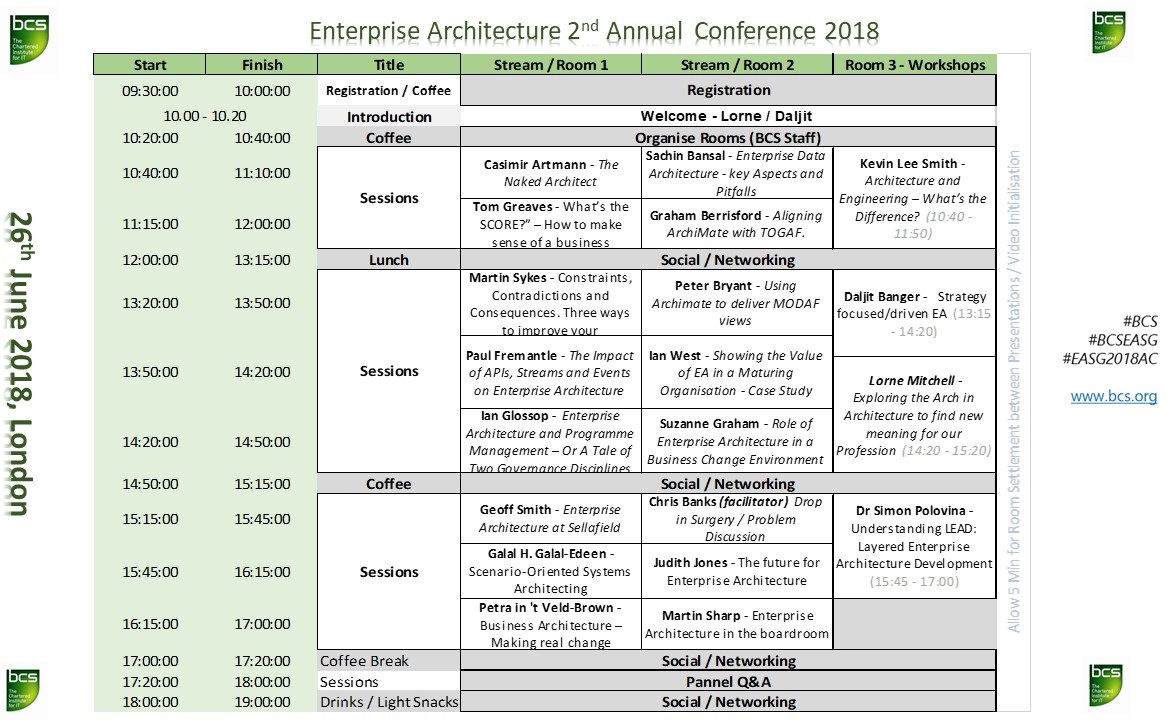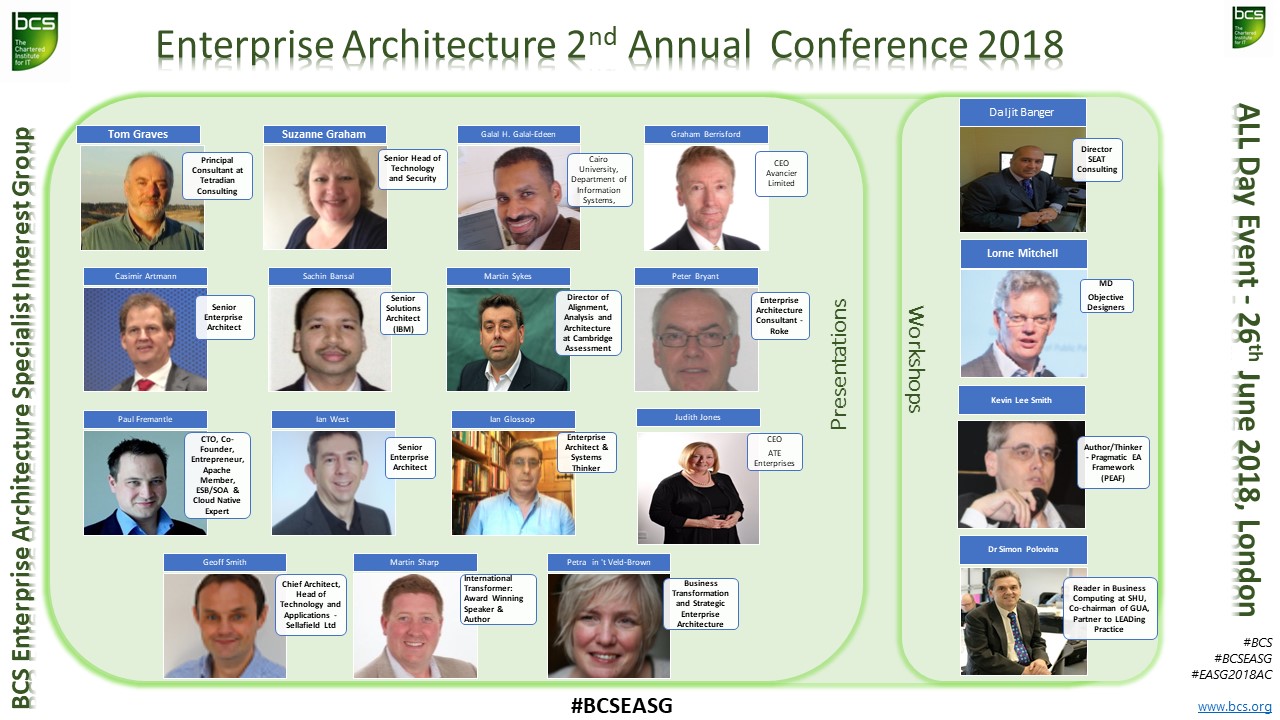 Workshop:
• Kevin L Smith - PragmaticEA

• Daljit Banger - Seat Consulting

• Lorne Mitchell - Objective Designers

• Dr Simon Polovina - Sheffield Hallam University, UK.
Presentations
• Tom Graves - Principal Consultant at Tetradian Consulting

• Suzanne Graham - Change Leader

• Galal H. Galal-Edeen -Cairo University, visiting professor at UCL

• Graham Berrisford – CEO Avancier Ltd

• Casimir Artmann – Senior Enterprise Architect

• Sachin Bansal - Solutions Manager IBM

• Martin Sykes – Senior Enterprise Architect

• Peter Bryant - Roke Manor Research

• Paul Fremantle - CTO

• Ian West – Enterprise Architect

• Ian Glossop - Enterprise Architect, Systems Thinker.

• Judith Jones – CEO ATE-Enterprises

• Geoff Smith - Chief Architect, Head of Technology & Applications Sellafield Ltd

• Martin Sharp - International Transformer: Award Winning Speaker & Author

• Petra in 't Veld-Brown - Business Transformation and Strategic Enterprise Architecture
Refreshments and lunch will be provided
This event is organised by the BCS Enterprise Architecture Specialist Group, find out more about the group at www.bcs.org/category/18324
Refund Policy:
A full refund will be issued if a cancellation is received within 7 days of the booking date otherwise, name substitutions will be allowed after this date.

Things to note:
- This event may be recorded.

For overseas delegates who wish to attend the event please note that BCS does not issue invitation letters.

Please note that proof of BCS Membership maybe requested on the day.