Description
The Kingston University Start-Up Fair is held in association with the Global Entrepreneurship Week, the world's largest campaign to promote entrepreneurship. On the afternoon of the 16th November various organisations, who focus on entrepreneurship and support start-ups, will be promoting their services and providing you with information and support to help start or grow your own business or freelance career.
You will have the opportunity to:
· Meet organisations that provide support for start-up businesses;
· Network with like-minded people and share ideas;
· Attend the workshop on how to manage taxes and accounting for your small business or self-employed career
· And listen to our fantastic speaker Shed Simove who will share is fantastic journey whilst teaching you how to go from idea to business!
Kingston University's Business School is ranked one of the top universities in London and includes the highest number of graduate start-up companies of any Higher Education Institutions (HEI) in the UK since 2011.
The Enterprise Fair is one of the largest events held throughout the year and promises to attract over 200 students and alumni from all academic backgrounds across our four campuses
Outline of the day
1pm-5:30pm: Exhibition for business start-up support (KINGSTON BUSINESS SCHOOL ATRIUM)
3pm-4pm: TAX TWERK: With Ruth Noel (KHFL1032)
5:30pm: End of fair
5:45pm: Invitation to the Insights guest speaker lecture (KHBS0026)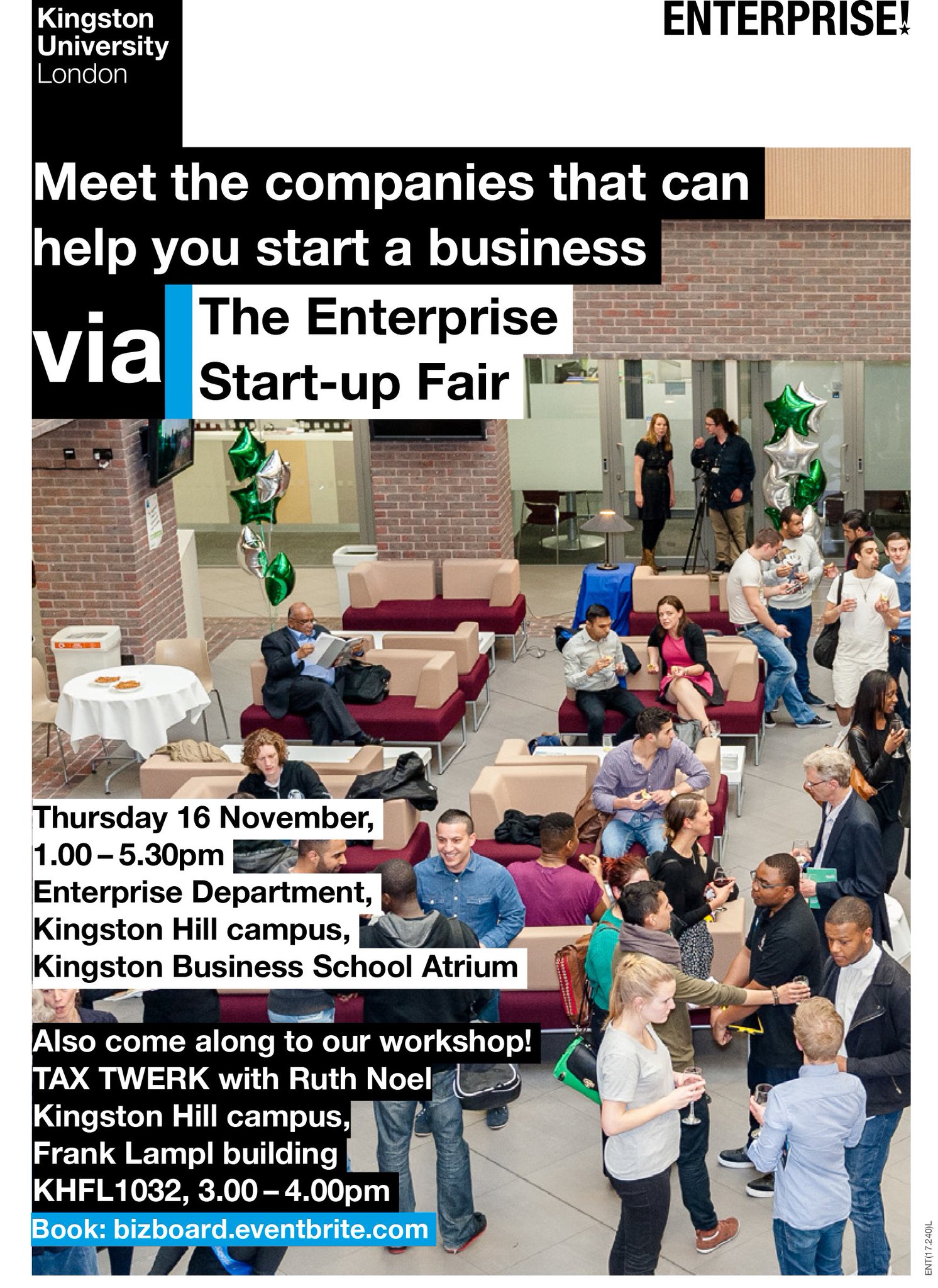 Exhibitors at the fair - 1pm-5:30pm
Enterprise Nation are the UK's most active small business community and offer a voice to government too. Meet buyers, journalists and funders, or reach more customers via the Enterprise Nation Marketplace, as well as discounts off business essentials.
Kingston Telecom analyse your requirements for broadband services and compare quotes from a large selection of our wholesale Tier-1 network provider partners and recommend the best solution at the most competitive price for your business needs.
IQ in IT is an award-winning IT company providing cloud based services on demand with a personal touch. Our key products are: Virtual Desktops and Servers which let you work from anywhere from any device securely, Cloud (VoIP) phones packed with a lot of features like email contact sync, conference rooms, call queuing, real time sales statistics and a lot more.
Santander offer current accounts, savings, mortgages, loans, credit cards and much more. Here to help you prosper.
Maple Works Surbiton - Flexible desks, work space, meeting rooms and virtual office for freelancers and startups in South London.
City Business Library work to support and promote London as the world's leading international financial and business centre and attract new business to the capital and the whole UK. They also work in partnership with local communities to increase skills, employment and opportunities for all Londoners, including through the City Bridge Trust and aim to enhance the capital as a hub of culture, history and green spaces for Londoners – residents, workers, and visitors.
As experts in business, we offer our members a wide range of vital business services including advice, financial expertise, support and a powerful voice in government. Our mission is to help smaller businesses achieve their ambitions.
Kingston Business Society supports students and alumni of Kingston University in their visions and help them realise their entrepreneurial, financial, management, HR, marketing potential and other subjects. Whether individuals want to start their own business, expand their networks, learn more about business studies or opportunities after University, we are here for you.
Enactus is a community of student, academic and business leaders committed to using the power of entrepreneurial action to transform lives and shape a better more sustainable world. Enactus has student societies/teams running in universities all over the world with the same aim of transforming people's lives through social enterprise. Each year, teams compete in a national world cup with the winners going on to compete in an international final.
Our mission is to pioneer a sustainable future through the education, cultivation and trading of Industrial Hemp.
At Amberstalk, we believe in the unlimited applications of natural resources as a way to create a more sustainable future.
Sinasia have been in the jewellery industry since 2011. Starting in Amman, Jordan, we are now expanding to the UK. Every piece made is one of very few, if not the only in the world. We take pride in our lack of similarity so rest assured that the beautiful jewellery you own from Sinasia are rare and ever so special!
We specialise in the self assessment tax return for self-employed, consultants, freelancers, and independent digital entrepreneurs. We find the BEST solution for you and introduce you to the right tax expert. What makes us different is we're an international online tax return service that includes the personal touch and give online support throughout the whole year.
From history, we create style. A fashion lable influenced by a past Queen of the Palmyrene Empire, Zenobia. She challenged the authority of Rome during the latter part of the period of Roman history known as The Crisis of the Third Century.
Our speakers and workshops
Check out our jam packed itinerary of the day!
Tax Twerk: With Ruth Noel, 3pm-4pm, KHFL1032
Tax Twerk specialise in the self-assessment tax return for self-employed, consultants, freelancers, and independent digital entrepreneurs. Tax can be a daunting task for anyone thinking about starting up a business but Ruth Noel is here to break it down so you can focus on the fun side of entrepreneurship.










Insights speaker: Shed Simove is winging it & can show you how to aswell, 5:45pm-7pm, KHBS0026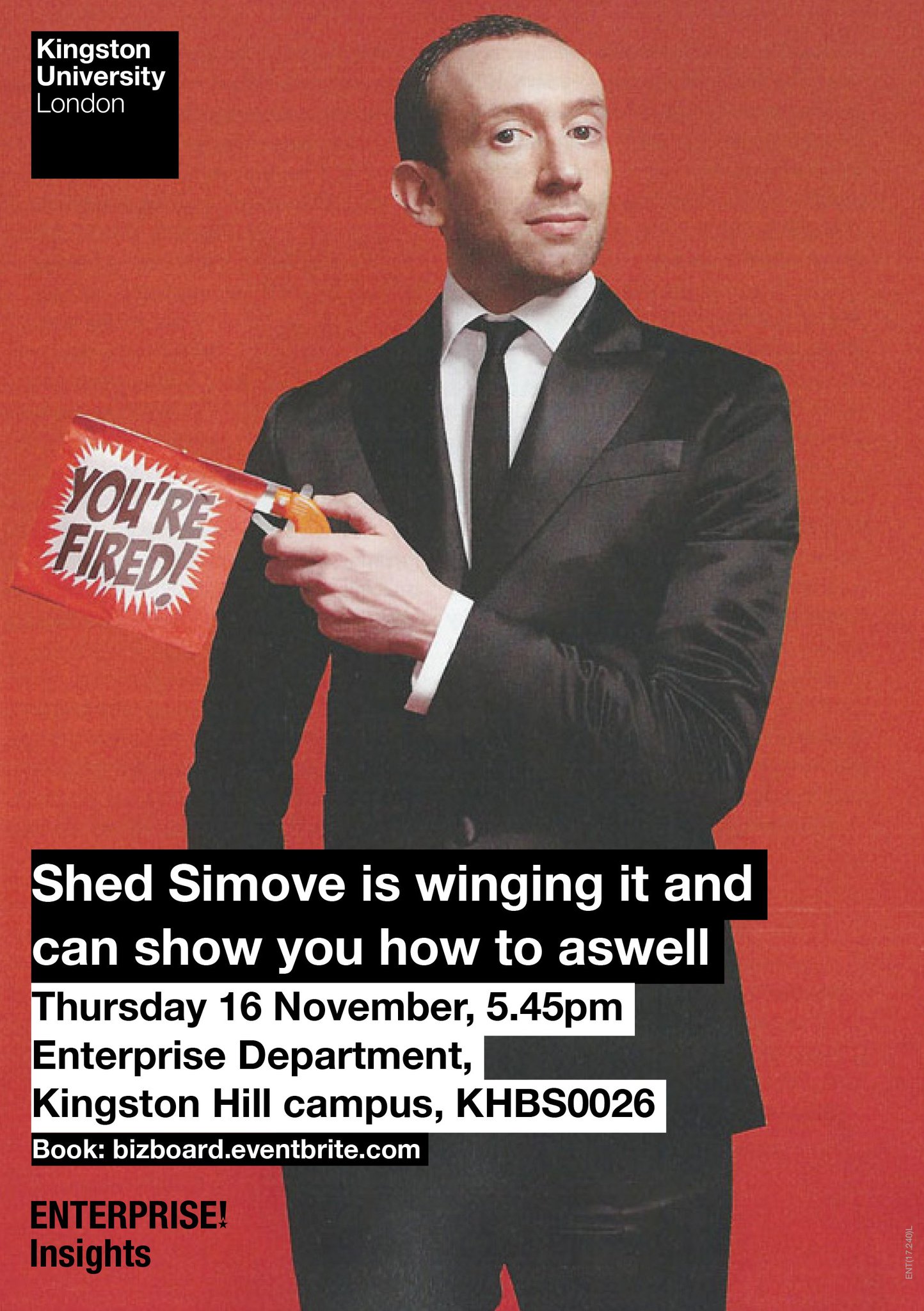 Insights: SHED SIMOVE IS WINGING IT & CAN SHOW YOU HOW TO AS WELL
Shed Simove is an entrepreneur, author and motivational speaker. His areas of expertise are CREATIVITY,
INNOVATION, IDEAS GENERATION, SALES & MARKETING. Harnessing a constant stream of ideas from his
astonishingly active mind, Shed has learned to transform his unconventional concepts into lucrative and original
business ventures, which form the basis of his completely unique books, products, performances and
motivational speeches.