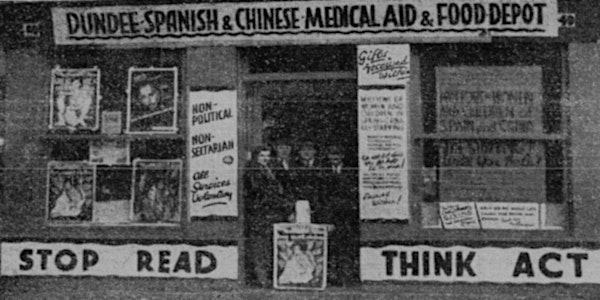 Stop, Read, Think, Act : The Scots who fought fascism in the Spanish Civil...
Información sobre el evento
Ubicación
University of Stirling
Stirling
Stirling
FK9 4LA
United Kingdom
Descripción
The University of Stirling and Spanish and Latin American Studies have the pleasure to invite you to the panel discussion for the opening of the exhibition:
Stop, Read, Think, Act: The Scots who fought fascism in the Spanish Civil War
On Saturday 14th March at 11am in Lecture Theatre W1 in Cottrell Building
This discussion aims to explore the Scottish multi dimensional response to the Spanish Civil War and also to reflect about collective/historical memory and identity through our past and how these events shaped our present and future.
This exciting event includes:
10.30am Greetings and introductions / Tea & coffee reception
11am Discussion panel. Everyone welcome.
Speakers:
Professor Willy Maley, University of Glasgow
Dr Fraser Raeburn, University of Edinburgh
Professor Ann Davies, University of Stirling
Dr Antonio Sánchez, University of Stirling
Dr Matthew Kerry, University of Stirling
Moderated by María B. Sánchez and Dr Peter Baker.
12. Questions and Answers
12.30 Exhibition tour Pathfoot Corridor B
This is a free but ticketed event open to all students and community.
This event is funded and supported by the Stirling Fund
https://www.stir.ac.uk/about/our-people/alumni/support-stirling/the-stirling-fund/
Preguntas frecuentes
¿Existen requisitos de ID o de edad mínima para entrar en el evento?
Everybody is welcome to this event
¿Qué opciones de transporte/aparcamiento tengo parta ir y volver del evento?
Trains to Stirling
Bus UL and 54 to Stirling University. Stop in main entrance of Cottrell Builiding
¿Cómo puedo contactar con el organizador si tengo preguntas?
For more information, please contact: María B. Sánchez at mfbs1@stir.ac.uk
?Debo llevar mi entrada impresa al evento?
NO
Fecha y hora
Ubicación
University of Stirling
Stirling
Stirling
FK9 4LA
United Kingdom