Description
Our Entrepreneurs' Network Events offer a monthly evening of insightful talks and top tips from inspiring local start-ups and business owners, a valuable skills exchange session, and a good dose of networking for new and existing entrepreneurs and start-ups.
These brilliant events are FREE and are open to all entrepreneurs and business owners based in Gloucestershire. Refreshments are provided.
Join us and build your network with an inspiring community of new and developing entrepreneurs!


Details of this month's speaker...
We'll be joined by Alex Richardson at
Millhall Consultants Ltd
. Alex is an experienced accountant who specialises in helping startups choose the right legal platform for their operations and guiding them through their journey with their business.
Alex has worked with clients across a wide spectrum, from one man bands to multi-million turnover businesses. Alex specialises in general practice, assisting clients with tax and business advice ranging from simple tax concerns to specialised and complex VAT and Capital Gains transactions, and R&D tax credit claims.
At this event, you'll receive valuable tips for accessing finance and the opportunity to get to grips with your taxes, VAT and general accounting.
Attending our free business support courses
Are you thinking of starting your own business, or do you want to know how to develop and grow your start-up?
Wherever you are on your business journey, Start and Grow Enterprise provides free training, events, expert support resources, and a powerful community to help turn your ideas into reality and grow a successful enterprise.
Please join on our website www.startandgrowenterprise.uk/join to apply to attend any of the courses listed below.
Two-day events providing inspiration, skills and a place to test new ideas, for anyone with a business idea. Covering business basics, you will leave with a Business Model Canvas and clear next steps for taking your ideas forward.
This two-day course is for new enterprises, providing the chance to revise and develop your business strategy, finances, marketing and more. It will help you find solutions to obstacles you may be facing for your business growth and develop next steps.
A series of five masterclasses over three sessions, including a group review, to address key topics for helping businesses to succeed. Aimed at those who have been trading for over a year, sessions will cover Business Strategy, Finance & Funding, Legal, Leadership & HR, and Marketing & Sales.
The Entrepreneurs' Network Events are offered by Start and Grow Enterprise; a University of Gloucestershire project, part-funded by the European Regional Development Fund (ERDF). Start and Grow Enterprise supports the growth of Gloucestershire-based entrepreneurs and start-ups (trading up to 3 years) through free training, events, networks, and resources.
DATA PROTECTION:
Start and Grow Enterprise
activities are provided free to eligible participants if you meet the eligibility criteria. We will use the information you supply: A) to provide business support to you and to inform our delivery partners as appropriate; B) to share with the University of Gloucestershire and MHCLG (or their sub-contractors) for monitoring evaluation and audit purposes. We will keep all information you provide confidential and treat it in accordance with the current Data Protection legislation.
If you are not already signed up with Start and Grow Enterprise, after booking a networking event your name and email address will be added to our records and kept in line with data protection legislation so we can keep you informed about the free start-up support we provide. You can opt out of receiving information from our course providers, or leave the project and not receive notice of this support, by emailing startandgrow@glos.ac.uk at any time.
Please find our Privacy Notice here: http://www.glos.ac.uk/business-and-partnerships/Documents/ERDF%20privacy%20notice.pdf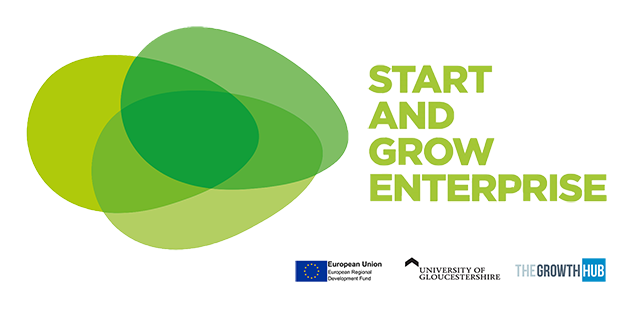 Organiser of Entrepreneurs' Network Event with Start and Grow Enterprise
Start and Grow Enterprise is here to help freelancers, entrepreneurs and new businesses to grow. Whether you've started your journey already, or you're still mulling it over, our range of free support is designed to help you make intelligent, informed decisions.

Offered completely free of charge, you'll have access to training, networking, courses, events and resources - as part of a community of like-minded new business owners.

Since 2017, we've supported over 800 ambitious entrepreneurs to start businesses, solidify plans, and take their companies from budding to booming.
Start and Grow Enterprise is a University of Gloucestershire project with funding from the European Regional Development Fund (ERDF).