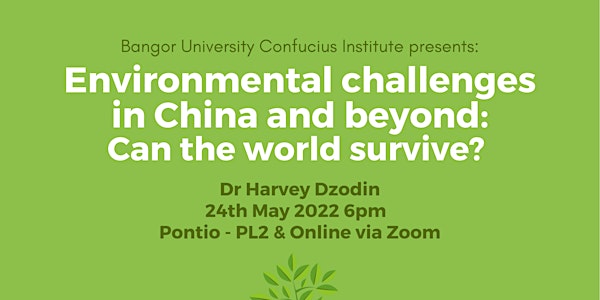 Environmental challenges in China and Beyond (Virtual Attendance)
Dr Harvey Dzodin discusses climate change and the environmental challenges faced by China
About this event
The Bulletin of Atomic Scientists' famous Doomsday clock is set at 100 seconds to Armageddon, not only because of nuclear and other weapons of mass destruction but also the ongoing environmental crisis. After Putin's war and his loose talk threatening to use tactical nuclear weapons and our deteriorating environment, I'd set the clock at 30 seconds to Armageddon.
Given the results of COP26 and the disheartening recent United Nations Intergovernmental Panel on Climate Change, UN Secretary-General Guterres has commented that "the world is sleepwalking to climate catastrophe". China is the global leader in emitting greenhouse gases with its excessive reliance on coal and other polluting fuel sources. Will China be able to meet its pledge to peak CO2 emissions by 2030 and achieve net-zero emissions before 2060? Is the damage reversible, and if not, what are the consequences?
The Confucius Institute at Bangor University is delighted to host a talk by Dr Harvey Dzodin, a highly sought-after speaker and consultant in China and abroad.
After an outstanding career in the US government and media, Dr Harvey Dzodin is currently a Beijing-based columnist for China Daily, a commentator for the China Global TV Network and China Radio International among other media. Dr Dzodin is a Senior Fellow of the Centre for China & Globalization, as well as a Senior Consultant of the National Image Communication Research Centre of Tsinghua University.
-
Mae cloc enwog Dydd y Farn Bwletin y Gwyddonwyr Atomig wedi'i osod ar 100 eiliad tan Armagedon, nid yn unig oherwydd arfau niwclear ac arfau dinistr torfol eraill ond hefyd yr argyfwng amgylcheddol parhaus. Rhwng rhyfel Putin a'i siarad difeddwl yn bygwth defnyddio arfau niwclear tactegol a'n hamgylchedd yn dirywio, byddwn i wedi gosod y cloc ar 30 eiliad tan Armagedon.
O ystyried canlyniadau COP26 a Phanel Rhynglywodraethol digalon diweddar y Cenhedloedd Unedig ar Newid yn yr Hinsawdd, mae Ysgrifennydd Cyffredinol y Cenhedloedd Unedig, António Guterres, wedi dweud "bod y byd yn cerdded yn ei gwsg i drychineb hinsawdd". Tsieina yw arweinydd y byd o ran allyrru nwyon tŷ gwydr gyda'i dibyniaeth ormodol ar lo a ffynonellau tanwydd llygrol eraill. A fydd Tsieina yn gallu cyflawni ei haddewid i gyrraedd brig allyriadau CO2 erbyn 2030 a chyflawni allyriadau sero-net cyn 2060? A ellir dad-wneud y difrod, ac os nad yw hyn yn bosib, beth yw'r canlyniadau?
Mae'n bleser gan Sefydliad Confucius Prifysgol Bangor gynnal sgwrs gan Dr Harvey Dzodin, siaradwr ac ymgynghorydd hynod boblogaidd yn Tsieina a thramor.
Ar ôl gyrfa ddisglair yn llywodraeth yr Unol Daleithiau a'r cyfryngau, mae Dr Harvey Dzodin ar hyn o bryd yn golofnydd i'r papur newydd China Daily sydd â'i swyddfa yn Beijing, yn sylwebydd ar Rwydwaith Deledu Fyd-eang Tsiena ac ar Radio Rhyngwladol Tsiena ymhlith cyfryngau eraill. Mae Dr Dzodin yn Uwch Gymrawd o Ganolfan Tsieina a Globaleiddio, yn ogystal ag yn Uwch Ymgynghorydd Canolfan Ymchwil Cyfathrebu Delweddau Genedlaethol Prifysgol Tsinghua.