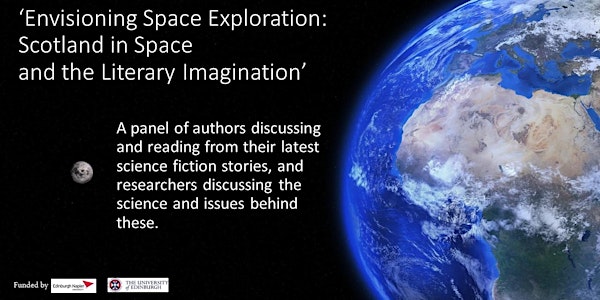 Envisioning Space Exploration:  Scotland in Space  and the Literary Imagina...
Event Information
Location
1.06 Project Room
50 George Square
Edinburgh
EH8 9JU
United Kingdom
Description
Science fiction authors will present their latest short tales to be published in Scotland in Space this autumn by Shoreline of Infinity. These authors will offer short readings of their stories and discuss the questions these pose on the social implications of Scottish space exploration and offer meaningful pointers to how the country can explore space in an inclusive and non-exploitative manner. The seminar will also include short talks by academics who have written accompanying essays which offer background scientific, social and literary information to the science fictional tales. The discussion will be followed by a short drinks reception in which the audience can ask the panel more questions. Join us for an evening of interdisciplinary thought provoking discussion!
Speakers:
Laura Lam - Speculative Fiction Author
Dr Russell Jones - Science Fiction Writer and Editor
Matjaz Vidmar - Research Student - Science Technology and Innovation Studies , The University of Edinburgh
Dr Beth Biller - Reader, Institute for Astronomy, The University of Edinburgh
Dr Sean McMahon - UK Centre for Astrobiology, The University of Edinburgh
Dr Elsa Bouet - Lecturer in English, Edinburgh Napier University
Join us for our other two seminars on June 20 'Visions of an Inclusive Outer Space: Systems and Architectures', and 19 July 'Re(En)Visioning Space Exploration: From the Moon Landing to Further Afield'!
Date and time
Location
1.06 Project Room
50 George Square
Edinburgh
EH8 9JU
United Kingdom