About this Event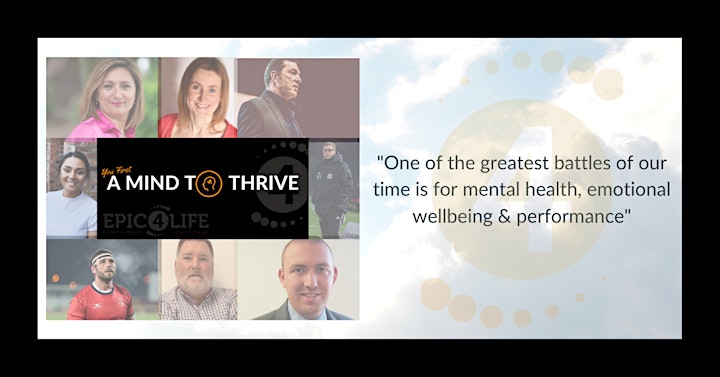 CREATING A MIND TO THRIVE - THE EPIC 4LIFE CONFERENCE
THE EPIC 4LIFE CONFERENCE WILL DELIVER REAL SOLUTIONS TO QUESTIONS LIKE:
How do you achieve optimal mental health, emotional wellbeing AND performance?
How do people thrive when the demands, pressures and stress of work are too much?
How can you prevent mental ill-health, poor emotional wellbeing, mental illness and decrements in performance from work-related stress, increased pressure, demands, expectations and other such challenges?
How do you empower people and inspire change to create emotionally resilient and mentally healthy people who perform and are fulfilled?
These and similar questions reflect some of the biggest challenges of modern life.
You know the problems, start the NEW YEAR with solutions! Get the solutions and answers you are looking for at the EPIC 4LIFE Conference.
- LEARN, CHANGE & GROW: Listen to expert and specialist speakers talk about their professional and personal experiences, delivering to you real solutions from real life experiences. Ask them your most challenging questions in two Q&A panels throughout the day.
- NETWORK: Join a community of leaders, professionals and practitioners all striving to empower people by putting optimal mental health and emotional wellbeing at the heart of performance.
- TAKE AWAY EXPERTISE: Get a FREE EPIC 4LIFE YOU FIRST TOOLBOX with every purchased ticket. Our toolbox contains ideas/resources of how you can implement real solutions that are effective in developing emotional intelligence; the gateway to achieving optimal mental health, emotional wellbeing and performance.
DO YOU WANT TO READ MORE ABOUT THE EVENT?
YES...
DO YOU WANT TO SEE AN INTINERARY?
THEN KEEP SCROLLING DOWN...
_______________________________________________________________________________________
IT'S NOT ONLY POSSIBLE TO COPE, BUT WE CAN CREATE MINDS TO THRIVE NO MATTER THE CIRCUMSTANCES!
WANT TO KNOW MORE?... WATCH THE VIDEO OR READ BELOW...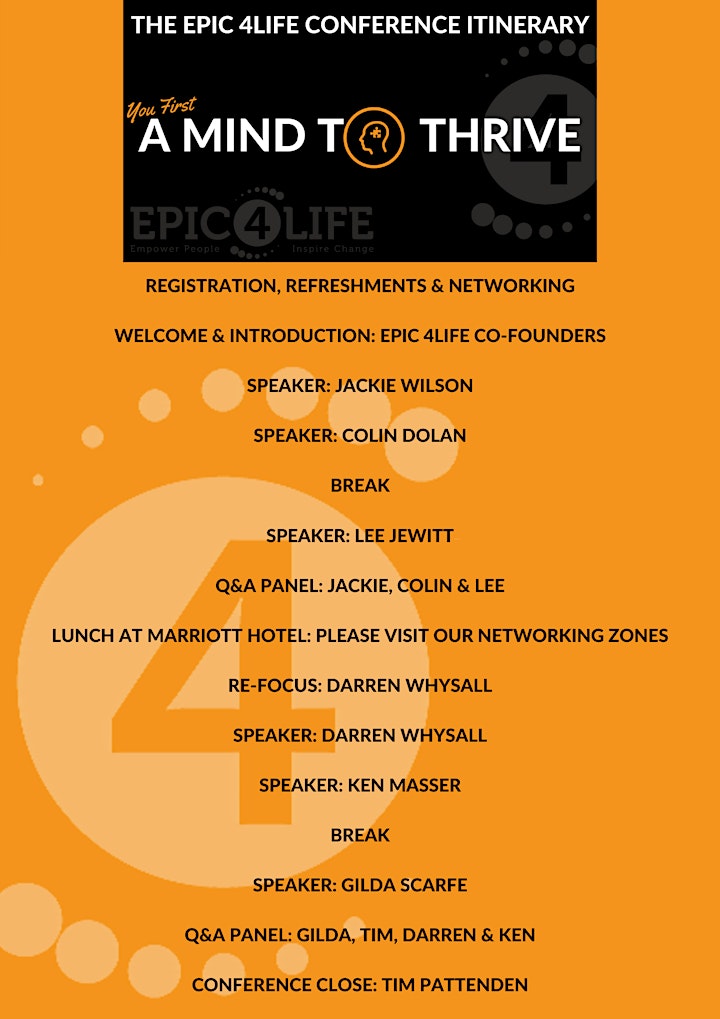 _________________________________________________________________________________________
THE EPIC 4LIFE EVENT - FIND OUT MORE ABOUT THE CONFERENCE HERE...
At EPIC 4LIFE our approach is the consultation, training and development of individuals & organisations in how they can create 'A Mind To Thrive' through a 'You First' experience. It is a proactive approach to mental health, performance improvement and overall emotional wellbeing. Research has shown that up to 25% of all performance is accounted for by mental toughness. This means that not receiving emotional intelligence training and development can result in effectively losing up to 25% of optimal performance. Research also shows, that when stress and pressure is increased beyond natural capacities to cope individuals will become overwhelmed and are likely to underperform. This can lead to mental and/or emotional wellbeing issues, even illnesses.
We are incredibly excited to welcome experts and specialists from different disciplines to share their experiences on how YOU can create 'A Mind To Thrive'. Our conference experts and specialists come from education, positive psychology, sport, armed forces, business, public and third sectors. They have all come together for this conference to present engaging and fascinating insights and REAL-LIFE SOLUTIONS on how you can go about your personal pursuit of creating a mind to thrive and how you can use this to benefit those you are responsible for developing.
A key focus of our event is to raise awareness of a much-needed paradigm shift, to put 'You First' when it comes to self-care and emotional intelligence development as a proactive approach to mental health, emotional wellbeing and ultimately creating a mind to thrive in life regardless of circumstances. Let's not settle for struggling, or aim for coping, lets STRIVE TO THRIVE.
The benefits of the YOU FIRST approach reach BEYOND professional life into personal, family & community life.
Book your place at this innovative event NOW before December 14th 2019, and enjoy our early bird offer. Our EARLY BIRD OFFER which is just £65 per ticket, (from December 15th 2019 this will increase to £85).
__________________________________________________________________________________________________
WANT TO KNOW WHAT YOU WILL GET FROM THIS CONFERENCE?
YES, THEN GO AHEAD & READ ON...
__________________________________________________________________________________________________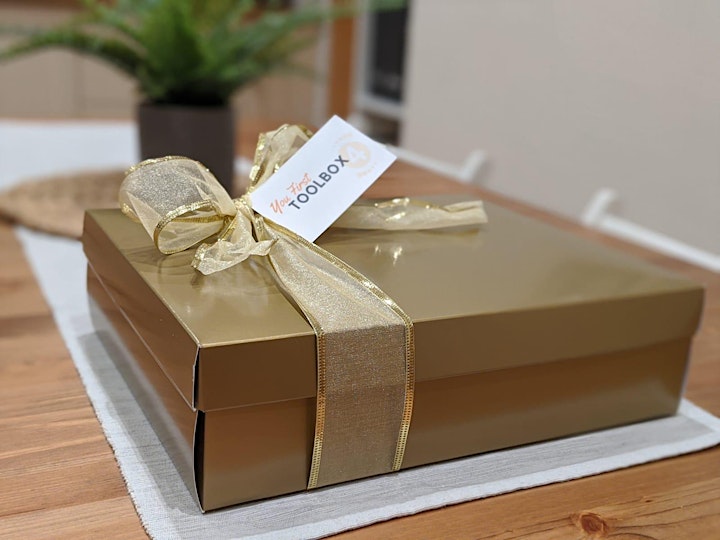 WHAT WILL THE CONFERENCE GIVE YOU?
- EPIC 4LIFE's 'YOU FIRST' TOOLBOX FREE WITH EVERY PURCHASED TICKET.
Our 'You First' Toolbox contains effective and evidence-based resources that will help you and your organisation implement some of the strategies and solutions that you will hear about during in the conference immediately. Whilst you need the support of professional practitioners to really develop emotional intelligence improvement strategies, these resources coupled with the information you receive at the event, will provide a great platform for you to build upon and help you get started. Every purchased ticket will receive a FREE You First Toolbox.
- Every organisation at the event will be able to book a FREE 60- or 90-minute taster session with EPIC 4LIFE
- Refreshments and lunch throughout the event at The Marriott Hotel
- Organised networking activities throughout the day with delegates from Liverpool and surrounding areas
- REAL SOLUTIONS, Take home advice, strategies and guidance from real experts and specialists
All sharing what they have learnt both personally and professionally regarding creating minds to thrive and flourish. From sports, education, business, public sector, third sector, performance & positive psychology you will receive a diverse, yet consistent message from those individuals who are out there every day developing emotional intelligence with the aim to achieve optimal mental health, emotional wellbeing & performance.
- 2x Live Q&A sessions with a panel of our different experts and specialists each time
- 50% discount on all advertising and network stands/spaces for our EPIC 4LIFE networking zones.
We will be offering organisations the opportunity to advertise through pop-up stands and banners and also to hire space within our networking zones. We have limited availability so it will be on a first-come-first-served basis. This service must be pre-booked, please contact us via info@epic4life.co.uk
BOOK TODAY BY CLICKING 'GET TICKETS'
__________________________________________________________________________________________________
Book your place at this innovative event Today, contact info@epic4life for multiple ticket offers
__________________________________________________________________________________________________
LEARN ABOUT OUR SPEAKERS FURTHER DOWN....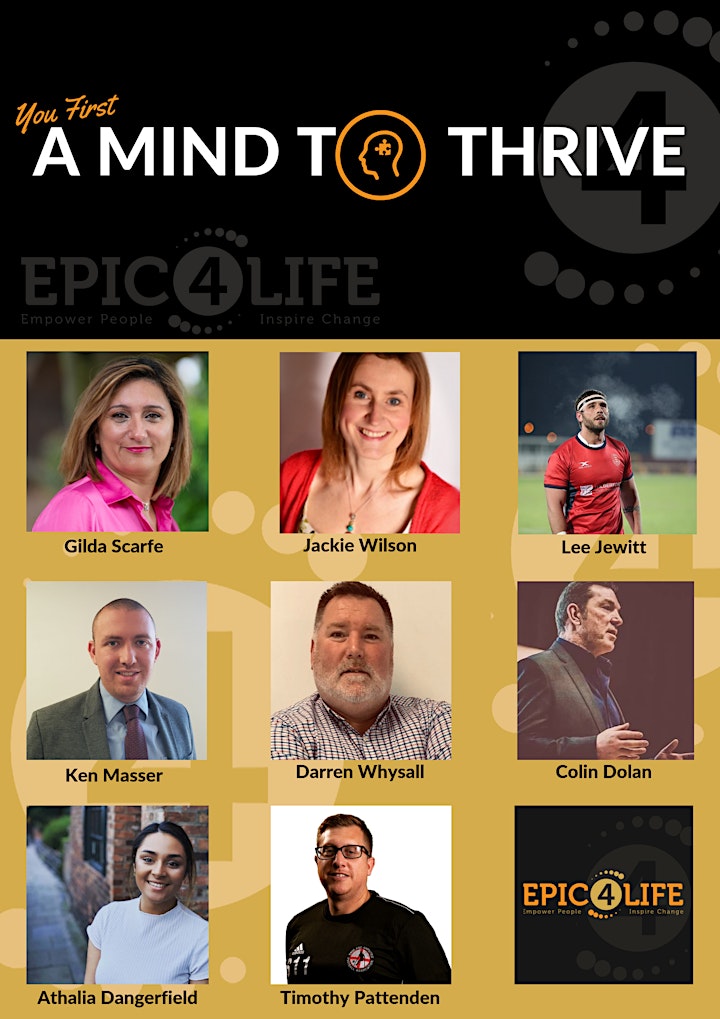 DO YOU WANT TO KNOW MORE ABOUT OUR SPEAKERS?
YES, click on the links below each name to find out more and to connect with them on Linkedin...
Gild Scarfe CEO & Founder of Positive Action, Global Ambassador IPEN, Positive Psychology Expert and International Speaker
www.linkedin.com/in/gilda-scarfe-b52a8917
Jackie Wilson Founder of Empower Education and Partner in Emotions Toolkit
www.linkedin.com/in/jackie-wilson-848408b8
Lee Jewitt Ex-Professional Rugby Player, Speaker, Mindset coach, Counsellor, CBT Therapist, Performance Psychologist, Director of ljewitt Sports Counselling & Welfare
www.linkedin.com/in/lee-jewitt-853255150
Ken Masser Chief Executive, Rossendale Leisure Trust - Regional Director, Community Leisure UK
Colin Dolan Mental Health Awareness Campaigner, Speaker, World Health Innovation Summit (WHIS) Ambassador, Founder & CEO of Mental Health Football Association, Time to Change Champion
www.linkedin.com/in/colin-dolan-853433b0
Darren Whysall Executive Coach and Coach Supervisor, Barclays UK
www.linkedin.com/in/darrenwhysall
Athalia Dangerfield Arts Management Specialist, Ludus Trustee Director, EPIC 4LIFE Co-Founder & Executive Director
www.linkedin.com/in/athalia-dangerfield-27927a154
Timothy Pattenden Performance Psychologist & Emotional Intelligence Specialist, Helping Leaders, Professionals & Practitioners Thrive. Founder & Director of elite4all, EPIC 4LIFE Co-Founder & Operations Director
Book your place at this innovative event Today, contact info@epic4life for multiple ticket offers
--------------------------------------------------------------------------------------------
EPIC 4LIFE Mission
"To empower people and inspire change creating generations of emotionally resilient & mentally healthy people for life"
REFUNDS POLICY
Tickets are refundable leading up to and including January 6th 2020, excluding Eventbrites service fee.
50% of the ticket price will be refunded from January 7th to 14th 2020.
NO refunds will be issued after and including January 15th 2020.
PLEASE NOTE: Eventbrite service fee is non-refundable