About this Event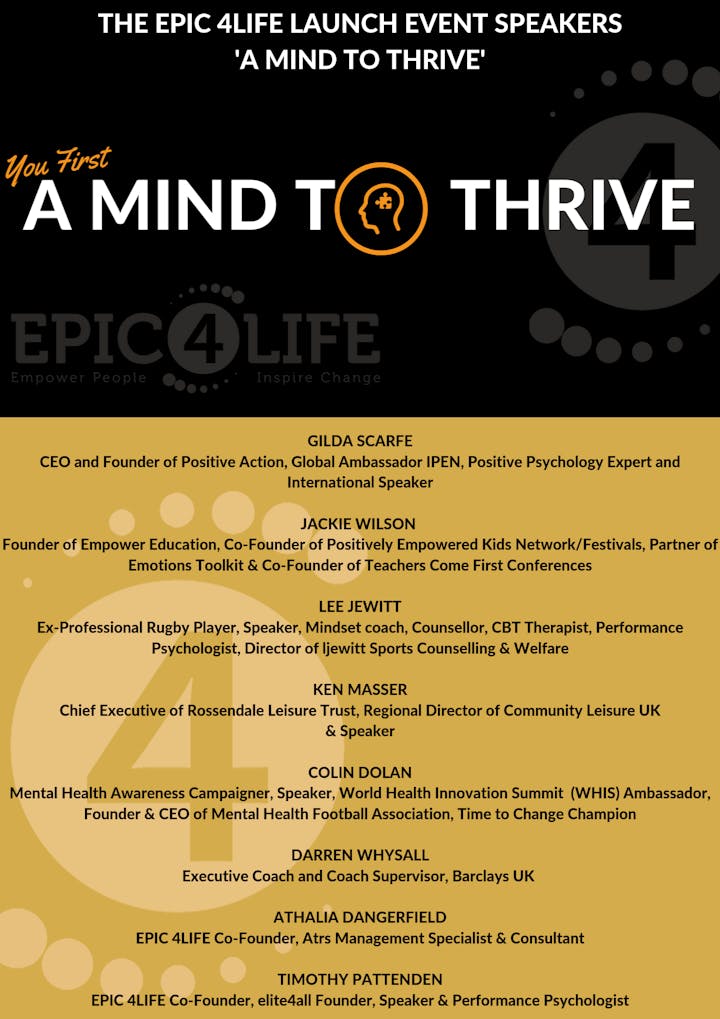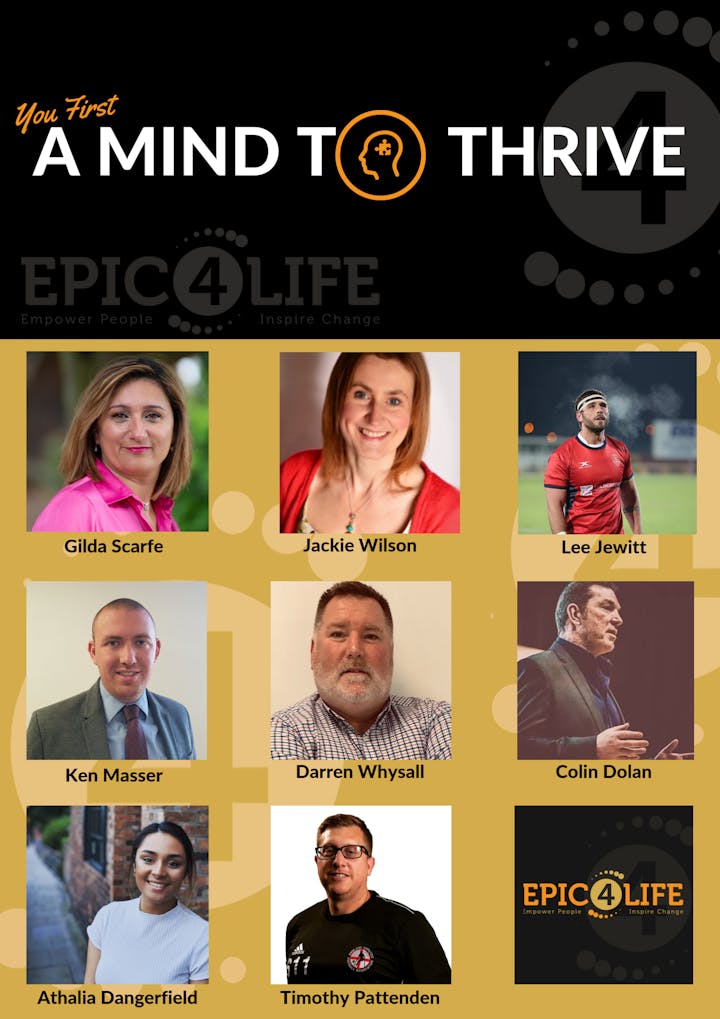 CREATING A MIND TO THRIVE
How do people thrive when the demands, pressures and stress of the job are too much?
How can you prevent absenteeism and presenteeism due to work-related stress?
How do you do this at the same time as increasing expectations, performance and results for all involved?
How do you achieve optimal mental health, emotional wellbeing AND performance?
These, and many other tough questions like them, are at the forefront of many leaders, professionals and practitioners' minds as they care for and develop people.
Book your place at this innovative event NOW, before December 14th 2019, and enjoy our early bird offer.
One of the first lessons for improving emotional resilience and mental health is controlling what you can control. Leaders and practitioners working within these sectors are not in complete control over the increasing demands and expectations being placed on them. However, what can be controlled is how individuals and organisations respond to them. Emotional resilience and mental toughness are traits that can be developed and improved. Decades of research have not just shown this to be true but provided us with evidence-based solutions and interventions for how this can be achieved.
IT'S NOT ONLY POSSIBLE TO COPE, BUT WE CAN CREATE MINDS TO THRIVE NO MATTER THE CIRCUMSTANCES!
At EPIC 4LIFE our approach to this is the training and development of individuals and organisations in how they can create 'A Mind To Thrive' through a 'You First' approach. It is a proactive approach to mental health, performance improvement and overall emotional wellbeing. Research has shown that up to 25% of all performance is accounted for by mental toughness. This means that if professionals are not receiving emotional intelligence training and development then you can be effectively losing up to 25% of your potential performance. Research also shows, that when stress and pressure is increased beyond natural capacities to cope individuals will become overwhelmed and are likely to underperform. This can lead to mental and/or emotional wellbeing issues, even illnesses.
Book your place at this innovative event NOW, before December 14th 2019, and enjoy our early bird offer.
THE EPIC 4LIFE EVENT - FIND OUT MORE ABOUT THE EVENT HERE...
We are incredibly excited to welcome experts and specialists from different disciplines to share their experiences of creating minds that thrive. Our event experts and specialists come from education, positive psychology, sport, armed forces, business, public and third sectors. They have all come together for this event to present engaging and fascinating insights and REAL LIFE SOLUTIONS on how you as professionals can go about your personal pursuit of creating a mind to thrive and how you can use this to benefit those you care for and serve to do the same.
A key focus of our event is to raise awareness of a much-needed paradigm shift, to put 'You First' when it comes to self-care and improvement, as a proactive approach to mental health, performance improvement and ultimately creating a mind to thrive in life regardless of circumstances. As you do this personally you will also be best placed to go on and support those you are responsible for to do the same.
The benefits of this reach beyond professional life into personal, family and community life.
The EPIC 4LIFE – 'A Mind To Thrive' event will explore the why, but most importantly the HOW along with the RESULTS. As you learn the WHY and HOW, you will not just be able to cope, but will begin to understand how to thrive in life despite what happens, and will be best placed to support those you work with, and serve, to do the same.
Book your place at this innovative event NOW before December 14th 2019, and enjoy our early bird offer. Our EARLY BIRD OFFER which is just £65 per ticket, (after December 14th 2019 this will increase to £85).
Book your place at this innovative event NOW, before December 14th 2019, and enjoy our early bird offer.
WHATS IN IT FOR YOU? WHAT WILL YOU GET WITH YOUR TICKET?
- EPIC 4LIFE's 'YOU FIRST' TOOLBOX FREE WITH EVERY PURCHASED TICKET.
Our You First Toolbox contains effective and proven resources that will help you and your organisation implement some of the strategies and solutions that you will hear about during in the event IMMEDIATELY. Whilst you need the support of professional practitioners to really develop emotional intelligence improvement strategies, these resources coupled with the information you receive at the event, will provide a great platform for you to build upon and help you to get started on improvements the very next day. Our toolbox usually starts from £35 but for this event, every delegate who purchases a ticket will receive a FREE toolbox
- Every organisation represented at the event will be able to book a FREE 60- or 90-minute taster session with EPIC 4LIFE
As a thank you for attending our event and contributing to its success we will be giving every organisation represented at the event the opportunity to book a free taster/training session on 'Creating A Mind To Thrive'
- Refreshments and lunch throughout the event at The Marriott Hotel
- Organised networking activities throughout the day with delegates from Liverpool and surrounding areas
- Take home advice and strategies from real experts and specialists
All sharing what they have learnt both personally and professionally regarding creating minds to thrive and flourish. From sports, education, business, public sector, third sector, performance & positive psychology you will receive a varied, yet consistent message from those individuals who are out there every day in the field developing emotional intelligence.
- Live Q&A sessions with a panel of our experts and specialists on the day
- 50% discount on all advertising and network stands/spaces for our EPIC 4LIFE networking zones.
We will be offering organisations the opportunity to advertise through pop-up stands and banners and also to hire space within our networking zones. We have limited availability so it will be on a first-come-first-served basis. This service must be pre-booked, please contact us via info@epic4life.co.uk
BOOK TODAY BY CLICKING THE LINK
Book your place at this innovative event NOW, before December 14th 2019, and enjoy our early bird offer.
DO YOU WANT TO KNOW MORE ABOUT OUR SPEAKERS?
YES, THEN READ ON…
No experience is better than personal experience.
Purchase your early bird ticket now!! FOR JUST £65, you could be listening and meeting the following people;
Gild Scarfe CEO & Founder of Positive Action, Global Ambassador IPEN, Positive Psychology Expert and International Speaker
Gilda Scarfe is the CEO and Founder of Positive Action UK a leading and innovative global consultancy using research to develop meaningful training programmes and workshops in positive and authentic leadership, the application of mental toughness, wellbeing and resilience in schools and organisations. Positive Action is dedicated to increasing the flourishing of individuals, organizations and communities worldwide. With background in Education, Law and Positive Psychology Gilda's vision is to empower individuals, organisations including school teachers and young people to become the architects of their own wellbeing and success.
She is working with schools and companies around the world to build the wellbeing, mental toughness and emotional intelligence of individuals, students, parents and employees. Gilda has been responsible for the organisation and implementation of the Positive Psychology/Education strategy at several grammar and private schools in the UK, Cyprus, Singapore, Dubai and Thailand and has supported the strategic direction and implementation of Illuminate Education a non-profit organisation promoting Positive Education initiatives.
A Global Ambassador for IPEN, former President Elect Candidate - Education Division for IPPA and elect member by Rt Honourable Lord Pickles of the Parliamentary Review, Gilda is a regular keynote speaker at conferences and has run seminars, lectures and workshops around the world, including various educational institutions.
Jackie WilsonFounder of Empower Education and Partner in Emotions Toolkit
Jackie is on a mission to inspire and empower the next generation and the ecosystem around them to grow healthy thriving minds. She believes every child, no matter their background, gender, ability, race or religion has an unlimited potential, and CAN be successful in life. By taking them on a journey of self-discovery, and empowering to grow their self-awareness, mindset, self-belief and resilience, they will be able to navigate life's challenges more easily. They will have less chance of mental health problems, be more emotionally intelligent, more creative, better problem solvers and communicators - some of the top skills needed in the business world today. Empower Education came to life because of Jackie's own experience with low self-worth and poor mental health during her teens and adulthood, she feels lucky to have walked her own path of self-discovery and transform her life. She believes 'SELF Education' is the missing link in a child's education and a key to improving our mental health. She runs workshops, programmes and 1-1 interventions in schools, along with well-being INSET days for educators and consults on whole school well-being.
Jackie is a Mum to three children between 11-22, she is a trained yoga and mindfulness teacher, a counsellor and an empowerment coach. Jackie wholeheartedly believes in collaboration, and has co-founded the 'Emotions Toolkit', a unique and valuable resource to support children in unlocking their super power, learning to self-regulate their emotions. She co-leads 'Teachers Come First' Conferences and 'Positively Empowered Kids' Network and Festivals and is also a keynote speaker and author.
Lee JewittEx-Professional Rugby Player, Speaker, Mindset coach, Counsellor, CBT Therapist, Performance Psychologist, Director of ljewitt Sports Counselling & Welfare
Lee Jewitt, Owner of Ljewitt Sports Counselling & Welfare and Co - Owner of Mind-Body-Health Wellbeing. Lee is a husband and father to four children.
Lee has been a professional Rugby League player for 17 years in this time he has lived and played rugby league in France and Australia. He played for the Wigan Warriors, Salford City Reds, Castleford Tigers and Hull Kingston Rovers in the Super League. He also played for the Limoux Grizzlies in the Elite One Championship and the Townsville Blackhawks in the Queensland Cup.
More recently Lee has focused his time in Sports Psychology, Counselling & CBT, working alongside International footballing legend Tony Adam's. Lee specialises in creating a positive mindset, overcoming adversity and building resilience. His profession includes working with professional athletes, schools, children of adolescent age, teachers and CEO's.
Ken Masser Chief Executive, Rossendale Leisure Trust - Regional Director, Community Leisure UK
Formerly a restructuring consultant at accountancy firm KPMG, Ken was appointed Chief Executive of Rossendale Leisure Trust (a social enterprise managing sports facilities and programmes in the Lancashire borough) in 2015. He is also Executive Board member of Community Leisure UK, the trade association for Leisure Trusts in the UK, and programme advisor to the Pennine Lancashire Sport England Local Delivery Pilot. Ken has developed expertise in place-based leadership, collaborative system change, and the transformation of public sector and third sector organisational approaches to community wellbeing.
Colin DolanMental Health Awareness Campaigner, Speaker, World Health Innovation Summit (WHIS) Ambassador, Founder & CEO of Mental Health Football Association, Time to Change Champion
Formerly known as Mental Health Football UK, the Mental Health Football Association brings together all UK organisations who adopt playing football as part of the recovery process or as part of ongoing therapy for those affected by mental ill-health.
Colin said "I have lived with bipolar since my teens, I struggled to cope with the highs and the lows until I was 47, I now realise that I should have been more open when I was younger. I wish to share my own experiences, the good and the bad, the warning signs, the help I ignored, the help I received. I have worked as a volunteer with 'Everton In The Community's' mental health wellbeing programme "Imagine Your Goals" for seven years, I have also been trained as a Mental Health Peer Support Worker with Mersey Care NHS Trust. I am currently responsible for the day to day running of the UK's Mental Health Football Association as Chief Executive and recently become an Ambassador for World Health Innovation Summit. I wish to raise awareness of talking openly about mental ill-health, we all must challenge the stigma and discrimination and work towards mental health being spoken as openly as physical health. I have over the past six years taught myself how to prepare myself, what to look out for, I have surrounded myself with positive supportive people, I have been inspired, I wish to inspire others to talk openly without any shame or fear of being judged."
Colin believes that education and awareness are vital to the work towards reducing stigma and more importantly the suicide rates in the UK and beyond. Colin's personal and professional experience (within the third sector) enables him with specialist insight into how creating a mind to thrive for yourself empowers you to inspire change in others.
Darren WhysallExecutive Coach and Coach Supervisor, Barclays UK
Darren is a qualified and experienced Executive Coach, Coach Supervisor with more than twenty years' experience of working with people in high pressure roles e.g. armed forces UK, education sector and financial services. Darren is passionate about helping individuals and teams identify their unique qualities and attributes in order to improve well-being, build capability, enhance team working and growth. Outside of work his main interests are his family, Sian his partner and their three children Jordan, Ruby, Alexandra. He is also a born-again motor biker.
Athalia DangerfieldArts Management Specialist, Ludus Trustee Director, EPIC 4LIFE Co-Founder & Executive Director
Athalia is a qualified arts management specialist, completing her MA in Arts Management, as well as an experienced theatre and performing arts practitioner. She has experience working within several arts and cultural organizations, producing effective and conclusive management and marketing consultancy projects.
She is currently on the Board of Trustees at Ludus Dance, which is a registered charity situated in the North West of England, which delivers socially engaged arts and dance programs aimed at children and young adults. Ludus Dance's key partners and stakeholders include CAMHS, Cancer Care, LCEP (Curious Minds). In this role, Athalia has been able to work together as a Board Member to manage the overall administration of the organisation. Her key contribution to the organisation has been to build a strong connection between Ludus Dance and key partners within Lancaster University. This was commended by her academic department as she was awarded the Outstanding Contribution to the Postgraduate Community Award.
Athalia also has numerous years' experience in the performing arts field, devising, directing and performing in several arts and dance projects. These have included community arts projects, as part of events, such as Light Up Lancaster, as well as professional shows performed at the Nuffield Theatre in Lancaster. She also has a background supporting and working with children and young adults within the education sector and through the delivery of youth programs.
Timothy PattendenPerformance Psychologist & Emotional Intelligence Specialist, helping Professionals & Practitioners Thrive. Founder & Director of elite4all, EPIC 4LIFE Co-Founder & Operations Director
Tim has spent the last thirteen plus years working within the welfare to work, adult education, youth work and skills sectors. He commenced his career as an employment coach utilizing sport, specifically football, to engage unemployed individuals and support them into sustainable employment. Since then he has established a career within these sectors as a reputable senior strategic, operations and performance leader. He has designed multiple behaviour change programmes to support people into sustainable employment and up-skill through apprenticeships and other various adult education qualifications. During his time within this sector his work with his teams has supported over 10,000 people with over 6,000 moving into sustainable employment across £10.5 million contracts. He has contributed to the mobilisation of over 60,000 people with up to 30,000 moving into employment or education/training. As part of this he has managed various performance, compliance and quality assessments and accreditations including Matrix and Ofsted.
In 2018 Tim completed an MSc in Sport and Exercise Psychology. Whilst on the MSc he commenced consultancy work, this experience coupled with over a decade of performance leadership in human behaviour and his ability to provide elite performance psychology services has resulted in him becoming an empowering and inspiring performance psychologist and emotional intelligence development specialist. Tim has worked with elite able body and disability sport athletes. He has supported businesses, schools, public and third sector organisations as well as individuals in their pursuit of optimal health and optimal performance.
Book your place at this innovative event NOW, before December 14th 2019, and enjoy our early bird offer.
EPIC 4LIFE Mission
"To empower people and inspire change creating generations of emotionally resilient & mentally healthy people for life"