Description
We are delighted to welcome you to our 1-day EPIC event that will inspire and connect more than 300 staff across Lancashire and South Cumbria to come together and share their contribution to delivering safer, higher quality care for local people, patients, communities and the workforce.
EPIC stands for Engaging communities, Promoting partnerships, Innovation for improvement and Collaborating to develop services. The event will see the launch of EPIC as a Healthier Lancashire and South Cumbria leadership programme with much more to be expected over the next year.
The first EPIC event will take place at Preston North End Football Club on Wednesday 1 May with registration and coffee from 8.30am. The event will run until 4pm.
PLEASE NOTE: Please read the details below about registering for specific sessions throughout the day before proceeding to Register.
Keynote speeches on the day will be delivered by Dr Amanda Doyle, GP and Chief Officer for Healthier Lancashire and South Cumbria, and we are delighted to welcome businessman Sir John Timpson CBE.
Sir John Timpson is a legendary British businessman, philanthropist and is the owner of Timpson, the UK shoe repair chain with 1900 outlets across the United Kingdom. He has a weekly management column in The Daily Telegraph and has written several books about his 'upside down' management style.
During the day over you have a choice of more than 30 presentations and workshops from our staff and partners who have broken the mould when it comes to transforming services. The purpose of the sessions is to share the learning from their innovative and collaborative work.
REGISTRATION INFORMATION
At this event there will be workshops available at three different time slots throughout the day which you must include in your registration.
When booking your place you must select the three sessions you would like to attend. You must also register for a main ticket for the event as a whole.
Please only select one session per time slot - you should therefore have 4 tickets in total - one for the event as a whole and three workshop tickets (one for 10.20-11.20, one for 11.50-12.50 and one for 13.50 - 14.50)
Click here to download the session details and descriptions in PDF format
Morning: 10.20am - 11.20pm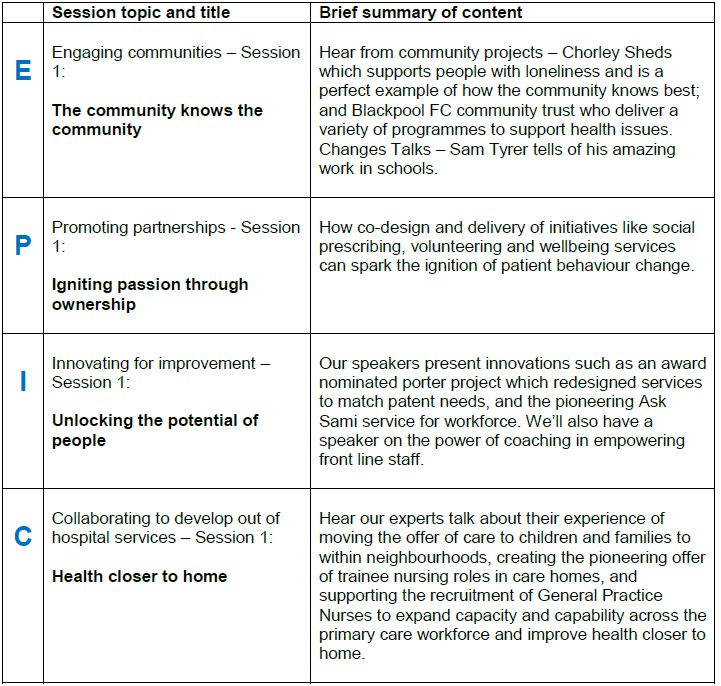 Midmorning: 11.50am – 12.50pm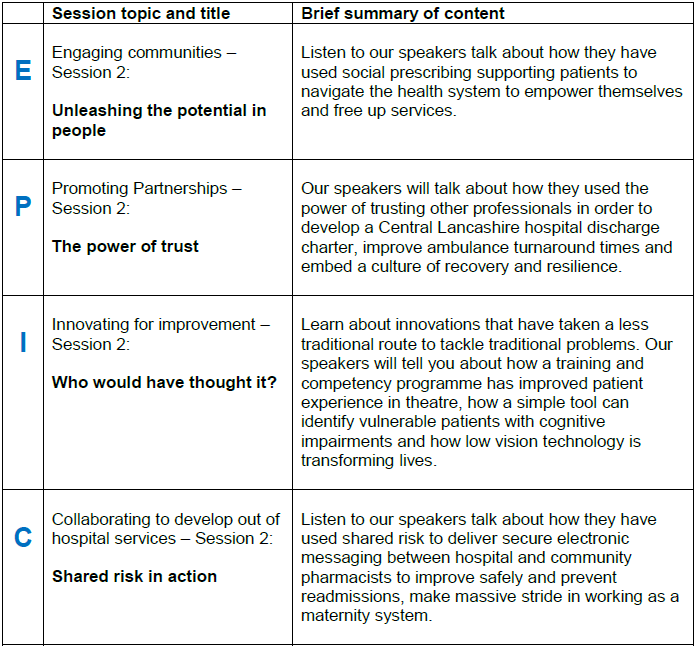 Afternoon: 13-50pm - 14.50pm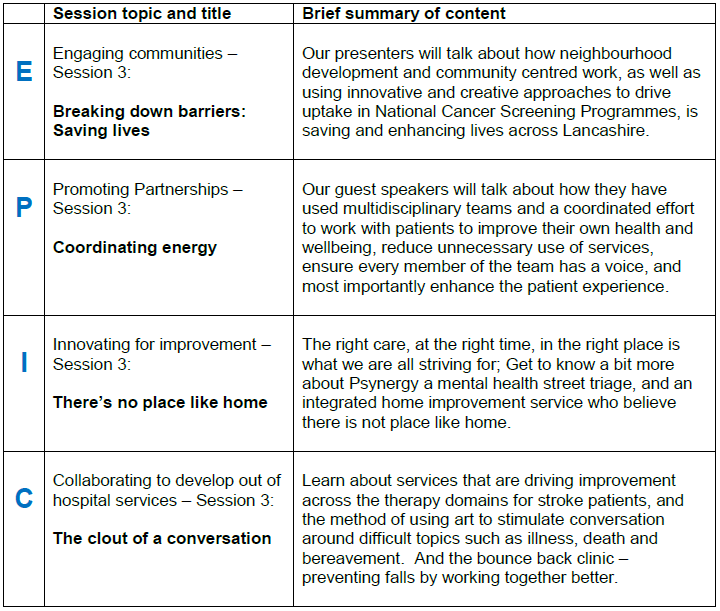 More information will be sent to attendees who register for the EPIC event ahead of this exciting full day so please make sure you register and add the event to your calendars.