#EPIC Talks presents 'Rise of the machines: the future of employment' by Ra...
Description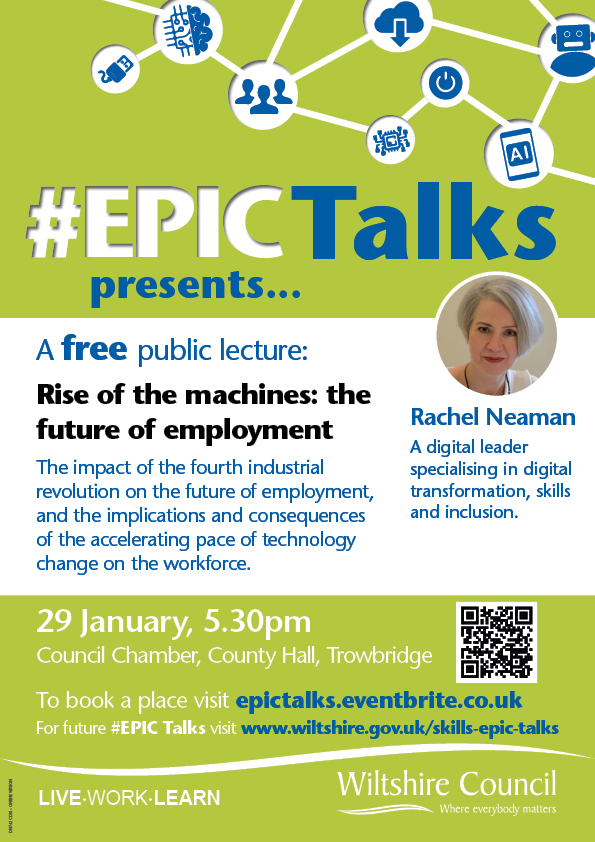 Digital technology is transforming all aspects of the way we live, work, learn and play. Advances in artificial intelligence, the use of big data, ultra-fast processers, and the power of the internet are opening up a host of possibilities never before dreamed off. But at the same time, the advent of newer and more innovative technologies is starting to pose questions about what it means to be human.
The speed of technological development is accelerating so rapidly that traditional norms and structures are being increasingly challenged. How do we adapt to this constant change, and continue to thrive, not simply survive? Will robots take all our jobs, leaving us deskilled and redundant? Do Artificial Intelligence and machine learning signal the end of human value and intelligence?
In this talk, Rachel Neaman will explore the impact of the fourth industrial revolution on the future of employment, and the implications and consequences of the accelerating pace of tech change on the workforce.
About the speaker:
Rachel Neaman is a digital leader specialising in digital transformation, skills and inclusion. She has extensive senior leadership experience in the public, private and not-for- profit sectors in the UK and internationally. Passionate about harnessing technology for positive social outcomes and ensuring technology works for everyone, she has held CEO positions in the not-for-profit sector, and was the first Head of Profession for Digital at the UK Department of Health.
Rachel holds a number of non-executive roles. From 2013-16, she was Chair of the Digital Leaders network, and is now a non-executive member of the Digital Leaders, DigitalHealth.London and UKCloud Health Advisory Boards. In February 2018, she was appointed to the Board of the Campaign for Social Science. A strong advocate of the importance of diversity and gender equality, she mentors and supports girls and women interested in a career in technology.
Rachel speaks regularly at conferences, is a frequent judge of digital awards, and a Fellow of the Royal Society of Arts (RSA). She has featured in Computer Weekly's list of Most Influential Women in IT in 2016, 2017 and 2018.