About this Event
Join The Parliament Project & Glitch for an afternoon of information, inspiration and motivation to explore your political pathway, demystify the process and equip yourself for the journey ahead.
We invite women of all ages, backgrounds and political affiliations to join us to experience the journeys of other women to politics, find support and information, and connect with a community of women who want to get involved in making politics equal.
This free, participative and informative half-day programme will catalyse a new movement of women raising up their voices and create a network of supportive peers. Join us and be a part of positive change towards the goal of gender equal political representation.
ABOUT THE EVENT
The Parliament Project will lead a workshop where you can learn more about exploring your political pathway and how to kick-start your political career. You don't need political experience, a party, or an in-depth knowledge of the political system - all you need is the passion to make a difference and the curiosity to find out more. We welcome women from across the political spectrum (and none) and from any and all backgrounds: we're here to help you get started and connect you with other women who are on the same journey. We'll discuss everything from the process of standing to surmounting barriers that might be in your way.
Statistics show that women are 27 times more likely to be harassed online, making it all the more important for women in the public sphere to be prepared. Protecting yourself upfront is the best way to ward off the worst. Glitch will lead an interactive session where you'll learn vital digital self-defence tips and how to effectively document abuse. You'll learn how to set and stick to personal digital boundaries and have a flourishing online presence centred around your self-care and wellbeing. You'll come away with practical tools and feel in control of your online presence that will support you mentally and emotionally.
This workshop is part of the Equal Power campaign to transform women's representation at every level of politics. During the afternoon you will have the opportunity to learn more and sign up to participate in ongoing campaigns, personal development opportunities and buddying schemes that other Equal Power partners are providing.
We intend to create a safe space where all participants are able to express themselves freely amongst sisters without fear. Please read more about our values here. By attending this event you are agreeing to standing by these principles.
ACCESS
The event organisers are committed to ensuring that this event accommodates the needs of all women from London, interested in participating. If you require BSL interpretation, a stenographer or electronic notetaker, a PA or any other form of access support, please contact Hannah at The Parliament Project hannah@parliamentproject.com so we can make the necessary arrangements. If you require support to cover the cost of care or transportation to the event then please also get in touch with us so we can work to ensure you can join the day. If you would like to join us, we want to get you there!
ABOUT US
The Parliament Project
The Parliament Project is a non-partisan project to inspire, empower and encourage women to run for political office in the UK. Focusing on practical, hands-on training and support, we run workshops and webinars to demystify the process for women wanting to get involved in politics and online peer support circles to support women's political ambitions more deeply.
Glitch
Glitch is a not-for-profit organisation championing everyone's right to be online safely without discrimination, abuse and violence. Glitch offers a range of resources such as Documenting Abuse and the Fix The Glitch Toolkit as well as training around Digital Self Care and Self Defence, Digital Citizenship and Online Active Bystander.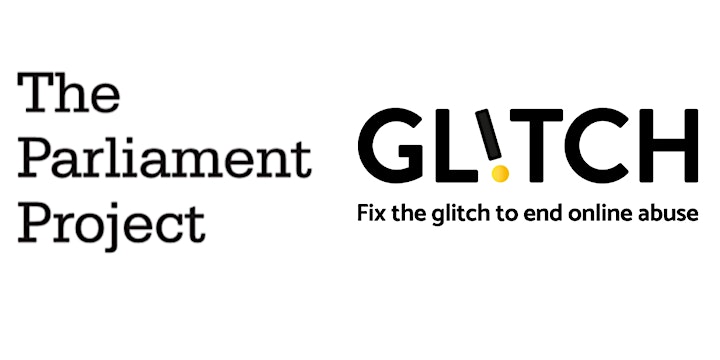 Equal Power
Equal Power is a ground-breaking campaign to transform women's representation at every level of politics. It's time for Equal Power: equal representation for women in all our diversity. This three-year campaign, run by a coalition of women's and civil society organisations, is funded by Comic Relief and will be run in Greater Manchester, London and Birmingham and the West Midlands. We will track the journeys of aspiring leaders to office and the barriers and discrimination they still face.