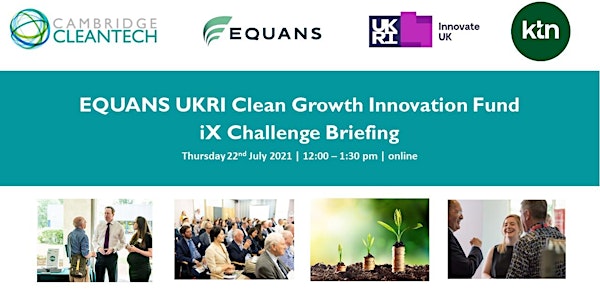 EQUANS UKRI Clean Growth Innovation Fund: iX Challenge Briefing
Cambridge Cleantech, EQUANS UKRI, Innovate UK, KTN event
About this event
EQUANS, part of the ENGIE Group, is a new €12 billion global leader of 74,000 experts present in 17 countries - helping businesses and communities deliver the energy, digital and industrial transitions.
EQUANS and Innovate UK have partnered to establish the Clean Growth Innovation Fund, £2m grant from Innovate UK's Investment Accelerator Programme and £2m equity investment from EQUANS.
The fund aims to help accelerate the UK's Clean Growth Strategy and EQUANS ambition to be the global leader in the Zero Carbon Transition.
This is a great opportunity for UK-based SMES to apply for £0.1m to £1.2m in Funding to finance innovative R&D projects with the support and expertise of EQUANS and Innovate UK.
Come and join us to have a better understanding of the key challenges, how to apply and the benefits of strategic partnering and accessing finances with the support of a large corporate.
Agenda includes:
Welcome and Introduction - Martin Garratt, CEO, Cambridge Cleantech
EQUANS and the Clean Growth Innovation Fund - Ben Watts, Director M&A and Investment, EQUANS
The Innovate UK role for this Fund and beyond - Christian Inglis, Head of Urban Systems, Innovate UK
Joint Innovations: Corporates and SMEs for the best outcome - Uday Phakde, Co-Founder, Triple Chasm
Connected Energy: a successful partnership with ENGIE - Matthew Lumsden, CEO, Connected Energy
The application platform: where and how to apply for the challenges - Dr Louise Jones, Knowledge Transfer Manager Energy Systems, KTN
4 Challenges:
• Industrial Decarbonisation Solutions• Digital Solutions for the Built Environment• Smarter and Greener Places• Decarbonisation of Heat
View the full agenda here