Description
E-Horse CPD Seminar


---


Feeding for Winter
E-horse have been privileged to secure the services of Donna Case, Independent Horse Nutritionist from "The Horse Feed Guru" to deliver a series of nutrition seminars throughout 2018/9.
Donna is highly experienced and published equine nutritionist and has worked as on-call yard nutritionist at Badminton, Blair and Braham Horse Trials; as well as the British Dressage National Winter Dressage Championships, Olympia, Royal Windsor Horse Show and Sandringham Driving Trials. She specialises in Clinical Nutrition, Diet in the Performance Horse, Feeding for Lifestage and Elimination Diets.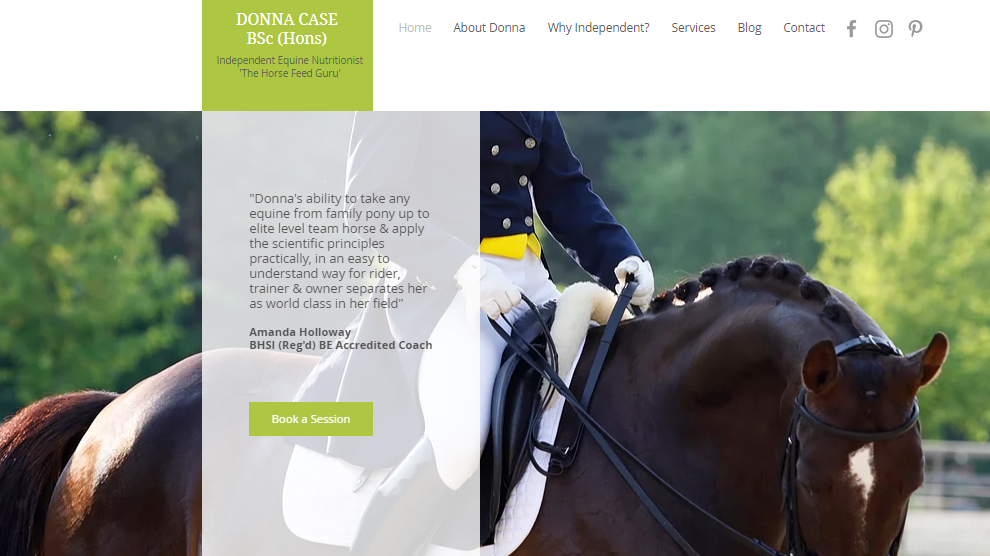 During this session we will look at Feeding for Winter and will cover the following:

1. Overview of Digestion and Nutrients (Carbs, Proteins, Fats)

2. The Essentials for winter:

3. Fibres

4. Grass in Winter

5. Concentrates

6. Supplements for winter

7. Feeding the Special Care horse in winter

8. Maintaining performance: feeding for winter exercise

9. Feeding rules for winter stabled horse

10. Essential Nutrients for winter

11. Q and A



Donna:
"My aim is to demystify the haze which seems to surround feeding horses. I want to provide the best possible advice in the most simplest form that people can not only apply the day, but a long time after. Above all else my love for horses and wanting the very best for them remains at the forefront of my heart."
Do not miss this opportunity to learn how you can improve your horses wellbeing and ensure that you are meeting all his nutritional needs.
Tickets available £15
**UNDER 16 FREE WITH PAYING ADULT**
Excellent parking available
---
Dont miss this great opportunity to improve your understanding of your horse and meet a group of other horse-loving people.
Terms of booking:
Full payment required at time of booking to reserve a space. Please notify organiser if you are unable to attend. Refunds available upon notification of cancellation as long as 24hours prior to event. No refunds within 24 hours of event (unless exceptional circumstances). The organiser reserve the right to amend or cancel this event. All monies will be returned in event of organisers cancellation.
E-horse 2018