Description
E-Horse CPD Seminar
---
Equine Pharmacognosy- Developing Equine Self Healing
Zoopharmacognosy is the practice in which wild animals self medicate using an evolutionary adaptation in which their innate instinct enables them to communicate and relate with medicinal plants within their environment, to bring about health and well being. Unfortunately domestication has restricted the horse's opportunity to use his instinctive knowledge to select nature's medicines
Within this session we will look at the horses natural ability to self select plants and how we can help improve their welfare by offering the required plant based nutrition. We will study case evidence and discuss current responses.
About Beth: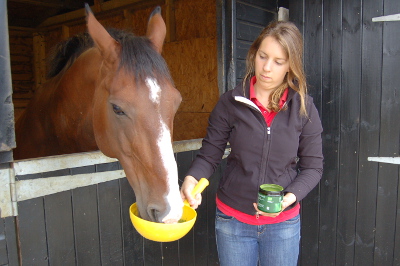 Beth Chamberlain is a highly experienced Zoopharmacognosist and runs Equinepharmacognosy in Essex.
A wealth of knowledge of horses was gained whilst studying for her degree in Equine Studies; but the journey that lead Beth to Applied Zoopharmacognosy began when her horse Thomas was diagnosed with gastric ulcers. Veterinary treatment proved successful in healing the ulcers but did not solve the problem and the ulcers returned.
Beth felt that continuing with this line of treatment was not an option which lead her to researching how she could help her horse. On this journey it led her to researching plant remedies and animal self-medication. Beth found such fascination in the plant remedies that her horse selected and how he responded to them. Thomas was checked again for ulceration and all signs were clear. Her desire to learn more about this lead her to the Academy of Zoopharmacognosy where she studied the science behind this subject,
Through the knowledge that she has gained Beth has observed her own animals and has implemented this work with her own horses and flock of sheep. Today Beth continues to help animals by providing them with the opportunity to heal themselves.
Beth lectures to college and university students, appeared on BBC Radio Suffolk and has written numerous articles. The subject of Applied Zoopharmacognosy is continually developing and Beth returns regularly to the Academy of Zoopharmacognosy to develop her knowledge but gives great thanks to the animals that have been her teachers.
Her goals are to take this work internationally which she will be doing whilst an invited speaker at the Animal Science and Veterinary Conference in Durban, South Africa in February 2019.
Within this session we will cover the following:
What is Zoopharmacognosy?
Relationship between animals and plants
Theories behind animal self medication
Medicinal compounds
Routes of administration: pathways into the body
Why do animals poison themselves?
Q and A
Tickets available £15
**UNDER 16 FREE WITH PAYING ADULT**
Excellent parking available
---
Dont miss this great opportunity to improve your understanding of your horse and meet a group of other horse-loving people.
TERMS OF BOOKING:
FULL PAYMENT REQUIRED AT TIME OF BOOKING TO RESERVE A SPACE. PLEASE NOTIFY ORGANISER IF YOU ARE UNABLE TO ATTEND. REFUNDS AVAILABLE UPON NOTIFICATION OF CANCELLATION AS LONG AS 24HOURS PRIOR TO EVENT. NO REFUNDS WITHIN 24 HOURS OF EVENT (UNLESS EXCEPTIONAL CIRCUMSTANCES). THE ORGANISER RESERVE THE RIGHT TO AMEND OR CANCEL THIS EVENT. ALL MONIES WILL BE RETURNED IN EVENT OF ORGANISERS CANCELLATION.
E-HORSE 2018