EQUINOX Divine I AM: Transmission and Activation - Vaz Sriharan & Adya Nova
A special Equinox Divine I AM Transmission - Receive higher light, love, codes, wisdoms and frequencies for Spiritual Transformation
About this event
An equinox is the moment in time and space when the sun is positioned directly above the Earth's equator. At this time the Sun crosses the celestial equator going northward - it rises exactly due east and sets exactly due west.
We are blessed with 2 Equinoxes a year - and 2 Solstices - giving us the Four Gateways. The word Equinox is latin, meaning equal night (equi-nox). It is a time when the day and night are equal.
For those in the northern hemisphere, the Spring 'vernal' Equinox signals the growing of light in the day and the movement into the outward birthing active bloom of Spring, Summer.
For those in the southern hemisphere, the Autumn Equinox represents the lessening of light and the movement into the inward reflective energies of Autumn, Winter.
This year it falls on the 20th March, yet the energetic portal extends beyond this day, giving us an amazing gateway to release the old and birth the new into our reality.
What's key is the moment these seasons & energetic currents of the collective energies shift. This moment, the Equinox, offers us a Gateway / StarGate to tap into, should we choose, to accelerate our Awakening.
This particular Divine I AM Transmission will work with the current gateway to download the incredible frequencies that are on offer, for personal, collective & planetary transformation.
Cellular / Emotional Release & Clearing, Spiritual Reconnection, Multidimensional Activations, DNA calibrations, Strengthening Connection to Spirit Guides & Star Family, Awakening of Inner Wisdom, Peace, Guidance & Joy
THIS IS AN INVEST WHAT YOU CAN AFFORD WEBINAR (SLIDING SCALE)
*** ZOOM LINK IS GIVEN IN EVENTBRITE CONFIRMATION EMAIL ***
***RECORDING SENT TO ALL PARTICIPANTS, VALID FOR 7 DAYS**
The Divine I AM Transmissions work with the Christ Consciousness grid of the planet (also known as the planetary light grids) to anchor higher vibrational frequencies for personal and collective transformation.
A Divine I AM Transmission is a download of higher light, love, codes, wisdoms, frequencies pour into the room and layer though the four bodies - Emotional, Mental, Physical and Spiritual. This then works to Cleanse, Bathe, Transform and Active our fields and consciousness with higher frequencies of light.
These are profound spiritual experiences of immense love, pure wisdom and intelligence moving to awaken inner Soul Love.
The Divine I AM Transmissions have created phenomenal transformation for thousands of people over the years. They are an invitation for souls who seek accelerated healing, strengthening of connection with the other realms and spontaneous activation of inner gifts.
We have entered a new era of consciousness where healing & growth has transformed, and so has our ability to work with higher consciousness and energies.
---------
WHY ATTEND A SESSION?
Imagine Healing whilst having a Direct Experience with the Divine?
❀ S H E D limiting beliefs, fears, doubts, low vibrational energies, attachments, patterns, karmic cycles, dense energies, repressed/suppressed emotions - all in a beautiful way.
❀ S H A D O W - H E A L I N G - As we face our shadow (what we dislike about ourselves) - with Loving Presence, we allow it to 'Come to Light' ~ the Light of your Consciousness.
❀ E X P A N S I O N - O F - C O N S C I O U S N E S S (Raise your vibration)
- Experience phenomenal shifts in Self Awareness, Relationship Healing, Confidence, Spiritual Connection, Synchronicities, Clarity, Realisations and Inner Peace.
---------
WHAT HAPPENS IN THE REMOTE SESSION?
This session is a one-way remote webinar - upon booking you will be sent an Eventrbite confirmation email with a link and more details on how to connect. You can listen live in the comfort of your home and receive (you will not have to be seen via video or audio)
The energies can be quite tangible and many feel a physical shower of light and elevation into bliss. During this time, the mind will begin to settle and the transformational journey begins.
*** ZOOM LINK IS GIVEN IN EVENTBRITE CONFIRMATION EMAIL ***
------
THIS IS AN INVEST AS YOU CAN AFFORD WEBINAR. Use the Ticket system to choose what you can afford at this time to value this exchange of healing.
If you have any issues booking please contact us by replying to bookings@londoncollegeofspirituality.co.uk
TESTIMONIALS
"Truly amazing... such a gentle, yet deep energy tonight. Feel very blessed to have shared in it with you all, Namasté xx" L
"Thanks for a lovely session I came in with a mind full of worries and left feeling more positive and more intuned with myself..hope to come to more of your sessions and find more deeper connections...sending my love xx" S
"Increasingly brilliant. The group heart energy was super strong. Huge thanks also to all our Helpers :)"
"These trasmissions are my Big Trigger that reveals where I am in my journey and what I still have to work on :) too grateful for words <3"
"Words cannot describe how I felt, it's the closest I have come to oneness and I'm still feeling it today. I'm humbled and truly grateful - Thank you xxx"
"Thank you so much for a beautiful session. You facilitate events with so much love and pure presence. The light grid energies were intense! I was flying afterwards! Haha. Thank you"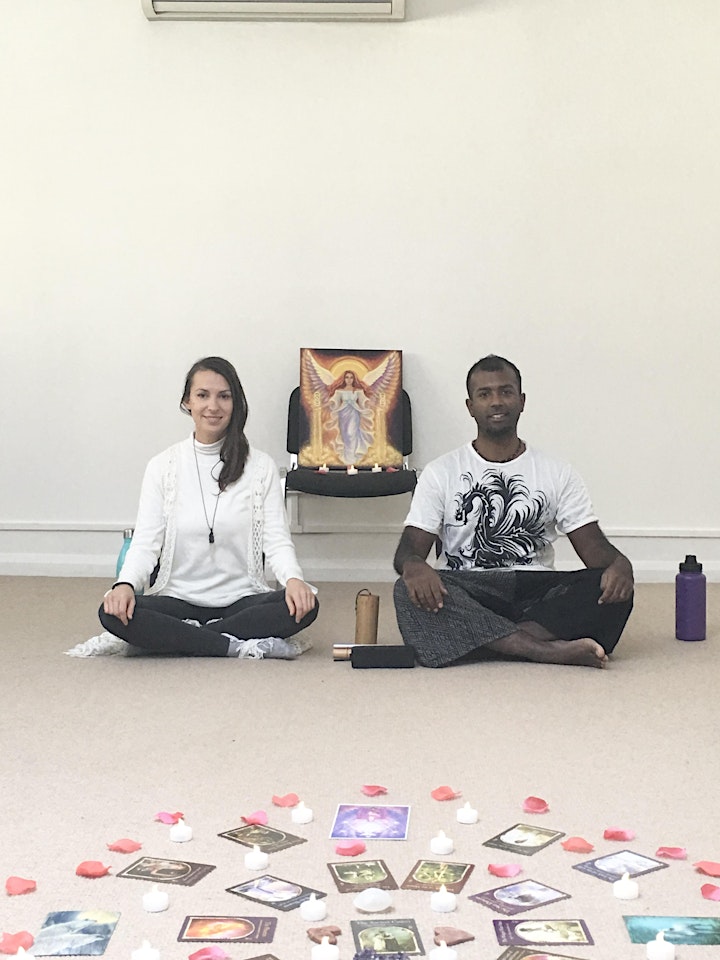 Date and time
Location
Refund policy
Organiser of EQUINOX Divine I AM: Transmission and Activation - Vaz Sriharan & Adya Nova
London College of Spirituality, offering transformational courses, interactive trainings, healing transmissions, activations & experiences. We serve all those who are on the Awakening path of Spirituality as well as those who are actively seeking to discover their Gifts so they can also serve others.