Description
Join Arthur Jeffes (Penguin Cafe), Craig Armstrong, Douglas Dare, Neil Cowley and more for an evening of intimate piano performances at St Pancras Old Church in Kings Cross.
"Why does the world need a Piano Day? For many reasons. But mostly, because it doesn't hurt to celebrate the piano and everything around it: performers, composers, piano builders, tuners, movers and most important, the listener." – Nils Frahm
Piano Day, a annual worldwide event founded by a group of likeminded people, was a roaring success in 2016: from London to Tokyo via Moscow and Melbourne, pianists gave a series of stunning concerts across a number of styles and genres, all in celebration of those who express themselves best through 88 keys. The format of the events varied from intimate living room shows to performances in concert halls and special piano inspired activities such as poetry readings, piano honey tastings or workshops about music composition.
The aim of the day is to create a platform for piano related projects and to continue sharing the centuries-old joy of playing piano. Piano Day welcomes all kinds of piano lovers - young and old, amateur and professional, of any musical persuasion - to join in next year's festivities.
FULL LINE UP
Arthur Jeffes (Penguin Cafe)
Ayo Vincent (World Heart Beat Music Academy)
BEYRIES (CA)
Craig Armstrong
Douglas Dare
Jean-Michel Blais
Lucinda Chua
Neil Cowley (Neil Cowley Trio)


This year's celebration of Piano Day will be in aid of The Worldwide Tribe organisation. Their mission is to highlight the humanity behind world issues and to inspire global community in order to leave a legacy of positive and social change. They use creative storytelling to bring a personal, human perspective to the issues that people want to know about, while investing in grassroots projects around the wold that make a direct difference to the lives of those in need; notably the refugees who are currently suffering around the globe.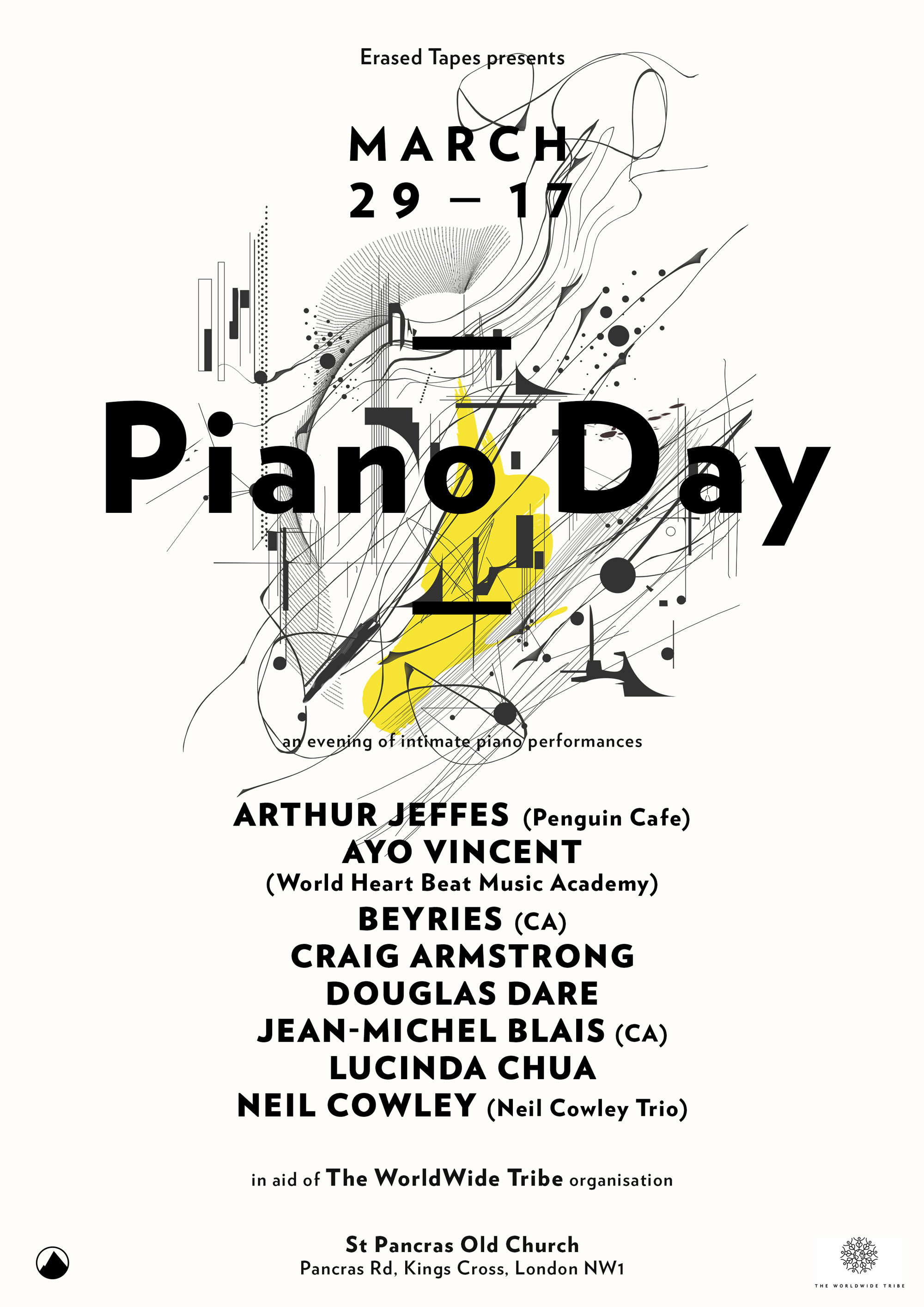 Artwork by Hara Katsiki
Poster Design by Torsten Posselt & Adam Heron