Description
Erasmus+ Application Support for Schools
This event will support schools that are completing an Erasmus+ application. The workshops will cover the following agenda: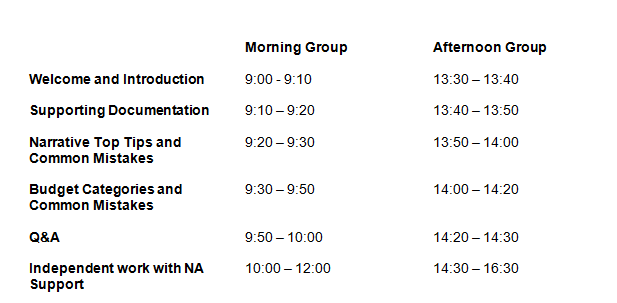 By the end of the presentation session, you will be aware of all the budget categories which are eligible and how to apply for them, as well as to how to complete the form.
You will also have received important information in regards to the documentation that needs to be completed ahead of your application and receive top tips on things to keep in mind when completing your narrative section.
After the NA presentation, you will be given time for Q&A about the content discussed in the day then time to work independently on your application, with the opportunity to ask NA staff questions whilst completing the application.
Please note: This support is focused on completing the form correctly and to ensure that you are requesting the right amount of funding. We will be able to provide limited best practice guidance in regards to the narrative sections of the form but cannot design projects or give specific guidance on what you should write.
We will provide refreshments on arrival, with registration starting at 8:30 and the event starting promptly at 9:00 for the morning group.
For the afternoon group, registration will start at 13:00, with the event beginning promptly at 13:30.
When selecting your ticket, please select one of the following:
Key Action 1 – Staff Mobility - Morning

Key Action 2 – School Exchange Partnership- Morning

Key Action 1 – Staff Mobility - Afternoon

Key Action 2 – School Exchange Partnership - Afternoon
We will be running events in London, Belfast, Cardiff, Manchester and Edinburgh.
Please note: We are only able to accommodate one representative per organisation in order to maximise the availability of these events. However, if you were interested in bringing a second attendee, please email erasmusplus.events@britshcouncil.org as we will open a waiting list for those attendees.
Important Travel Information: This event will only go ahead if we reach a minimum number of attendees. Please do not book travel until being notified to do so by the UK National Agency.
Please do not hesitate to contact us with any queries at erasmusplus.events@britishcouncil.org