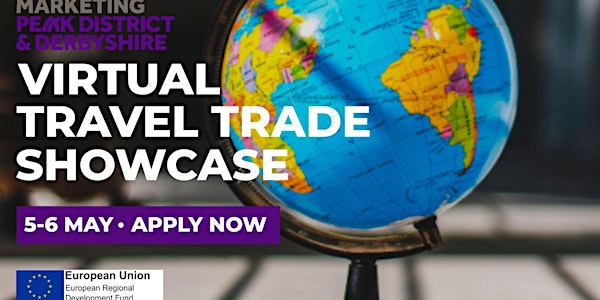 ERDF Visit Peak District and Derbyshire Virtual Travel Trade Event
Marketing Peak District & Derbyshire are excited to announce that they will be hosting a ​Visit Peak District & Derbyshire Travel Trade Show
About this event
About this Event
Marketing Peak District & Derbyshire are excited to announce that they will be hosting their very first virtual "Visit Peak District and Derbyshire Travel Trade Event".
We are inviting Visitor Economy SME's from across Derbyshire to ​register their interest in taking part in this fantastic, fully funded opportunity. The showcase will now run over 2 days, 5 & 6 May 2021 with businesses each having their own virtual stand which will include business logos, images and downloadable information/brochures. The trade show will be open for the core hours of 8am-2pm on Wednesday 5th and 3pm-8pm on Thursday 6th and you can block out anytime that you are unavailable and have appointments slots outside of this time also but you will be required to attend for a minimum of 12 hours/
The event will allow local attractions, accommodation, activity and experience providers the opportunity to exhibit with virtual stands which include logos, images, descriptions, contact details and the option to upload a short video, brochures, flyers and business details can also be downloaded. Virtual appointments as well as drop-in sessions will allow the exhibitors to meet "face to face" with international tour operators, event organises and buyers to showcase their products and services and give them a real flavour of their business and what the wider area has to offer visitors from overseas.
We are able to offer you this great opportunity to attend this new virtual event due to our European Regional Development Funded project.
​We are inviting business to register their interest to participate in this first virtual "Visit Peak District and Derbyshire Travel Trade Event". Places are limited and therefore priority will be given to businesses who have not received any previous ERDF business support with us​, although we will also welcome businesses to register if they are have participated in previous events or attended our workshops.
Visitor Economy Businesses applying must be available for the duration of the event to man their virtual stand and be available for virtual viewings and appointments .
The closing date for applications will be 12:00 on Friday 16th April 2021. Applications will be assessed and scored by a panel and the successful applicants will be notified by Monday 19th April 2021.
In addition to this online application form​, as part of the European Regional ​Development ​Fund requirements​, you will be required to complete and return an SME form. *All parts of the form need to be completed* You can find the SME form and guidance via the link below.
 https://www.visitpeakdistrict.com/industry/business-support/erdf-project-phase-2/sme-enrolment-form
Please return the completed form to:
Marketing Peak District & Derbyshire, East Midlands Chamber, Commerce House, Millennium Way, Chesterfield, Derbyshire, S41 8ND. Please note we can not accept scanned copies and require an original signature.
The successful applicants will be required to have their own business zoom account and will be required to provide business information including details of products and services, provide electronic brochures and various promotion material by 12 noon, Tuesday 13th April 2021.
To take part your business will need to be:
a Visitor Economy business based in Derbyshire
an SME (less than 250 employees)
have a zoom business account