Description
Have too many ideas you don't know which to run with?
If you're an 'ideas person', that's great. But it can create a pretty problematic kind of paralysis.
In this evening workshop we'll be cutting through the noise, distractions and assumptions to find the right business idea for you.
This evening workshop will help you:
- Quickly test any assumptions you have for each idea you have
- Develop 'your good idea criteria' and how it can help you refine your options
- Carry out your resource check and get clear on what's available to you
- Investigate the trends & timing related to your ideas
---
We'll start at 7pm sharp and run to 8:30pm. Drinks will be available from the cafe so come down, grab a beer and get chatting.
We'll also share more information about our upcoming Idea Accelerator programme, with opportunities to ask questions and meet the team. Get a feel for a what the Idea Accelerator is all about, while learning some of the core concepts to set your idea up for success.
Your workshop facilitator for the evening:


BEN KEENE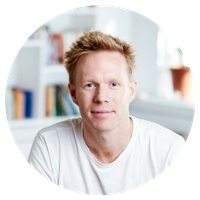 Founder of Tribewanted (crowd-funded eco-communities), Ben has led four Startup Tribes and is a business advisor at Virgin Startup. His startup superpowers include: helping people turn pub ideas into actual startups, building purposeful communities and hacking online projects together in a very short amount of time.