Description
Join us for the launch of The Escape Cafe!
To celebrate doing something different, we're inviting members of the community to share their Escape stories at the Escape Cafe. Plus some live entertainment suprises, a free goodybag and a FREE DRINK (or two!).
In 5-minute open mic sessions, escapees will share their own journey of finding work that matters - whether a change of job, starting a business, or going on a big adventure. Most importantly, they'll talk about the realities of making a big, brave change - the fears, the obstacles, the stuff you don't seen on Instagram - and how they've overcome the challenges of creating a career and life on their terms.
We'll also have some live entertainment from friends of the community to celebrate the launch of The Escape Cafe, as well as a goody bag of treats from our favourite brands!
We'll finish with a session to connect you with others in the Escape community - so you can chat to likeminded people and start hatching your own escape plans.


£10 Early Bird Tickets, available until Friday 19th May.
£15 thereafter.
As the cafe is a cozy little space, tickets are likely to sell out so advance booking is HIGHLY reccomended!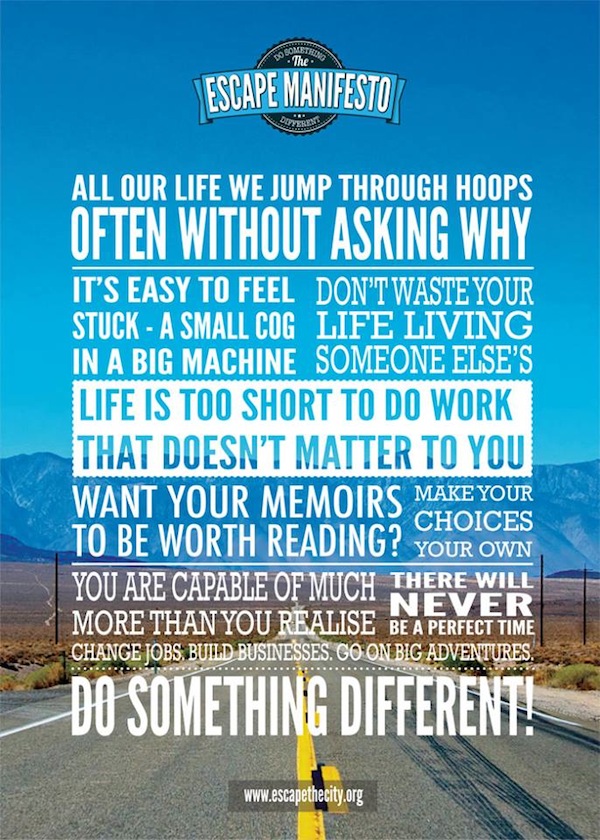 What others have said
"I work in a corporate environment, but I'm not a 'city' type, so I anticipated there to be a lot more of that. The feeling in the room was so positive and supportive, and none of the people there were the power-banker/finance 'city' types that I expected. Staying back and having a chat with one of the other attendees, I had a really strong desire to surround myself more with other people who are wanting to change their lives just like I am. I bought the ticket to that event on a whim and I got so much more than my money's worth, which is why I'm so thankful and why I wanted to be candid with you about my experience."
"There is always something to learn at Escape and it's such a wonderful, energising place to be, which gives you so many chances to talk to so many wonderfully interesting people."
---