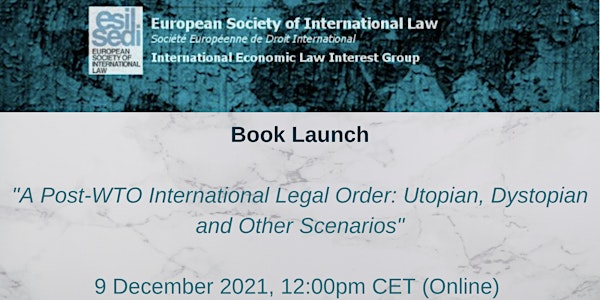 ESIL IGIEL Book Launch: "A Post-WTO International Legal Order"
Book launch: "A Post-WTO International Legal Order: Utopian, Dystopian and Other Scenarios"
About this event
Supported by the ESIL Interest Group on International Economic Law
Thursday, 9 December 2021, 12:00 pm (midday) CET (on Zoom)
Description
"A Post-WTO International Legal Order: Utopian, Dystopian and Other Scenarios" is a must read for anyone wondering what a world without the WTO would look like. The collection of chapters in the book is the result of a global project organised to explore what might be the consequences of the stagnation or the total collapse of the WTO system – neither impossible to imagine given little development and growth of institution and the attacks on it in the recent years. And especially true in light of the recent decision to postpone, indefinitely, the 12th Ministerial Conference.
Join us for a lively conversation with the editors and authors from all over the world, who will discuss not only the book and its themes but also the potential solutions and approaches to dealing with the problems that are likely to arise in the future.
Opening
Colin Picker (University of Wollongong)
Junji Nakagawa (Chuo Gakuin University)
Panellists
Elisa Baroncini (University of Bologna)
Leïla Choukroune (University of Portsmouth)
Engela C Schlemmer (University of Witwatersrand, Johannesburg)
Peter-Tobias Stoll (University of Göttingen)
Rostam Neuwirth (University of Macau)
Pre-Recorded contributions
Bradley Condon (Instituto Tecnológico Autónomo de México)
Simon Lester (Cato Institute)
James Nedumpara and Akshaya Venkataraman (Centre for Trade and Investment Law, India)
Sonia Rolland and David Trubek (Northeastern University and University of Wisconsin-Madison resp.)
The book can be found here.