Welcome to our first ESMB Mini-Symposium!
About this event
Welcome to our first ESMB Mini-Symposium! This virtual event will take place on the 26th of November 2021 and is organised to provide a platform for early career researchers to present their new and exciting work, and as always, trigger new scientific discussions amongst Marine Biotechnologists. Please see our poster with the Programme - the event will be recorded and the link will be uploaded on our ESBM website soon after.  Please see below the event program.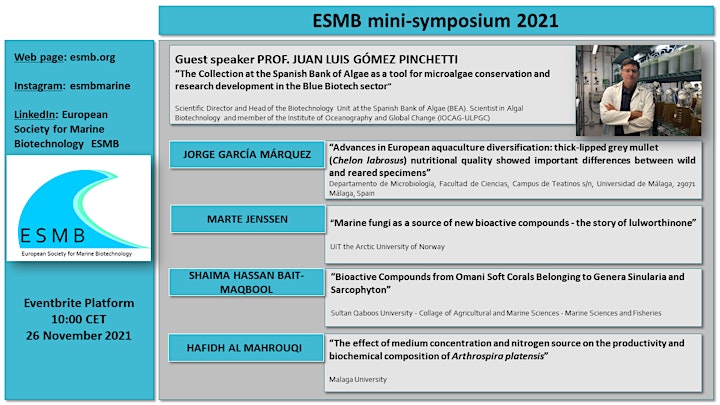 KEYNOTE SPEAKER: Prof. Juan Luis Gómez Pinchetti
BRIEF BIOGRAPHY: Scientific Director and Head of the Biotechnology Unit at the Spanish Bank of Algae (BEA). Scientist in Algal Biotechnology and member of the Institute of Oceanography and Global Change (IOCAG-ULPGC). His main research interests are related to the biotechnology, physiology and cultivation of marine macro- and microalgae. With a broad experience in laboratory and pilot-scale cultivation of marine algae and cyanobacteria, research objectives include physiological and biochemical characterization, transformation and applications of algal biomass.
Title: "The Collection at the Spanish Bank of Algae as a tool for microalgae conservation and research development in the Blue Biotech sector"
Abstract: The BEA Collection maintains more than 2000 strains of eukariotic microalgae and cyanobacteria from the macaronesian region. Many of these strains have never been evaluated for biotechnological purposes. That is because we carry out a research and development program attending front lines related to conservation, identification, characterization, biomass production and evaluation for industrial purposes, Recent projects, objectives and developments will be presented and discussed.
---------------------------------------------------------
SPEAKER 1: Jorge García Márquez
INSTITUTION: Departamento de Microbiología, Facultad de Ciencias, Campus de Teatinos s/n, Universidad de Málaga, 29071 Málaga, Spain
TITLE: "Advances in European aquaculture diversification: thick-lipped grey mullet (Chelon labrosus) nutritional quality showed important differences between wild and reared specimens"
ABSTRACT: The thick‐lipped grey mullet (Chelon labrosus) has good potential for aquaculture diversification in Europe. However, research studies about this species are scarce, particularly focusing on the nutritional attributes of wild and cultivated thick‐lipped grey mullets that might help to optimize its feeding regime. In order to determine the nutritional composition of thick‐lipped grey mullet juveniles, wild and cultivated specimens were collected and compared. To do so, the liver fatty acids, muscle proximate composition, fatty acids and amino acids were analyzed. The wild specimens had higher levels of polyunsaturated fatty acids and a higher content of eicosapentaenoic (EPA) and docosahexaenoic (DHA) acids than the farmed specimens. Furthermore, all the amino acid scores were above 100% compared to the Food and Agriculture Organization of the United Nations/World Health Organization (FAO/WHO) standard. This study provides new knowledge and contributes to understanding the nutritional attributes of wild and cultured C. labrosus and helps to design diets according to their nutritional demands.
SPEAKER 2: Marte Jenssen
INSTITUTION: UiT the Arctic University of Norway
TITLE: "Marine fungi as a source of new bioactive compounds - the story of lulworthinone"
ABSTRACT:The new sulfated biarylic naphtho-α-pyrone dimer lulworthinone was isolated from a liquid culture of a marine fungus in the family Lulworthiaceae. The compound was isolated by bioactivity-guided isolation and its structure elucidated by spectroscopic methods, including 1D and 2D NMR and HRMS. Lulworthinone showed antibacterial activity against reference strains of Staphylococcus aureus and Streptococcus agalactiae, as well as several clinical MRSA isolates with MICs in the 1.56–6.25 µg/ml range. Some antiproliferative activities were also discovered. During the isolation of the compound, we observed the conversion into a structural isomer caused by the acidic properties of the solvents used for purification. The compound represents the first new bioactive secondary metabolite isolated from the marine fungal order Lulworthiales.
SPEAKER 3: Shaima Hassan Bait-Maqbool
INSTITUTION: Sultan Qaboos University - Collage of Agricultural and Marine Sciences - Marine Sciences and Fisheries
TITLE: "Bioactive Compounds from Omani Soft Corals Belonging to Genera Sinularia and Sarcophyton"
ABSTRACT: Soft corals are marine invertebrates belong to the class Anthzoa, and they are rich by bioactive substances that provides for them defense and protection features from predators, pathogens, and other unfavorable materials around. Seven soft coral species belong to the genera Sarcophyton and Sinularia were collected from Omani waters, extracted and tested as antibacterial and antifungal cures using agar-disk diffusion method and MicroResp technique, also potential compounds that present in the species were characterized using GC-MS analysis, and the species were classified according to their chemical properties. The results showed that the soft coral species have antibacterial activity against Gram-negative bacteria: Pseudomonas putida and Pseudomonas tunicata. The GC-MS analysis characterized the chemical compounds into: antibacterial, antifungal, antiviral, anticancer, antioxidant agents, agrochemicals and medicine chemicals. Three novel compounds were found in a Sarcophyton spp In addition, according to our literature, the compound Andrographolide which found in a Sarcophyton spp have been recently studied as antiviral agent against SAR-CoV-2. Moreover, the compound Decosane which found in Sinularia spp has been used as anti-parasitic agent to treat malaria in Pakistan against the female Anopheles spp mosquito vector. Many useful compounds were investigated from Omani soft corals which could benefit the economy in many ways.
SPEAKER 4: Hafidh Al Mahrouqi
INSTITUTION: Malaga University
TITLE: "The effect of medium concentration and nitrogen source on the productivity and biochemical composition of Arthrospira platensis"
ABSTRACT: The effect of different diluted medium concentrations (25, 50 and 100%) and two nitrogen sources: standard Zarrouk medium (SZM) and modified Zarrouk medium with urea (MZM-U), were analyzed in the Spirulina culture in two different strains: Spanish (SS) and Malaysian (MS). The productivity was slightly lower using 25% of both mediums. The highest growth biomass was obtained in 50% SZM for SS, and in 50% MZM-U in MS. The internal carbon, nitrogen and protein content decreased when the lowest percentage (25%) was used, mainly using urea in both strains. In contrast the carbohydrates content were higher using the 25% of medium, especially when urea was used. Its content was slightly higher in MS. For lipid concentration, the lowest content was observed in the 25% MZM-U in both strains. The pigment content was much lower when 25% MZM-U was used in both strains. Both strains were able to grow with low medium concentrations without losing their properties, which suggested that the cost of spirulina production could be significantly reduced.