The European Society for Marine Biotechnology - ESMB - Webinar Series 2022
About this event
The ESMB Webinar Series will be inviting guest speakers from around the globe, to present their work which is linked with the exciting field of Marine Biotechnology. Topics will range from wood-eating animals and their biotechnological potential, to plastic degrading enzymes, microbe-deriving bioactive compounds, aquaculture and biofouling and many many more. We hope this Webinar Series will act as a platform for promoting and further enhancing collaborations while offering a window to new developments and stimulate interesting scientific conversations.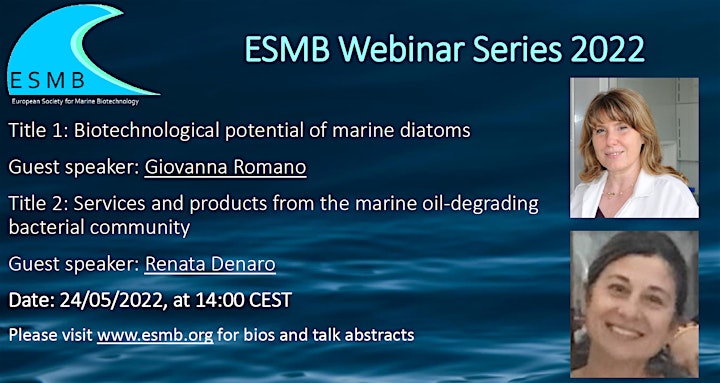 Giovanna Romano
Title: Biotechnological potential of marine diatoms
Diatoms are a group of phytoplanktonic organisms populating most aquatic environment. Their ecological success has been related to their ability to respond to environmental changes by producing secondary metabolites involved in defense and adaptation mechanisms. Besides their ecological functions, these compounds often display interesting bioactivities that could be exploited for various biotechnological applications. Diatoms are thus receiving increasing attention as a promising source of products of wide application in the pharmaceutical, health, cosmetics, nutrition and nanomaterials sectors. The webinar will present an overview on the biotechnological potential of diatoms and the technological advancement that is contributing to the exploitation of diatoms as sustainable and eco-friendly source of valuable compounds. Some example of bioactive molecules will be presented, with a special focus on lipid-derived bioactive metabolites.
Renata Denaro
Title: Services and products from the marine oil-degrading bacterial community
The marine hydrocarbonoclastic bacteria (HCB) are able to consume oil as a sole source of carbon and energy. HCB are highly specialized in the selection of aliphatic or aromatic fractions because they harbor specific receptors, functional genes and enzymes. Moreover, they produce biosurfactants and siderophores which confer them competitive advantages in the use of the substrate. Indeed, pilot studies have demonstrated that HCB, in cooperation with syntrophic microorganisms, are able to degrade up to 80-90% of hydrocarbons, decreasing significantly the toxicity of the medium. It is worth noting that, recent literature highlighted the role of HCB also in the degradation of oil-derived plastic. The co-occurrence of HCB and hydrocarbons in marine environment has increased the interest on their use as bioindicators of oil pollution, even transforming them in luminescent bacterial bioreporters as early warning monitoring system. It is common knowledge that bioremediation adequately designed can offer number of advantages compared with the only chemical or physical treatment, since it is ecofriendly, economic and low-energy-consuming. However, after decades of studies and cutting-age technology, bioremediation in marine environment, unlike in soil remains underexploited.