ESN - Innovation & Life-Cycle

Monday, 11 September 2017 from 11:30 to 17:00 (BST)
Event Details
NEW DATE - 11 September 2017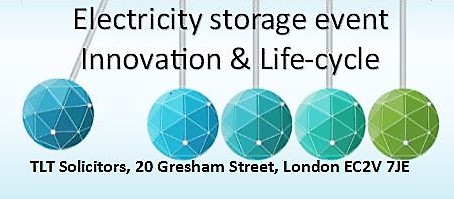 Click to register
View programme here
Background:
Energy storage is an important tool on the electricity system.  Over 500MW of battery storage have been contracted for services in the GB market, and the business case for other forms of electricity storage is becoming improving as technology costs drop and market barriers are removed.
This is the start of the development of a major industry.  A large part of an industry group's role is to ensure such development happens in an efficient and environmentally sustainable way. 
A significant amount of innovation funding is available, from Government, and through the network companies, as an innovation allowance.  The network companies have to develop their strategy for network innovation by the end of 2017.  We need to ask: "what is the critical path of innovation that the electricity storage sector needs to follow, and is the support available adequate for this?"
As more storage is deployed, we need to consider the life-cycle credentials of the technologies.  We need to ask "How are the materials sourced?  How are they used?  Can they be recycled?  How are they disposed of?  What are the prospects for the future with increasing amounts of deployment and ultimate retirement of assets?  Fundamentally, is the industry sustainable from the perspective of environment and raw resource, and what further good practice, standards and regulations, are needed?"
This meeting for members and non-members of the ESN will examine these two important industry topics and develop the ESN's policies and actions.
If you need further please contact Aud Heyden: 01666 840948 or email: aud@electricitystorage.co.uk.
We look foward to seeing you in September.

Attendance at this conference is part of Continuing Personal Development. Certificates of attendance will be issued on completion of the delegate feedback form which will be emailed shortly after the seminar.
The organisers reserve the right to amend or change the programme without notice.
Registration, refund and cancellation policy

In order to reduce our administration costs, we prefer all registrations to be made through Eventbrite. A delegate place is transferable between members of the same company or institution.
If you wish to cancel your place and obtain a refund please note that there is a minimum 25% cancellation fee to cover our administrative costs. For cancellations less than 21 days before the symposium the cancellation fee is 50%. Cancellations 7 days before the symposium will not be accepted. All requests for cancellations must be submitted in writing. It may take up to 7 working days for a refund to be processed. For further information please email:info@electricitystorage.co.uk.
In the unlikely event that we have to postpone or cancel the symposium, we will either refund fees or carry thorough the registration to another event, with the agreement of the registrant.
When & Where

TLT Solicitors
20 Gresham Street
London
EC2V 7JE
United Kingdom


Monday, 11 September 2017 from 11:30 to 17:00 (BST)
Add to my calendar