Description
ESI Spring Forum Series 2019
The incredibly popular and over subscribed Esports Insider Forum Series is making its way to Manchester!

We're delighted to celebrate the arrival of the spring season with another esports business networking event this time taking place on Friday March 22nd at the City Football Academy Media Centre, a stone's throw away from the Etihad and home of the Premier League champions Manchester City FC.
The Esports Insider Forum Series provides a platform for key industry stakeholders, sponsors, enthusiasts, business people from all walks of life to meet in a relaxed environment with food and drink aplenty, as well as one insightful panel, a keynote presentation and a casual tournament to boot.
As always, the content will be of the highest quality and the networking opportunities ample!
---
WHAT'S HAPPENING:
Keynote presentation: Esports: The enormous opportunity for growth from broadcasting revenues


One expert panel, followed by Q&A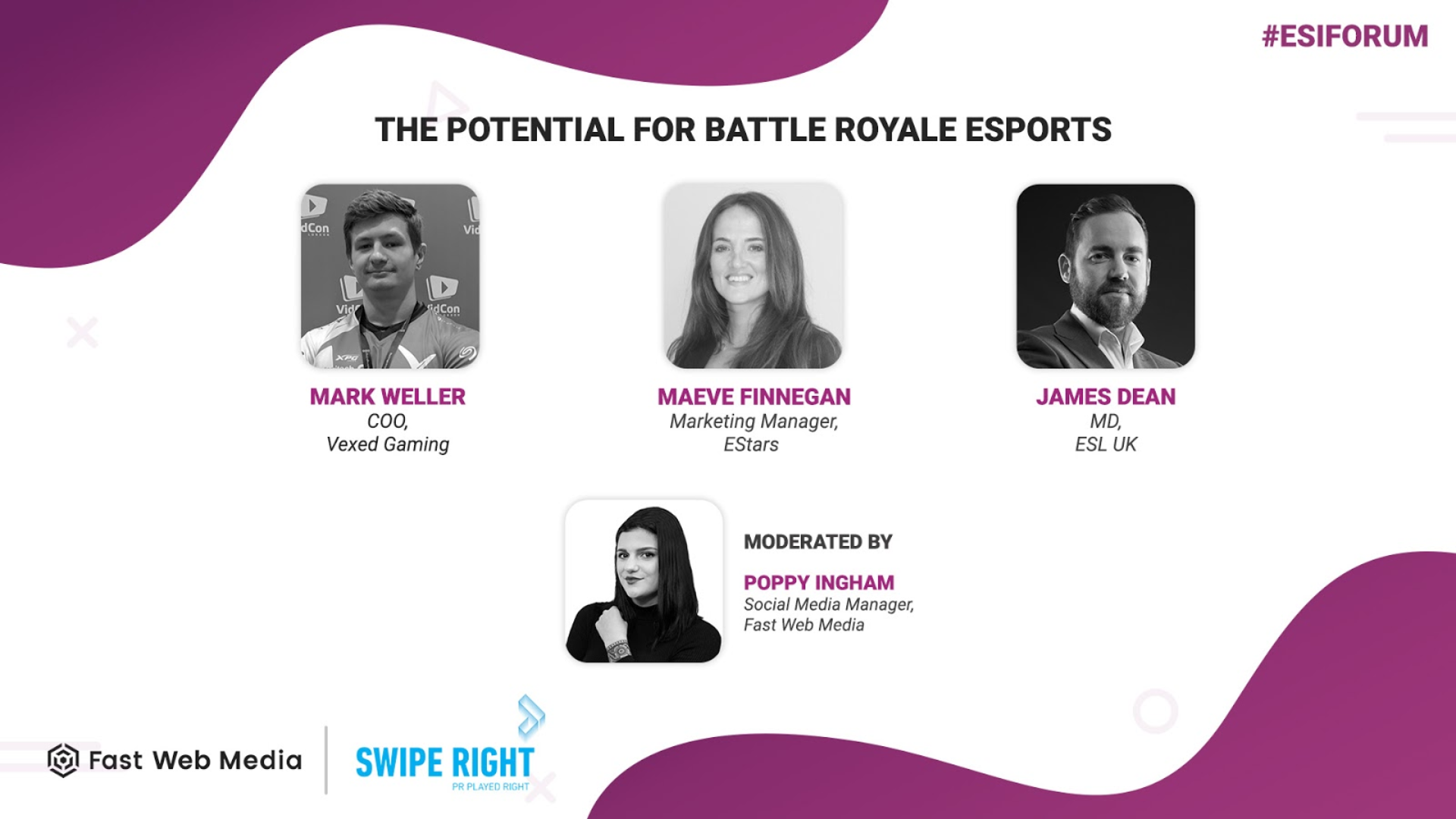 Networking food and drinks

Ample networking opportunities in a relaxed environment
---
WHO ATTENDS:
Esports teams

Sports clubs

Venue owners

Leagues and tournament organisers

Governing and regulatory bodies (from sports and esports)

Player and talent agencies

Marketing & creative agencies

Media and Press

Government and council officials

Suppliers

Law firms

Payment providers

Retail and high street brands

Tech companies

Venture capitalists and investment groups
---


WHY ATTEND?
Head down to the City Football Academy Media Centre for a laid back evening with plenty of opportunity for networking and to connect with stakeholders from across the burgeoning esports industry.
The ESI Forum Series provides the perfect platform to forge new business relationships as we all continue to support this rapidly growing space.
---


ESI Spring Forum Series Partners

For sponsorship enquiries, or with any questions about the event, please reach out to info@esportsinsider.com
Organiser of Esports Insider Spring Forum Series 2019
Based in London and founded in the summer of 2016, Esports Insider is a business news site, media and events company.
– Esportsinsider.com – One of the leading esports industry focused platforms worldwide. We feature the latest news stories alongside opinion pieces, and interviews with those making waves in esports business. We publish across social channels, and have a twice weekly newsletter, the ESI Dispatch.
– ESI Events – We run esports focused events and have produced more esports business events than any other, globally. These have included the ESI Forum Series, ESI Super Forum, Betting on Esports Conference, ESI Birmingham, and ESI London. In 2019 we're in New York City, Los Angeles, Manchester, Brighton and London. We offer white label events services too.
– ESI Media – We also offer content creation options (editorial, podcast and video), advertising, consultancy, and social media campaign promotions.
Find out more about ESI Media options in full, right here. 
– ESI Connect – ESI Connect sits in-between current esports rights holders and companies seeking to do business the right way, without all the hassle.