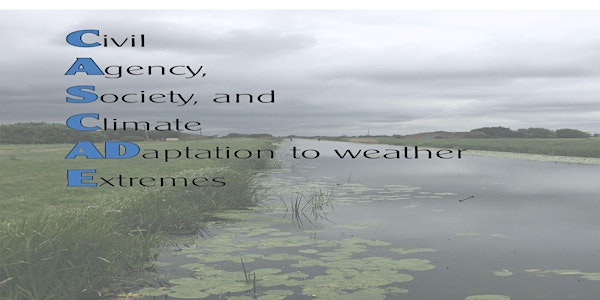 ESRC CASCADE-NET Seminar 8: Co-creative strategies with Civil Society for r...
Event Information
Location
Loughborough University, CC029a James France Building
Ashby Road
Loughborough
LE11 3TU
United Kingdom
Description

ESRC Seminar Series CASCADE-NET: Civil Agency, Society and Climate Adaptation to Weather Extremes

Seminar 8:Co-creative strategies with Civil Society for resilience: role of the arts and humanities

We are pleased to announce a one-day seminar workshop exploring the Co-creative strategies with Civil Society for resilience: role of the arts and humanities

The event is co-organised by: Loughborough University, University of the West of England, Bristol, working with a number of individuals and agencies.

Date/time: 10:30-16:00, Friday 7th February 2020 (10.00am onwards for coffee & networking)

Questions to be explored:

How to integrate co-creative methods/resources and science to build a more resilient society?

How to combine traditional forms of communication with various creative tools to develop practices with Civil Society for resilience?

What are the needs and priorities in interdisciplinary research – conceptual; methodological?

Can the arts and humanities bridge expert and lay knowledge(s) and facilitate a more effective connection of academic research with policy and practice?

What can we learn from previous best/worst practices?
The seminar will have a strong focus on group discussion and participation.

For further information about the aims of CASCADE-NET see: http://www.cascade-net.com/aims/

How can I contact the organiser with any questions?

Please contact Sally Bellman - Administrator for Digital Storytelling Research, Loughborough University

S.Bellman@lboro.ac.uk

01509 222965 (Working days are Monday and Tuesday)

Travel Bursaries

For Early Career Researchers (e.g. PhD student; postdoctoral researcher) and Civic Society organisations:

Please note there are a number of travel bursaries which are being shared out across the nine CASCADE-NET seminars. If you would like to apply for up to £80 towards your travel costs, please email ruth.vargo@uwe.ac.uk with the following details: your name, role or post, institution/organisation, location and cost of travel. We will confirm by email in advance of the event if we can give you a bursary. Successful applicants should hold onto their rail tickets to attach to their claim form.
Date and time
Location
Loughborough University, CC029a James France Building
Ashby Road
Loughborough
LE11 3TU
United Kingdom