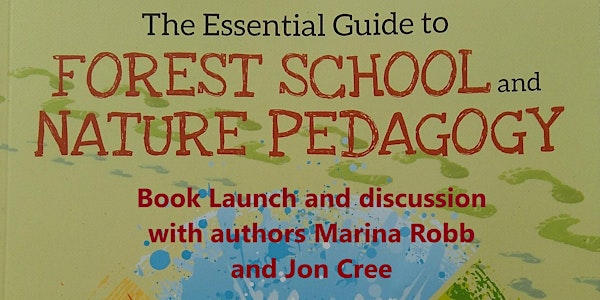 Essential Guide to Forest School and Nature Pedagogy - Book Launch
Join Marina Robb and Jon Cree for the launch of their new book explaining the Whys, Whats and Ways of Forest School and Nature Pedagogy.
About this event
During this session you will be able to hear from Professor Jan White who will set the context for the importance of this book! In discussion with Marina and Jon, Lily Horseman, Director and previous chair of the Forest School Association, will guide us through a range of themes and perspectives that promise a lively discussion!
Speakers include: Professor Jan White, Jon Cree, Marina Robb
Host: Lily Horseman
After hearing from our experienced speakers you will get a chance to ask them, and each other any questions.
Come along with a glass of wine/tipple or tea, bring an open mind and sense of curiosity.
This event is open to all!
For all attendees there will be a Prize Draw: 3 copies for give away and after the event you will receive a complimentary chapter to download.
Jon Cree is an international trainer for the Institute for Earth Education and Founding Director Chair of the Forest School Association, UK. He also worked at Bishops Wood Centre, Worcestershire County Council's award winning environmental centre, for 20 years helping establish Forest School in the county. He now works as a self employed nature-based trainer and educator.
Marina Robb is Founder and Managing Director of Circle of Life Rediscovery CIC and The Outdoor Teacher Ltd, organisations that aim to transform education and health through nature. She is a leading author, green practitioner and educator in the outdoor sector, an international trainer in the design and delivery of nature-based experiences and an advocate for the integration of environmental, education and health and wellbeing services.
Speaker: Professor Jan White, B.Sc. (Soil Science), M.Sc. (Ecology), PGCE (Science and Outdoor Education) Through working in outdoor and environmental education for almost forty years, Jan has experienced the long history of nature-based education in the UK, and witnessed the consistently powerful effect of the outdoors on children of all ages. With a childhood love of rocks and soil, she realises that she has always been, at heart, a dedicated mudologist!
Register in advance for this meeting please press the green register button
After registering, you will receive a confirmation email containing information about joining the meeting where you need to get the link by clicking on the Essentail Guide to Forest School and Nature Pedagogy button.