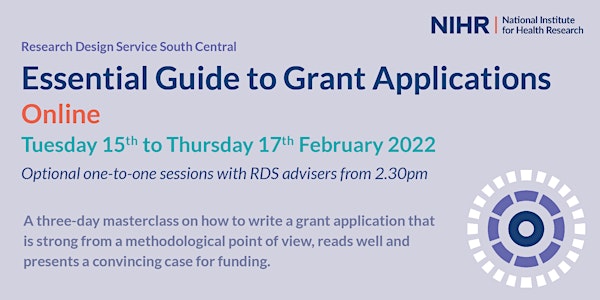 Essential Guide to Grant Applications (EGGA) 2022 masterclass
Sales Have Ended
Registrations are closed
Sales for this event have now closed.
A free to attend, three-day masterclass, funded and hosted by NIHR Research Design Service (RDS) South Central,
About this event
The Essential Guide to Grant Applications (EGGA) 2022 masterclass is for anyone thinking of applying for a research grant – either from the National Institute for Health Research (NIHR) or from other open, competitive, peer reviewed sources of funding.
If you have an idea for a health or social care research proposal but require help with writing a grant application, then EGGA is for you!
What is EGGA? A free to attend, three-day masterclass, funded and hosted by NIHR Research Design Service (RDS) South Central, on how to write a grant application that is strong from a methodological point of view, reads well and presents a convincing case for funding.
Make sure your next research grant application stands out from the crowd!
The masterclass will focus on how to sell your research idea by:
writing a convincing application with a good structure, flow and argument;
presenting a strong methods section, including statistical, qualitative, health economics and Patient and Public Involvement (PPI) elements;
having a good project plan;
engaging with sources of external support for your research;
making your research idea clear and compelling to reviewers
offering important tips on writing, along with guidance on what reviewers will be looking for in an application.
Optional one-to-one sessions with RDS advisers will also allow attendees to work through aspects of their own research ideas with experienced methodologists and facilitators.
Who should attend? This event is open to UK-based health care professionals, social care and public health practitioners, health researchers and Small and Medium Sized Enterprises (SMEs) who are intending to apply to any NIHR or other open, competitive, peer reviewed funding programme in the 12 months following the masterclass.
When and where:
Date: Tuesday 15th to Thursday 17th February 2022, 09:30-13:30 each day (exact times TBC)
There will be optional one-to-one sessions with RDS advisers from 14:30 on each of the three days.
What is covered during the masterclass?
The final programme is in development, but the following (and more) will be covered:
Getting your message across to reviewers quickly and clearly
Sales pitch and writing style
Communicating the importance of your work: what's the story?
What funding panels look for in applications
The importance of the research question, title, aims & objectives
The importance of plain English and the plain English summary
Showing reviewers you can deliver I: the methods section
Expectations and common mistakes in presenting methods sections
How to present statistics sections
How to present health economics sections
How to present qualitative sections
Showing reviewers you can deliver II: demonstrating credible support & potential impact
The importance of good project management
The importance of good Patient and Public Involvement
Showing the potential for tangible outputs and impact
What is 'intellectual property' and how to deal with it
The importance of good pre-submission review
Enquiries to: phillip.saunders@ndph.ox.ac.uk
Please note that places at this event are limited, so attendees may be selected based on their answers to the questions on the registration form.
Following confirmation of your place on the course, you will be asked to complete a one-page summary about your research idea prior to the event.
The NIHR Research Design Service can offer expert advice and support on all aspects of designing and developing applications for NIHR and other funding bodies. To find out about your local RDS, go to https://www.nihr.ac.uk/explore-nihr/support/research-design-service.htm
This event is being run by RDS South Central. If you are based in the South Central region of England (Berkshire, Buckinghamshire, Hampshire, the Isle of Wight and Oxfordshire) and would like to request free advice and support directly from RDS South Central, please complete our online 'Request for Support' form.