Sales Have Ended
Registrations are closed
Opps you have run out of time to register for this weeks class.... Never mind simply choose another Monday and come along then. They run EVERY MONDAY EVENING throughout the year. See you next time! Carol
Ever used oils but want to know more? Do you want to have some natural alternatives? Join us any Monday at 7.30pm to find out more!
About this event
If you have ever used oils but want to know more, curious about switching to some natural alternatives, or just need some fun on a Monday night then you have found the right place. We love being part of a team sharing We are a team of four Oily experts who present every Monday night, sharing our passion and joy for these wonderful gifts of the earth. Here we are :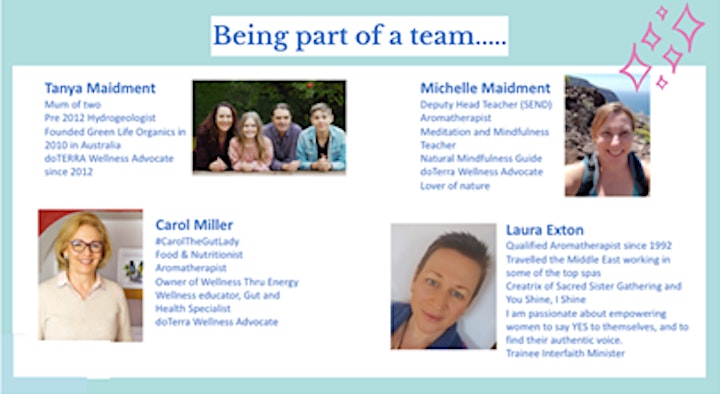 Jump on our zoom call any Monday from 19:30 GMT and we will share with you, our love of plant magic; why, how and when we use them along with our top 10 oils, with 100's of uses and benefits.
There will be a chance to chat with us about your own wellbeing, and to ask us any questions you might have.
There will also be a free prize draw every week for those of you who attend our zoom call in person, and remember we are open to everyone, so share with your friends and family and invite them along too.
Following our Essential Oils Made Easy class, you are welcome to stay on the zoom and learn more about how easy and simple it is to share oils with your own connections, to get your own oils for free, or to begin to make an income if thats something you need right now. No obligation to stay for part 2, but you might be having so much fun, that you just want to know more.
You can get tickets here or contact me in any of the following ways:
Carol@wellness thruenergy.com
Use the Contact form at Wellnessthruenergy.com
Twitter: and LinedIn :WellnessThruEnergy @CarolTheGutLady
We can't wait to see you there!