Essentially Cher live at Kellys Village, Portrush, with hosts Roxy & Rusty
Trisha McCluney is Essentially Cher with her full live band with hosts, NI Drag sensations Roxy Tumbledryer and Rusty Hinges. Sat 3rd July
About this event
Essentially Cher with full live band
plus hosts, NI drag sensations Roxy Tumbledryer & Rusty Hinges
Saturday 3rd of July
Doors 6pm/Tickets £16 per person +BF (Group Bookings Only)
Trisha is quite simply the closest to the Goddess of Pop that you will find and is coming to Kellys Village with her full live band.
From the moment she takes to the stage in her customised black catsuit, leather jacket and mass of black curly hair, right through to how she matches her uncanny vocals, mannerisms and stage presence, get ready to Turn back Time with the most authentic and exciting Cher experience!
The whole night will be tied together with Rusty & Roxy, if you have seen these ladies before you know what to expect, if not, just sit back and laugh as they warm the crowd up in the best way possible.
TICKETS ON SALE TO THE PUBLIC MID-DAY FRIDAY 7th MAY 2021
• Tickets are sold to groups/social bubbles of 6 (Tables) and 10 (Cabanas) only, in line with government rules at time of event. Should guidelines suggest otherwise we will act within 7 days of the event where possible.
• The venue is an outdoor venue but fully covered from any rain etc. Please dress appropriately as you would any outdoor event in NI.
• NOT EVERY SEAT IN THE CABANAS HAVE A FULL STAGE VIEW. If you prefer a constant stage view, please consider a table instead of a Cabana. Some cabanas have a restricted view when seated, but the entrance gives a fully open view. Stage visuals are streamed to TV screens inside the cabanas also.
• Attendees must adhere to the current COVID restrictions that are in place at the time of the event. This is to keep our customers, staff and performers as safe as possible. Failure to comply could result in removal from the event.
• Should the event not take place due to restrictions/adverse weather or any other event, all buyers will be refunded in full. Refunds will not be given for non attendance or unavailability.
• Due to the nature of our outdoor venue, should winds exceed 50 mph, we will be forced to cancel/postpone the event to ensure the safety of our customers.
• These events will be fully risk assessed at least 48 hours prior to opening times.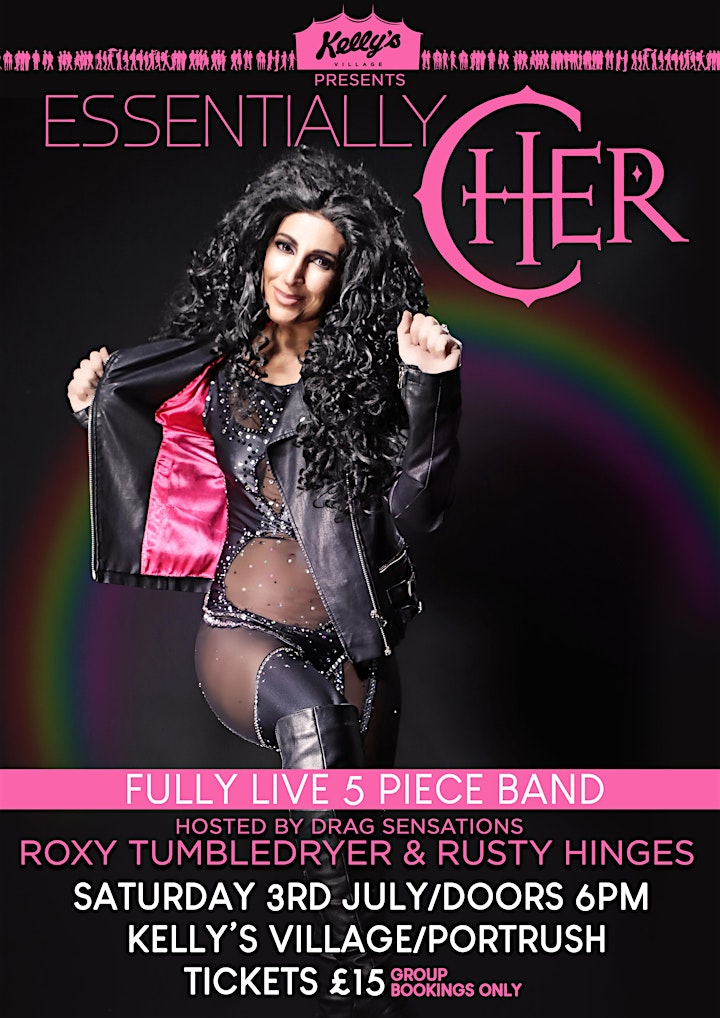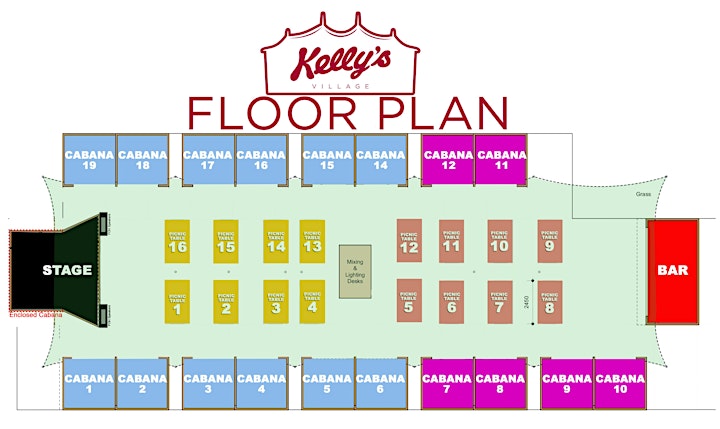 Organiser of Essentially Cher live at Kellys Village, Portrush, with hosts Roxy & Rusty