The Essex Business Accelerator programme consists of 8 online sessions delivered over 11 weeks for new businesses or those under 1 year old
About this event
Do you aspire to build a business and not a job?
Are you seeking to bring new ideas into the business, are you adventurous?
Are you open to the idea of being in a learning community?
One of the greatest challenges surrounding business today is gaining clarity and focus, especially when we are working and delivering in such a dynamic environment. This course will bring you a newfound focus on your business, providing opportunities to grow your confidence, develop new thinking and engage with a like-minded community on a pathway to clarity.
We will introduce you to an array of tools that help you engage with your business in a holistic manner. We will develop the narrative of the business, how you can build strength in the way you communicate and share what you do. The final destination for this exciting programme is an opportunity for you to pitch in front of a professional panel, gain feedback and potentially find a route to investment and finance.
This business training workshop is spread over eight online sessions. It supports those affected by recent circumstances and helps bridge the gap between employment and enterprise by providing foundational skills to support starting-up or leading to further business development.
WHAT'S COVERED?
Session 1 – An overview of your business: What is its Capacity? Who are the most valuable Connections? Where is the Cash?
Session 2 – Personal drivers: being the self-aware entrepreneur. Who could be your Mentor?
Session 3 – Business structures: Three case studies to help create the right structure. How vision steers your business
Session 4 – The agile entrepreneur: The customer journey. Desirability – How personas and empathy mean responsive and agile businesses
Session 5 – The business model canvas: Innovation tools help build on strategies – viability and feasibility
Session 6 – Financial metrics that matter. Breakeven and the cash conversion cycle – two tools essential for us to measure. The role of leadership in growth
Session 7 – Preparing to pitch - presentation and public speaking skills. Using PowerPoint to create a strong pitch deck. What being investor ready entails
Session 8 – Pitching to win: an opportunity to pitch to a panel of experts to garner feedback on investment readiness and plan your path to raising finance
WHO IS IT FOR?
Open to all businesses registered in Essex but predominantly aimed at recently started businesses or those seeking a new direction and who are eager to get to the next stage.
We've helped thousands of new businesses get started. Don't just start out, start up!
This course takes place online via Zoom on Tuesdays, 9.30am - 11.30am unless stated otherwise.
11 May
25 May
10 June (Thursday)
22 June
6 July
20 July
3 August
17 August
If you would like any further information or have any questions, please contact us on 01206 548833 or email enquiries@colbea.co.uk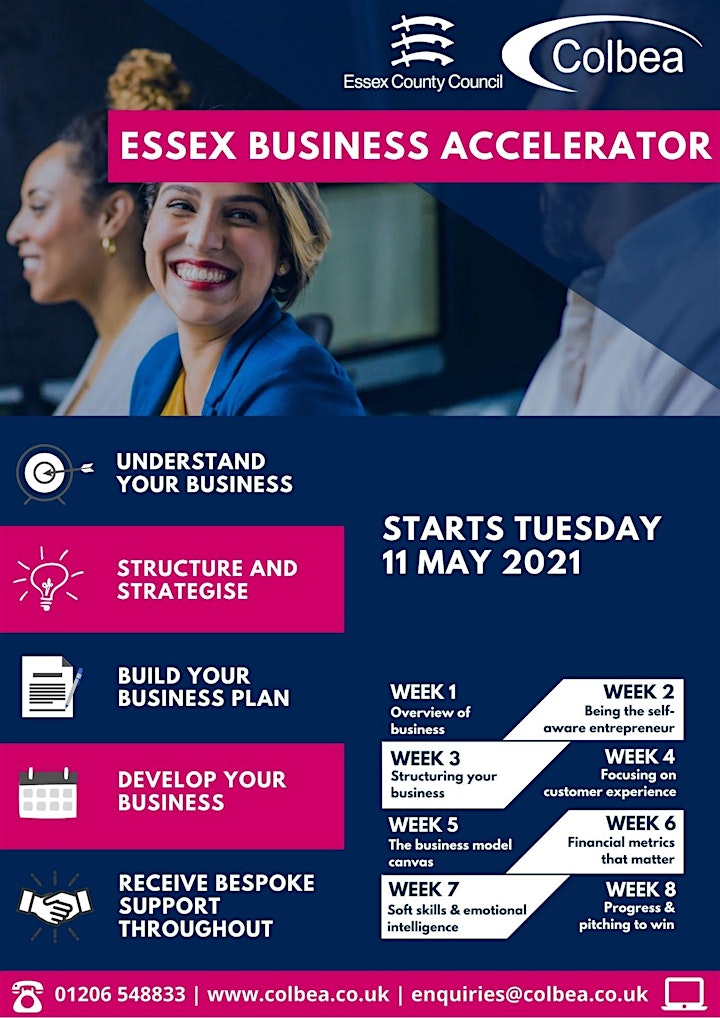 Organiser of Essex Business Accelerator Programme 2021
Colbea is a catalyst for business success across Essex, providing business advice, training and office space for new and established businesses.
Fully-funded one to one business advice sessions are available for anyone looking for information, advice, and guidance in order to start, grow or develop a business. This may include support on a range of topics from business planning to accessing funding and grants.
Colbea's two business centres are home to more than 60 businesses with agile working spaces, a mix of light industrial units and office space up to 430 sq ft. We also offer Virtual Tenancy packages.
Fully equipped meeting and training rooms can also be hired at competitive rates.
Our business training courses are usually fully-funded, or there is a small nominal fee to try and encourage participation. We cover single short masterclasses on specific topics as well as longer workshop-style interactive, multi-session programs with expert facilitators.