Developing platforms for discipline-wide conversations that can foster and support collaborative action across English Studies.
About this Event
About Decolonising the Discipline
Decolonising the Discipline is a collaborative initiative undertaken jointly by colleagues at the English Association, the Institute of English Studies, the University of East Anglia, the Postcolonial Studies Association and University English. It aims to develop platforms for discipline-wide conversations that can foster and support collaborative action across English literature, language and creative writing.
This work is called decolonising the discipline to draw attention to the breadth of activities and stakeholders that are gathered under the banner of English Studies. We are committed to building a network of interventions, to gathering and sharing ideas, and to providing strategies and resources for collective and individual action.
For more information about the Decolonising the Discipline project, to join our network and to share your own experiences in decolonising work please visit our website.
Online seminar: Establishing a Decolonising Network
Our first online seminar, Establishing a Decolonising Network, will take place on Friday 25th September at 2-4pm. The event will share experiences of establishing institutional or cross-institutional decolonising network; the role and experience of students in decolonising; the challenges to developing a decolonising network; and reflections on what the Decolonising the Discipline network can do next.
Programme
2:00-3:00 Welcome, Session 1, Chair, Anshuman Mondal, University of East Anglia
1. Developing a Decolonising Network: A Grassroots Approach
Arzhang Pezhman is a third year fully funded, creative-critical PhD student in the School of Literature, Drama and Creative Writing, University of East Anglia
Surya Simon (AFHEA) is an international, third year fully funded PhD student in the School of Literature, Drama and Creative Writing, University of East Anglia
2. 'Establishing a Decolonising Network at University of Birmingham, and in our disciplines'
Dr Asha Rogers is a Lecturer in Contemporary Postcolonial Literature, University of Birmingham
Dr Fariha Shaikh is a Lecturer in Victorian Literature, University of Birmingham
3. 'Decolonising the Curriculum at Brighton University: Students and Staff working in partnership'
Dr Vedrana Velickovic, Principal Lecturer in English Literature, Brighton University
Dr Vy Rajapillai, Senior Lecturer in English Language and Media, Brighton University
and students from the Decolonising the Curriculum Group at Brighton University
3:00 – 4:00 Session 2, Chair Katherine Baxter, University of Northumbria
1. Importance of belonging, microaggressions and bias in the curriculum.
Paulette Ennever, Decolonising the Curriculum 4 Educators (DCT4E)
2. 'Knowing Outside of English: Decolonisation at York'.
Dr Shazia Jagot Lecturer in Medieval and Global Literature, University of York
Alexandra Kingston-Reese is Lecturer in Contemporary Literature, University of York.
3. 'We Must Listen to Our Students'
Fabiha Askari co-chair of the "Why is My Curriculum White?", Decolonisation Campaign, Lancaster University
Dr Liz Oakley-Brown, Senior Lecture in Premodern Writing, The Department of English Literature and Creative Writing, Lancaster University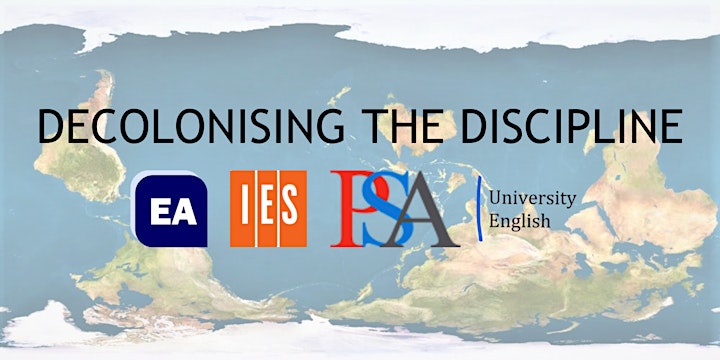 Decolonising English studies: a special issue of English
Events of the summer have provided a reminder - as if any were needed - of the legacies of colonialism in society today. Structural racism is plain to see in public health, where Black and racialized populations have suffered disproportionately from the Covid-19 pandemic; in police brutality and incarceration rates, as the murders of George Floyd and so many others prove; but also in education: who gets access to learning, and what gets taught.
This contains a direct challenge to English Studies. Our discipline scrutinises which stories we tell, whose experiences are represented and how they are told, but also focuses on a language whose dominance as lingua franca today is a direct result of British and American imperialism. Today we need to interrogate with renewed clarity those stories we tell ourselves about ourselves: which histories are foregrounded, and which passed over in silence; whose experiences are represented, and whose disregarded; which figures are valorised, which are forgotten, and which disavowed. The imperative to decolonise our discipline is not new; colleagues throughout the profession have been advocating decolonisation for a long time, and developing innovative, far-reaching proposals. But today this imperative is newly urgent.
English thus proposes a Special Issue that asks how we can decolonise our teaching, our research, our communication with publics outside of schools and colleges: from students' access to literature and the tools of self-expression through to the power structures that pervade any classroom; from the histories we tell about the English language and its many literatures, to the authorships and literary styles that students get to encounter. It will involve negotiating difficult trade-offs: between providing 'coverage' of influential works of the past, and identifying works and writers that have been neglected; or between the need for students to encounter work from societies and worldviews different from their own, and ensuring that students read the work of writers whose lives and languages resemble theirs, so that all students feel that literature can speak to them, can speak for them, and that they too can, if they so wish, speak for themselves through literature.
The Special Issue hopes to bring together the perspectives of students, educators, researchers, policymakers and administrators, from across the profession and across the globe, to think about the ramifications of decolonising English Studies. We are especially interested in first-person accounts of teaching, curriculum design, outreach, research, and public engagement, and, given the international readership of English, want to think about what decolonising English studies means for colleagues in different national, geographical, and linguistic contexts.
In order to ensure space for as many perspectives as possible, we invite contributions of c.2000 words: these can be written individually or collectively, and can take other forms such as Q&As or multiple testimonies. Together, we hope these will provide a snapshot of the many ways that colleagues are innovating and reflecting during a moment that promises the possibility of major cultural transformation. The deadline for submissions is 15 December; if you have any queries, please email David Nowell Smith (D.Nowell-Smith@uea.ac.uk) and Nonia Williams (Nonia.Williams@uea.ac.uk).