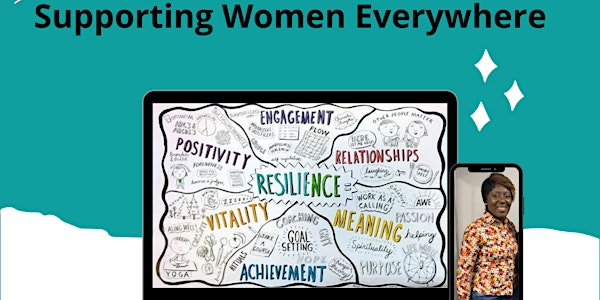 ESTABLISHING THE RESILIENT HEART Series2-Supporting Women Everywhere
Have you ever heard the phrase "She-He-They were just too sensitive a SOUL for this world". Well, tools of Resilience are available...
About this event
A long time ago an assessment was made about a certain situation not being GOOD what was actually said was this: and I quote "it is not good for man to be alone".
To some of us this quote may be familiar and to some of us it may be the first time we're hearing it either way there was a solution to the problem.
The solution to the problem was WOMAN...
Let that sink in for a moment, lets draw the picture in our minds and then stand back and enjoy it's profound simplicity and BEAUTY...
So here we are then SECURE on the foundation that we are WOMAN and the SOLUTION SUPPORT to the problem.
Ok, but what exactly is the problem I hear you ask. My answer may not be as simple as asking the question.
In all honesty I can reply with this "TAKE YOUR PICK" thats how many problems we can identify in and around us as WOMEN.
BEFORE:
Partners - Husbands - Children - Health - Body Shapes - Finances - Careers - Purpose - Friends - Sexuality - Fertility - Culture - Trust - Loyalty, that was before, there are more life issues to consider NOW.
NOW:
Covid19 - Loss of numerous loved ones at the same time across generations - Grief management - Furlough - Evictions - Homelessness - Unemployement - Fraud - etc etc etc.
Do you see what I mean when I say "TAKE YOUR PICK".
It can all feel like COGNITIVE EMOTIONAL over load, BUT there really is one TOOL that can help us put it all in perspective, manage it and come through on the other side.
RESILIENCE: psychologists say this TOOL makes all the difference between an individuals ability to succeed or fail.

Your Today:
Learn how to cultivate a heart of resilience in the midst of the storms of life. Be intentional in your personal pursuit of stability and refuse to be tossed about with every wind of change that blows by.
Your Now:
Gain new skills in governing yourself into a place of wellbeing. Share with the other women on this workshop and gain the support you need by starting your journey towards Resilience.
Your Tomorrow:
Show up knowing you made it through whatever the problems were that life threw at you.
YOUR STAGE AWAITS YOU TODAY:
This is the outline of the event:
What you will get on this workshop - Yes there will be an exchange
What skills you will glean from this workshop - Yes you will get tools
What you will initiate after this workshop - Yes Action is Inevitable