ESTATE AGENCY - After Hours - a banquet

Friday, 5 May 2017 from 19:00 to 22:00 (BST)
Event Details
Eat. Sleep. Buy. Eat. Sleep. Buy! Move. Quick! Buy now! Penthouse. Suites! Showroom. Exclusive. Exclusive! Soak up. Invest. Imagine! Cleaning up. Coming soon! Create. Eat. Sleep. Create. Invest. Invest! Edgy! Unique. Historic. Sassy. Towering. Fast. Quick! Fast! Unique. Stature. Progress. Original. Don't settle. Settle! Buy!
Literally, Art Wash
Her name is Literally, and she comes from a town called Art Wash.
Literally invites you into her luxury apartment where she will serve a suitably luxurious 3 course banquet dinner, alongside friend and fellow young professional, Totes.
It's as if one of the development hoardings from anywhere and everywhere across the city has come alive and you are sitting right in the middle of it.
As the night unfolds, so do their egos – getting more and more pompous, sinister and ridiculous; They just about manage to serve their audience, their character and costumes enlarging by the hour.
Sitting uncomfortably? Maybe you should be.
This evening is created and delivered by Rebecca Davies, who will perform with Estate Agency creator Anna Francis.
Hand crafted and painted ceramics have been created especially for the occasion. The tableware is a unique, site specific collection Rebecca Davies has created in collaboration with KANA LONDON.
Menu TBA. There are very limited spaces so booking is essential.
----------------------------------------------------------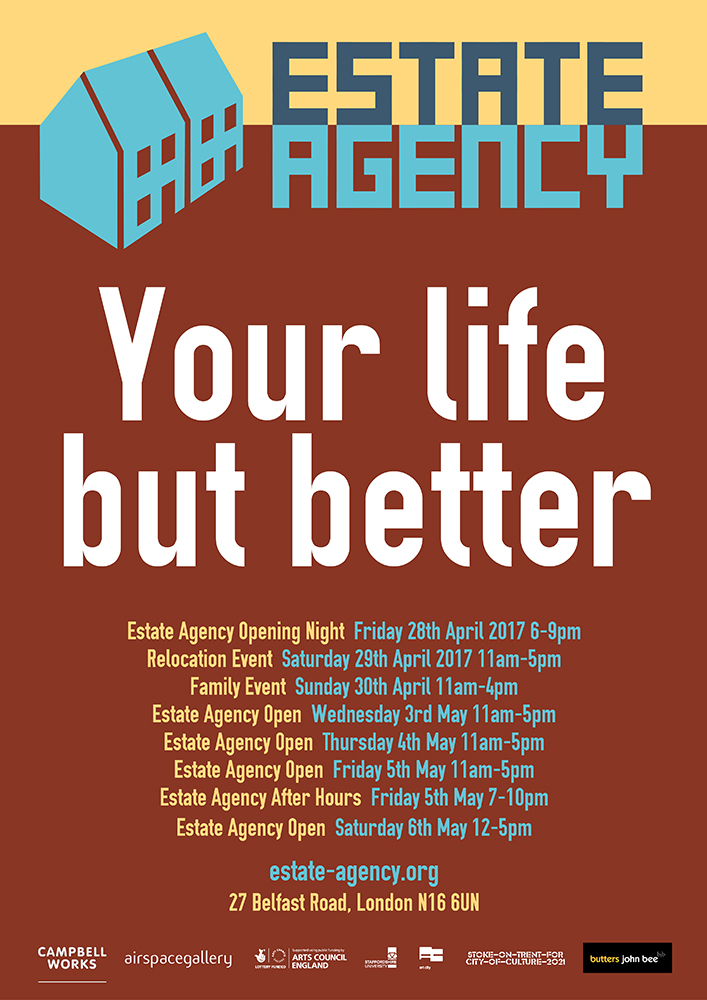 The After Hours event is part of Estate Agency - a project exploring systems of culture led regeneration, via interventions in Stoke-on-Trent and London, plus a symposium and series of discussion events. It asks 'If councils and governments now recognise the value of arts and culture in developing places, what happens to these places, their communities and the cultural protagonists involved in the process, post-development?' The project looks to two cities, with very different fortunes; via the 'SHUT UP' of one cultural organisation 'Campbell Works' in London, to be transformed into an estate agency, showcasing property in another city; Stoke-on-Trent.
The project aims to frame the city of Stoke-on-Trent as a place where artists and other creatives can make a better life, but importantly, asks what happens to The Capital if artists can no longer afford to live there, and what happens to the places that these artists are moving to? Estate Agency provides Stoke-on-Trent with a platform to learn from other places, where in some cases, the speed of rapid change is now becoming alarming, in order to plan to be different – making the case for long term approaches to investing in, and safeguarding the space for art and culture in the city.
Estate Agency is designed and delivered by Anna Francis, funded by Arts Council England, Staffordshire University and Artcity, and with support from AirSpace Gallery, Campbell Works and Butters John Bee.
For more information about Estate Agency, including the full programme of the week's activities please
click here for the website, or here for Campbell Works, or here for AirSpace Gallery.
* * *
Rebecca Davies is an artist working within a participatory practice through illustration, performance and event. Rebecca graduated Royal College of Art in 2010 with an MA in Communication Art and Design, where she received the Sheila Robinson Prize for Drawing and was short listed for the Helen Hamlyn Design Award. She is an Associate Artist at Artsadmin, receiving their 'Interference' award in 2012 to create the Beau Belles Ice Cream Van. Rebecca is from Elephant and Castle, where she has made work for over 8 years. She co-created Peoples Bureau with artist Eva Sajovic, a project which is now an associate of Tate Exchange. She has run the Whitechapel Community Workshops for three years, and was lead artist of The Art Already Made, a programme of work made in collaboration with City Gateway. She represented London in the 2015 Mons European Capital of Culture with her project The Oasis Social Club, which then toured to Stoke On Trent, Preston and Hull seeing her collaborate with a range of UK wide partners. Her film, The Landlady, made in response to the tour, was screened at South London Gallery as part of The London Festival of Architecture in 2016.
When & Where

Campbell Works
27 Belfast Road
N16 6UN London
United Kingdom


Friday, 5 May 2017 from 19:00 to 22:00 (BST)
Add to my calendar
Organiser
AirSpace Gallery is a collaborative, artist led project in Stoke-on-Trent, providing professional development opportunities, studio and exhibiting space and support for artists.
Through a dynamic and evolving programme of exhibitions, events and activities AirSpace Gallery brings critical, high quality contemporary art to the region and provides opportunities for a broad range of artists.