ESTATE AGENCY - Conveyancing Forum

Wednesday, 3 May 2017 from 14:00 to 16:00 (BST)
Event Details
noun
noun: conveyancing
the branch of law concerned with the preparation of documents for the conveyance of property.

the action of preparing documents for the conveyance of property.
Dear creative pioneer, [henceforth referred to as 'the buyer']

In order to Live Your Life But Better, The Estate Agency invites you to attend a conveyancing forum with our Legal and Contracts Specialist Nicola, on Wednesday 3rd May 2pm-4pm.
A representative group of artists in Stoke-on-Trent [henceforth referred to as 'the client'] have drafted a conveyancing document, detailing a number of requests and recommendations to 'the buyer'. These terms must be agreed or renegotiated before the final contract can be signed and 'the buyer' can leave the rat race behind.

The document refers to
matters of conduct

commitment 

client-buyer relationship
these issues will be discussed in forum and without obligation to buy.
This is your chance to learn more about Estate Agency and the role you can play in shaping your future city. With our support and guidance we can assure you a smooth transition into your new peer community.
* * *
Why are artists in London persuaded to stay despite the difficulties? What would persuade an artist to leave the capital and relocate to a new city? Could Stoke-on-Trent be that city? This conveyancing event aims to investigate the roles and responsibilities of artists in the regeneration process. When moving to a new city, what are the active ways artists can get involved, and how do we avoid the gentrification traps, where redevelopment, sparked by cultural activity, has become a top down process and is pushing out culture. How can an artist's practice connect to the city? Should an artist's practice connect to the city? and does the artist need to  have an awareness of sustainable approaches to creative regeneration?
-----------------------------------------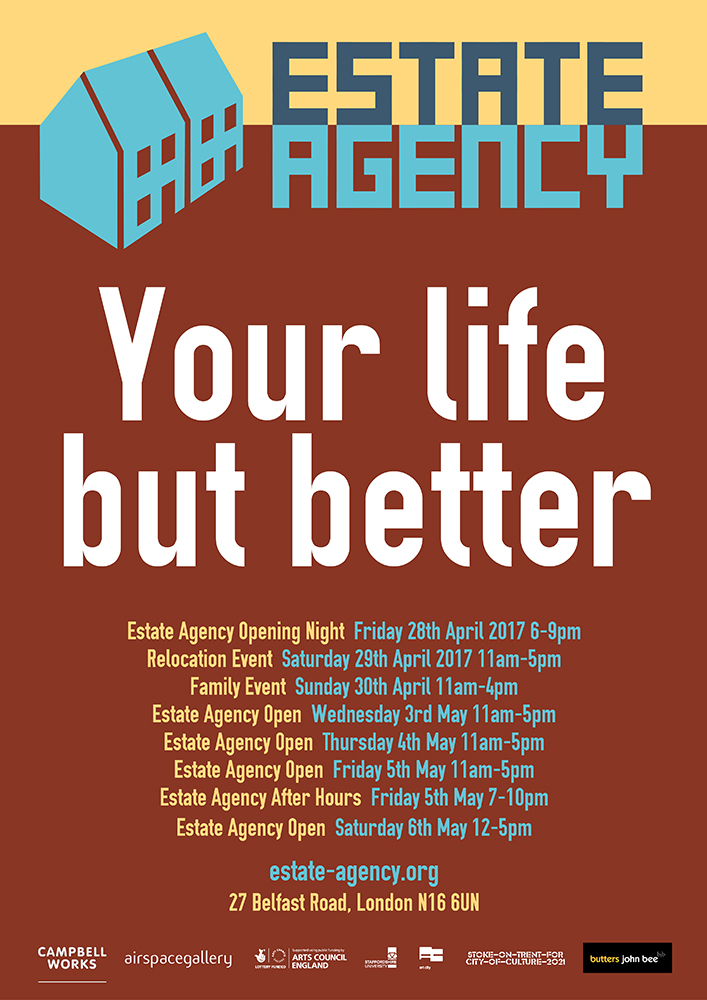 The Conveyancing Event event is part of Estate Agency - a project exploring systems of culture led regeneration, via interventions in Stoke-on-Trent and London, plus a symposium and series of discussion events. It asks 'If councils and governments now recognise the value of arts and culture in developing places, what happens to these places, their communities and the cultural protagonists involved in the process, post-development?' The project looks to two cities, with very different fortunes; via the 'SHUT UP' of one cultural organisation 'Campbell Works' in London, to be transformed into an estate agency, showcasing property in another city; Stoke-on-Trent.
The project aims to frame the city of Stoke-on-Trent as a place where artists and other creatives can make a better life, but importantly, asks what happens to The Capital if artists can no longer afford to live there, and what happens to the places that these artists are moving to? Estate Agency provides Stoke-on-Trent with a platform to learn from other places, where in some cases, the speed of rapid change is now becoming alarming, in order to plan to be different – making the case for long term approaches to investing in, and safeguarding the space for art and culture in the city.
Estate Agency is designed and delivered by Anna Francis, funded by Arts Council England, Staffordshire University and Artcity, and with support from AirSpace Gallery, Campbell Works and Butters John Bee.
For more information about Estate Agency, including the full programme of the week's activities please
click here for the website, or here for Campbell Works, or here for AirSpace Gallery.
* * *
Nicola Winstanley is a socially engaged artist who seeks to explore the relationship between participatory arts, perceptions of place and community action. By forging new relationships between art, people and place, Nicola believes that art practice can have a lasting effect on communities. She is particularly interested in engaging people who have no arts background and finding ways for art practice to improve their quality of life.  With a background in 2D and 3D public art, Nicola has collaborated internationally with artists, makers and members of the public to make work that engages the public at large in art practices, for this she often works in partnership with artist Sarah Nadin as Winstanley & Nadin. She has most recently been working solo alongside academic researchers to evaluate the impact of 'place' on individuals and communities. Nicola has 7 years workshop and public consultation experience, as well as having designed and managed large scale public art projects.
When & Where

Campbell Works
27 Belfast Road
N16 6UN London
United Kingdom


Wednesday, 3 May 2017 from 14:00 to 16:00 (BST)
Add to my calendar
Organiser
AirSpace Gallery is a collaborative, artist led project in Stoke-on-Trent, providing professional development opportunities, studio and exhibiting space and support for artists.
Through a dynamic and evolving programme of exhibitions, events and activities AirSpace Gallery brings critical, high quality contemporary art to the region and provides opportunities for a broad range of artists.