ESTATE AGENCY - Discussion Event

Saturday, 29 April 2017 from 12:00 to 17:00 (BST)
Event Details
ESTATE AGENCY
Discussion Event
Saturday, 29th April 12pm-5pm
Tea/Coffee and Biscuits available, please bring your lunch.
This session will explore the context of Stoke Newington; with 7 estate agents on Church Street Stoke Newington, property is big business – and as described by Campbell Works 'Every other conversation we have is about this,' Artists and Other creative workers are being pushed out of the areas of London they used to inhabit, as the areas are getting developed, sometimes at breakneck speed. During this event we will hear from selected speakers and will explore the following questions:
What happens to London if all the creative practitioners leave? And if this is happening to artists, what of the other communities in these places, What happens to them?

 

The second part of this, is to consider where these artists are moving to – as we have seen in Margate (often now referred to as Shoreditch-on-Sea), areas of other places are now being colonised by artists, and the processes of regeneration are beginning again there.

 

What responsibility do artists and arts organisations have in this process?

 

Are artists complicit in the developers plans, or are we as much of a victim as the communities that are being forced out?

 

How can we use our collective creative agency to do things differently?

 

As art organisations see the neighbourhoods around them change, do we need to change the way we work to reflect those changes?
The event will include presentations by Anna Francis on her Stoke-based practice, considering housing in the city, and a presentation by Rebecca Davies on her long term project in Elephant and Castle. The day will also include presentations by Social Artist Dan Thompson, Dr Ana Vilenica - a researcher into art, urban renewal and housing, Neil Taylor and Harriet Murray of Campbell Works on the precariousness for arts organisations, and how you can navigate the changes in your local environment and other invited theorists on Culture Led Regeneration.
This event will be of interest to those interested in urban studies, regeneration and city planning, and to artists and other cultural practitioners concerned with housing, work spaces and the rising costs of living in London.
General Info: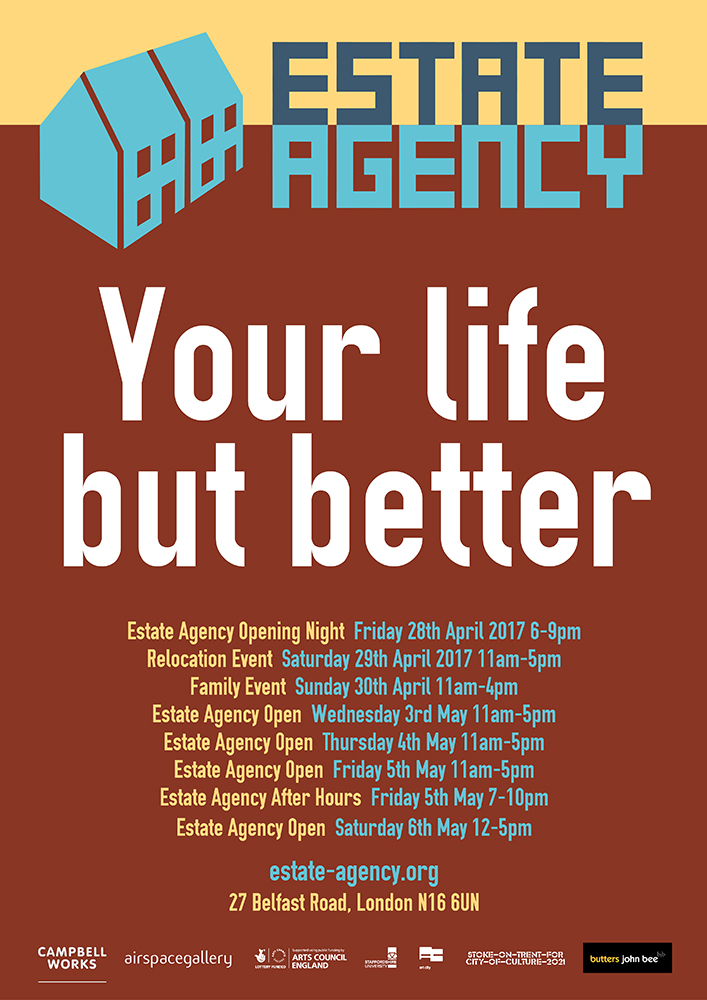 Estate Agency is a project exploring systems of culture led regeneration, via interventions in Stoke-on-Trent and London, plus a symposium and series of discussion events. It asks 'If councils and governments now recognise the value of arts and culture in developing places, what happens to these places, their communities and the cultural protagonists involved in the process, post-development?' The project looks to two cities, with very different fortunes; via the 'SHUT UP' of one cultural organisation 'Campbell Works' in London, to be transformed into an estate agency, showcasing property in another city; Stoke-on-Trent.
The project aims to frame the city of Stoke-on-Trent as a place where artists and other creatives can make a better life, but importantly, asks what happens to The Capital if artists can no longer afford to live there, and what happens to the places that these artists are moving to? Estate Agency provides Stoke-on-Trent with a platform to learn from other places, where in some cases, the speed of rapid change is now becoming alarming, in order to plan to be different – making the case for long term approaches to investing in, and safeguarding the space for art and culture in the city.
Estate Agency is designed and delivered by Anna Francis, funded by Arts Council England, Staffordshire University and Artcity, and with support from AirSpace Gallery, Campbell Works and Butters John Bee.
For more information about Estate Agency, including the full programme of the week's activities please
click here for the website, or here for Campbell Works, or here for AirSpace Gallery.
When & Where

Campbell Works
27 Belfast Road
N16 6UN London
United Kingdom


Saturday, 29 April 2017 from 12:00 to 17:00 (BST)
Add to my calendar
Organiser
AirSpace Gallery
AirSpace Gallery is a collaborative, artist led project in Stoke-on-Trent, providing professional development opportunities, studio and exhibiting space and support for artists.
Through a dynamic and evolving programme of exhibitions, events and activities AirSpace Gallery brings critical, high quality contemporary art to the region and provides opportunities for a broad range of artists.
ESTATE AGENCY - Discussion Event