About this Event
ESTATE
SUNDAY 27 SEPTEMBER - SATURDAY 24 OCTOBER, 2020
THURSDAYS – SUNDAYS 12PM-5PM
LEONARD COATES WAY, SMITHFIELD, STOKE-ON-TRENT, ST1 4FA
Launching with a world exclusive in Stoke-on-Trent, the follow-up to the world famous ADP RIOT TOUR sees artist Jimmy Cauty present ESTATE, an interactive, multi-media touring artwork comprising of four concrete tower blocks built at 1:24 scale and displayed in a 40ft shipping container.
It is in many ways a continuation of the ADP Riot Tour.
MdZ ESTATE has been a work in progress since 2018. It is now at the end of the build stage and, following beta testing on 5th August 2020 at a secret location in London, the work is now ready for its world premiere on the Smithfield site in the City Centre of in Stoke- on-Trent, in collaboration with Airspace Gallery.
Each tower block is 17 floors high (approx. 2 metres) with meticulously crafted derelict interiors - some with lights, toilets and tiny TVs playing looped public information broadcasts. One tower block is dedicated to residential and light industrial Live Work Die units, another is a children's prison, the third a high-rise residential care home, and the last appears to have functioned as a pagan religious centre. They are all empty and no one knows what happened to the inhabitants.
MdZ ESTATE TOUR SCHEDULE
From here, ESTATE will embark on the next stage of its world tour. At each stage of the tour the local hosts will be encouraged to take matters into their own hands and develop their own programme of events in response to ESTATE #TPD446 in a way that is pertinent and meaningful to them.
TO APPLY TO HOST ESTATE please contact L-13 at L-13@l-13.org for full details and the HOST pack
PUBLIC PREVIEW
There will be a special ONLINE 'live' PUBLIC PREVIEW on September 26 at 6pm - streamed live on Instagram. Look out for details here
ESTATE
Estate is operational in two modes:
FULL ENGLISH MODE
The full 5-minute sensory experience, ideal for those who have been brutally desensitised by The System.
LOCKDOWN MODE
The container is switched on, the lights and TVs are on inside the tower blocks, there is low level sound and some mist. You can enter the container or look through observation ports on the outside. This mode is ideal for those of a more sensitive disposition.
-------------------------
HOW TO BOOK
Each viewing of ESTATE takes 5 minutes. We are offering 20 viewings of ESTATE each Thursday, Friday, Saturday and Sunday from 27 September through to 24 October.
ESTATE is operating under COVID-19 Restrictions
- Please choose your day and timeslot, and bring your printed ticket to the site.
- Remember your ticket is for 1 person - or 1 small family or relationship 'bubble' of up to 4 people. If you are intending to experience ESTATE in a small group/bubble - please select only 1 ticket
- Please arrive 5 minutes before your ticket time and we will take your names and contact details for Contact track and Trace. You will be given full instructions on how to access ESTATE.
- Please bring your face mask or suitable face covering. Entry will not be permitted without a face mask or suitable face covering.
NOTE: Entry to ESTATE is strictly at the time stated on your ticket - unfortunately, if you miss your timeslot, we won't be able to allow you entry, so please make sure you arrive in plenty of time.
please contact mail@airspacegallery.org with any queries
-------------------
ESTATE and COVID-19
As you will be aware, it is very challenging in current circumstances to put on events such as this. We'd rather not be so strict but at the moment, there are essential guidelines to follow.
NOTE: Please be aware that due to the rapidly changing nature of Covid-19 and placed restrictions on social movement, ESTATE may be subject to closure at short notice.
We would ask you to comply with general government guidelines around social distancing and covid-compliance.
Due to Covid-19 Social Distancing restrictions, ESTATE is a singular or small group experience.
Entrance is strictly one person at a time or Family or relationship "bubbles" of a maximum of 4 people will be allowed.
Entrance is strictly ticket only - if you don't have a ticket, the slot will be allocated to the waiting list.
All children MUST be accompanied by an adult family relative.
Entry to ESTATE is at the individual's own risk.
-------------------------
About Jimmy Cauty
As a teenager Cauty drew the intricate multi-million selling Lord of the Rings poster for British retailer Athena. With Bill Drummond as The KLF and the Justified Ancients of Mu Mu, Cauty co-wrote and produced a string of global top ten hits.
As The K-Foundation, Cauty and Drummond staged a series of seminal actions including the 1994 K Foundation Art Award for Worst Artist of the Year and the K Foundation Burn A Million Quid.
From experimental sonic weapons (the Advanced Acoustic Armaments), to anti-war postage stamps (Stamps of Mass Destruction), and model making (Riot In A Jam Jar and the Aftermath Dislocation Principle) Cauty's work combines dissent, cultural subversion and gleeful level of high humour. His roguish and voluble approach has earned him a cult following for work that remains radical, responsive and darkly comical. He produces work that draws on and responds to contemporary culture, sampling it and selling it back as recoded realities.
In 2013 Cauty completed The Aftermath Dislocation Principle (ADP), a vast 1:87 scale-model landscape (equivalent to 1 sq mile in miniature) which has been completely looted, destroyed, burnt and is devoid of life apart from 3000 or so model police that attend this apocalyptic aftermath. In 2015 the ADP was shown at Banksy's Dismaland in Weston Super Mare. The following year the ADP was re-configured and housed in a 40ft shipping container with industrial viewing ports built into the sides, and despatched on a pilgrimage to over 35 sites of historic rioting and public dissent in the UK: The ADP Riot Tour. By the end of the tour the ADP was viewed by more than 1 million people. The ADP now tours sites of historic rioting around the world and is currently in Tasmania, but soon to head for The Netherlands.
About L-13
Founded by artist Steve Lowe in 2003 the L-13 Light Industrial Workshop is a creative platform, spiritual home and technical epicentre for a distinct group of artists - both in collaborative venture and by way of support for the individual artists.
L-13 develop projects both ambitious and diminutive, publish books, make prints & other artwork editions, convert impractical artistic visions to reality, promote a playful polemic spirit, irritate and offend some delicate souls in the big bad world of culture and politics, and work with other galleries and organisations that exhibit and support L-13 artists.
Since its inception, L-13 has always explored alternative viewpoints and radical strategies in the art world, never passively presenting art where more dynamic engagements could be implemented.
In 2016, L-13 co-ordinated the ADP Riot Tour of Cauty's work which proved hugely successful as an alternative model for showing art and engaging communities in cultural discourse outside the confines of traditional gallery spaces.
The Children of the Aftermath
During the ADP Riot Tour it was discovered that children were the most enthusiastic and articulate ambassadors for the work. So, for the World Riot Tour, it was decided that young people known as The Children of the Aftermath would be the principle invigilators of the work to help guide visitors and answer the difficult questions the artist and organisers would try to avoid.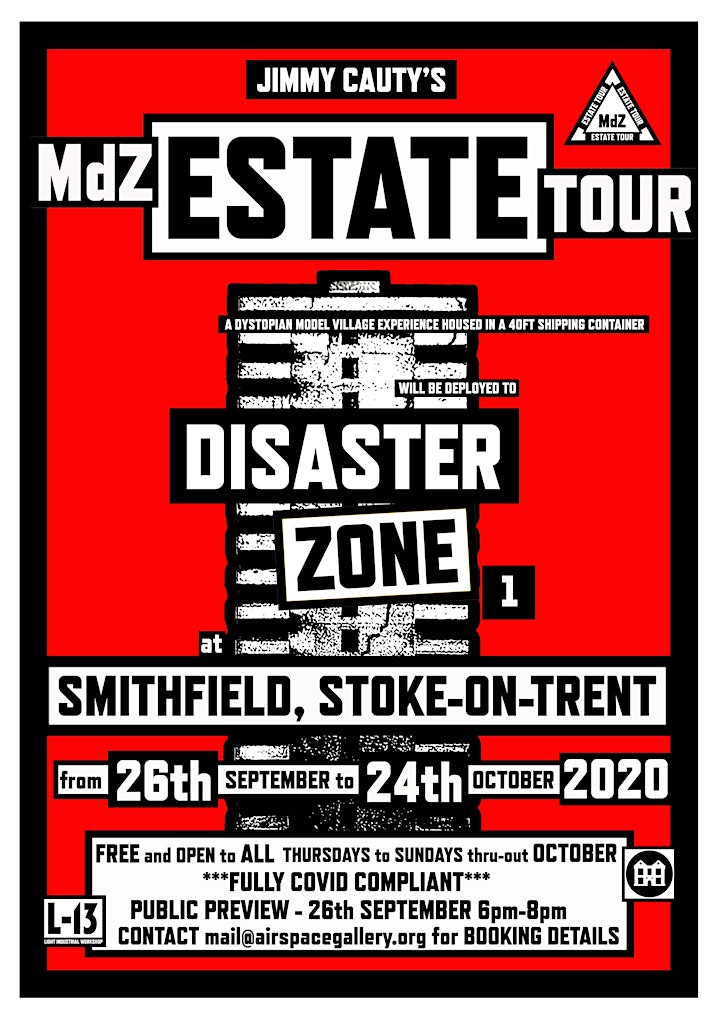 ESTATE is presented by AirSpace Gallery and comes to Stoke-on-Trent with the partner and funding support of L-13, BID:Stoke-on-Trent City Centre and Genr8